The 107th issue of ProcessWire Weekly brings in all the latest news from the ProcessWire community. Modules, sites, and more. Read on!
In this issue we're going to discuss some recent hosting-related changes for our own sites – processwire.com, modules directory, etc. – and explain how those changes will improve our ability to provide our users with better services in the future.
In other news we're taking a closer look at one very recently released module and we have a fresh list of forum posts, tutorials, and other online resources we'd like to share with you. As always, we're also going to introduce a brand new site of the week, so stay tuned for all that and thanks for being here with us.
We hope you'll enjoy our weekly update, and please don't hesitate to drop us a line if there's anything you'd like to ask, suggest, or disagree with. We're always happy to receive feedback, and your opinion really matters to us. Have a great weekend!
On the processwire.com blog this week: web hosting changes and server upgrades
The latest processwire.com blog post focuses on the big change in the hosting of the ProcessWire network of sites – processwire.com, the modules directory, our support forum, etc. – went through just this week. For most users the switch probably wasn't even visible, but it is a pretty big deal, and here are the brief facts:
Due to certain changes at ServInt, the hosting provider that has been sponsoring our servers for years, we recently found ourseles in a situation that forced us to find a new hosting plan. To make things worse the time frame was pretty tight, which meant that something had to be done right away.
After consulting with a friend and a colleague Jan VandenHengel, Ryan decided to contact IBM Softlayer regarding a sponsorship deal. Lucky for us they were eager to help, and Jan was kind enough to consult us regarding the hardware we would need and even provided his services for setting things up.
We've now moved all of our sites from to IBM Softlayer. There were some brief hiccups, but all in all everything went really well and the new server has a lot more torque than the previous one, which is why we're currently experiencing significant improvements in terms of response times etc.
To sum things up, our new hosting environment is powerful, modern, configured by an expert, and more than capable of providing us with the resources we need for the unforeseeable future. In the end what could've been a serious problem turned out to be a good thing, thanks to Jan and the folks at IBM Softlayer.
For more details about how everything was set up and what we're hoping to introduce in the future, check out the latest post at the processwire.com blog where Ryan and Jan provide us with a detailed look behind the scenes. Thanks!
New module: AdminOnSteroids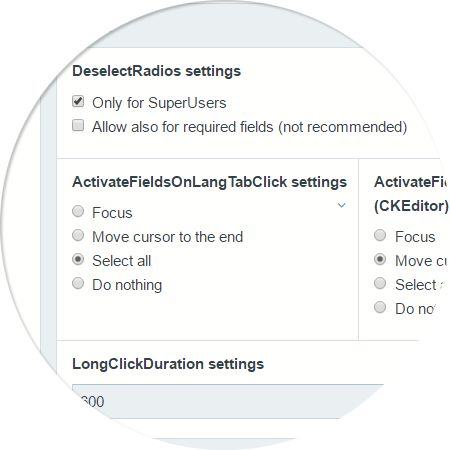 AdminOnSteroids is a brand new module by Roland 'tpr' Toth. This module essentially bundles together a various tweaks and additions to the Admin GUI and provides you with the option of enabling and disabling exactly the ones that suit your needs.
Want the ability to deselect radio buttons? Sure thing. What about autoscaling textareas to the content? Can do. Don't need custom longclick duration or sticky header bar right now? No worries, just leave them unchecked. Above all this module makes it very easy to test out different things: if you decide you don't like them, just disable them later.
Since the module is under rapid development it's likely that new features will be added before you even get to this post, which is why we won't even try to include a full list of features here. For a current list of features, installation instructions, etc. check out the README file for the module at GitHub.
If you have ideas about features that should be included with this module, feel free to suggest them via the dedicated support forum thread. Big thanks to Roland Toth for sharing this very helpful module with us!
Weekly forum highlights, tutorials, sites, and other online resources
Here we've got a new collection of support forum highlights and other useful and/or interesting resources. As always please let us know if there's anything important we've missed so that we can include it in one of our future issues.
If you're interested in ProcessWire news, discussions, and updates, there's always something going on at the support forum. Since we're only able to include a tiny selection of all that in our weekly updates, head down to the forum for more.
Site of the week: designconcepts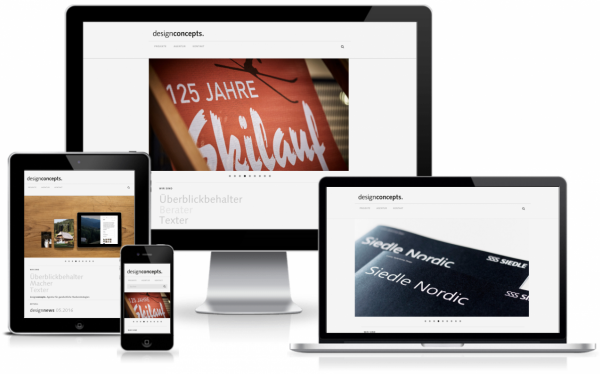 Our latest site of the week belongs to designconcepts is a design agency based in the Black Forest, Germany.
With their expertise ranging from graphic design and web design to brand consulting, designconcepts aims to solve even the trickiest communication tasks for their clients. They bring in a holistic approach to their projects and treat the subject of communication from a strategic point of view.
Their ProcessWire powered site is featured on our sites directory and a separate post in the showcase area of the support forum explains what's going on behind the scenes. To sum it up this site was originally based on Contao CMS and the Bootstrap framework, but has recently been converted to ProcessWire and the UIKit front-end framework.
Some of the modules used on the site include ProFields, ProCache, Pages2JSON, Markup Sitemap XML, and Tracy Debugger. For a more comprehensive list, check out the forum post mentioned above. Apart from that the site is responsive, feels very comfortable to use on a variety of screen sizes, and features a simple, clean, and distinctive design.
Big thanks to Andreas Scheffczyk for sharing this project with us – it's a wonderful site and definitely one we're happy to have in our sites directory!
Stay tuned for our next issue
That's it for the 107th issue of ProcessWire Weekly. We'll be back with more news, updates, and content Saturday, 4th of June. As always, ProcessWire newsletter subscribers will get our updates a few days later.
Thanks for staying with us, once again. Hope you've had a great and productive week, and don't forget to check out the ProcessWire forums for more interesting topics. Until next week, happy hacking with ProcessWire!