The 108th issue of ProcessWire Weekly brings in all the latest news from the ProcessWire community. Modules, sites, and more. Read on!
This week we don't have any massive changes to the 3.x branch of ProcessWire to share, but Ryan has been kind enough to provide us with a great recap of the road from 2.x to 3.x so far. So much has changed during the past six months or so that sometimes it just makes sense to take a short breather and reflect on what we've already achieved.
For the past week or so social mentions has been largely dominated by the AJAX driven theme tutorial authored by Ben Byford for the Tuts+ site, so just a quick reminder: if you haven't yet checked it out, this would be a great time for that. In other news we have two new modules and a wonderful site of the week to share, so keep on reading.
We hope you'll enjoy our weekly update, and please don't hesitate to drop us a line if there's anything you'd like to ask, suggest, or disagree with. We're always happy to receive feedback, and your opinion really matters to us. Have a great weekend!
ProcessWire 3.0.20 and a recap of the changes from ProcessWire 2.x to 3.x
In his latest post at the processwire.com blog Ryan introduces ProcessWire 3.0.20, which is mainly a maintenance release consisting of bugfixes and minor cosmetic tweaks. This week there were no big changes code or feature wise, which is always a good indicator that we're getting very close to a stable version already.
What probably interests most of you much more than the latest maintenance release is the comprehensive recap of the changes between 2.x and 3.x Ryan also included in his post. The list of updates is growing pretty long and these have already been covered in our past issues, but here are a few highlights from that list you might find interesting:
All things considered ProcessWire 3.0 is going to be another massive update over our previous stable releases. Not only does it include a whole bunch of new and improved features, some of the architectural upgrades – including namespaces and Composer support – will make sure that the project as a whole remains future-proof.
For more details on both the updates mentioned above and many, many more, don't forget to check out the latest blog post at the processwire.com blog. Thanks!
New module: TemplatesChildPages
TemplatesChildPages is a module authored by Robin Sallis. What this module does is that it allows you to restrict the children for any given page based on the template of those child pages.
In other words this module provides a capability that is very much similar to the built-in family settings, but takes it one step further: instead of defining which templates are allowed under a specific template, this module allows you define which templates are allowed under a specific page.
There are good reasons why the built-in family settings behave as they do, but modules like this can be quite helpful when you've got specific needs for your site structure. This particular module can help you avoid a situation where you have a bunch of otherwise duplicate templates just because they happen to require different family settings.
Big thanks to Robin Sallis for creating and sharing this very useful module with us!
New module: WireMailPHPMailer
WireMailPHPMailer is a brand new module built and released by Iskender Totoğlu, the author of both our Turkish translation package and various quality modules, including AvbFastCache and AvbMarkupHTML.
WireMailPHPMailer provides access to the PHPMailer library via ProcessWire. WireMail modules are designed to be drop-in replacements for the built-in WireMail class, and thus they are very easy to get up and running.
PHPMailer, as many of you probably already know, has been under development for a very long time: the package was originally released back in 2001, and while there have been a number of changes during the past 15 years, it's still being actively developed.
If you're looking for a solution that allows sending email via SMTP, this module provides exactly that, and it does it with the help of by far the most battle-tested library available to any PHP user out there. Thanks to Iskender for sharing this module with us!
Site of the week: claymeeples.com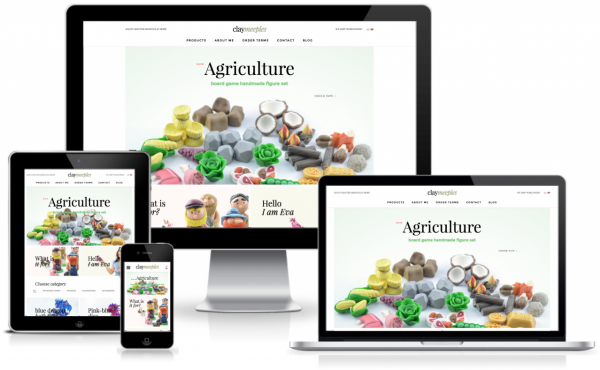 Our latest site of the week is known as claymeeples.com. This site is dedicated to showcasing products made of – or, in some cases, decorated with – polymer clay.
The Polish artist behind said products is Ewa Puchalska. According to her blog post How I started sculpting, she started her career as a clay artist from board games: crafting custom tokens for board game Agricola. Especially considering that she started sculpting clay as a hobby less than a year ago, her work is absolutely stunning.
While content-wise the site is still a work in progress, both the design and the colorful, detailed product images give it a rather unique and enjoyable look and feel. Responsive design is utilized in order to provide best possible user experience regardless of screen size or device type, and the overall impression we get is very much a positive one.
From a technical point of view it's worth mentioning that claymeeples.com is based on the devns branch, making it one of the first – if not the first – site of the week entries making use of ProcessWire 3.x. Additionally the site makes use of the ProCache, so it's no surprise that it feels pretty fast to say the least.
If you have questions to the author of the site, visit this support forum thread, and if you'd like to see more of Ewas work, check out her Facebook page and/or DeviantArt profile. Thanks to vxda of the 7th Avenue Agency for sharing this lovely site with us!
Stay tuned for our next issue
That's it for the 108th issue of ProcessWire Weekly. We'll be back with more news, updates, and content Saturday, 11th of June. As always, ProcessWire newsletter subscribers will get our updates a few days later.
Thanks for staying with us, once again. Hope you've had a great and productive week, and don't forget to check out the ProcessWire forums for more interesting topics. Until next week, happy hacking with ProcessWire!