The 117th issue of ProcessWire Weekly brings in all the latest news from the ProcessWire community. Modules, sites, and more. Read on!
The summer season is upon us and even here in Finland we've had plenty of heat and sunshine. Hopefully the weather has been great wherever it is that you're reading this from too. ProcessWire users are clearly active around the year, and we're happy to say that this has been another busy week for us.
This week we're going to include an update regarding some of the latest core updates, take a closer look at one recently released and particularly interesting site profile for bloggers, and include a collection of links and forum posts for you folks. Of course a brand new site of the week is in order too, so plenty of content here once again.
Thanks to all of our readers for being here with us again, and as always, any feedback is most welcome – please don't hesitate to drop us a line if there's anything in your mind you'd like to share with us. Enjoy our latest issue and have a great weekend!
Latest core updates: ProcessWire 3.0.29 and 2.8.29
We're currently working towards getting our next stable releases out, and that's also why the core updates this week are mostly minor fixes, tweaks and additions here and there. Nothing major here, but if you're using one of our development versions (2.8.x or 3.x), updating to the latest version is of course recommended.
This week Ryan has been busy adding stuff submitted via pull requests to the core, and while most of those were somehow related to fixing existing stuff, some relatively small but potentially quite useful new features have also made their way to the core:
$page->getInputfield($fieldName) method is essentially a shorter way to say $page->fieldgroup->get($fieldName)->type->getInputfield($page). Based on a request from LostKobrakai, this update can improve code readability quite a bit.
An usability improvement to the translation GUI: while editing translation files, you can now choose to save and exit, save and edit next, or save and continue editing (as before). This is another relatively small but potentially quite useful change.
Probably the biggest addition this week – at least in lines of code – is a new core class, ImageInspector. This class was created by Horst Nogajski, and while it mostly works it's magic behind the scenes, it will also greatly improve ProcessWire's ability to effectively detect and process different image formats.
Don't forget to check out Ryan's weekly blog post for more details about the updates applied this week, and also some comments on a question that comes up every now and then: if you need help with your project, can you hire Ryan himself to do it? The short answer is "yes", but we'll let Ryan fill you in on the details.
Processwire Ghost Writer, a clone of the Ghost blog platform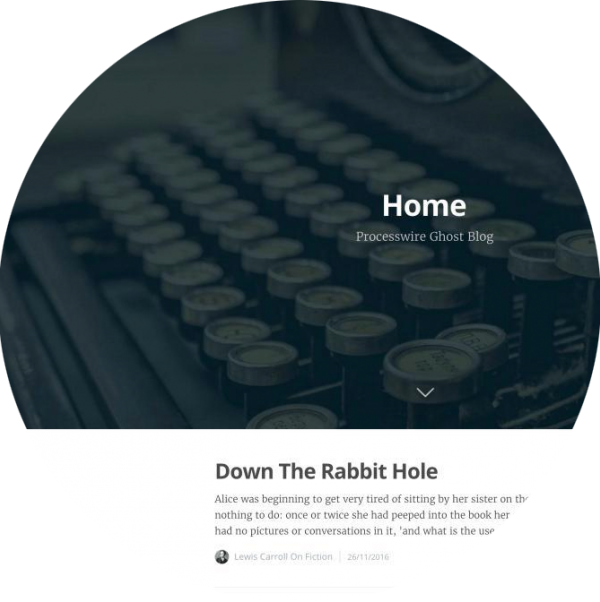 ProcessWire Ghost Writer is a clone of the Ghost blog platform and a very interesting new project. While it's not a full-featured clone, it's already a great way to showcase the abilities of ProcessWire – particularly it's adaptability to different needs – and also the Wire Render Pattern.
ProcessWire Ghost Writer is distributed as a ready-to-install site profile under the MIT license. You can see it in action at Ninjas.cl and, just like any other site profile, you can download it and use it as the starting point when installing a site of your own. Being a regular site profile means that it's quite easy to makde changes if and when needed with just some basic ProcessWire know-how.
Even if it's not quite as extensive as the Ghost platform, this site profile includes most of the typical views a blog is likely to need: home page, blog post, basic content page, authors page, RSS feed, and so on. Other features include tags for posts, built-in multi-language support, and a clean design based on the default theme of Ghost – Casper.
The developer behind this site profile is Camilo Castro, whom you might know as one of the core contributors to the wireshell project and the author of the Rest Helper module. This time Camilo has provided us with something really neat, and thus big thanks are in order. Comments and feedback for the project can be submitted via the support forum.
Thank you, Camilo, for all the work you have done for us!
Weekly forum highlights, tutorials, and other online resources
Here we've got a new collection of support forum highlights and other useful and/or interesting resources. As always please let us know if there's anything important we've missed so that we can include it in one of our future issues.
If you're interested in ProcessWire news, discussions, and updates, there's always something going on at the support forum. Since we're only able to include a tiny selection of all that in our weekly updates, head down to the forum for more.
Site of the week: SuperTINY agency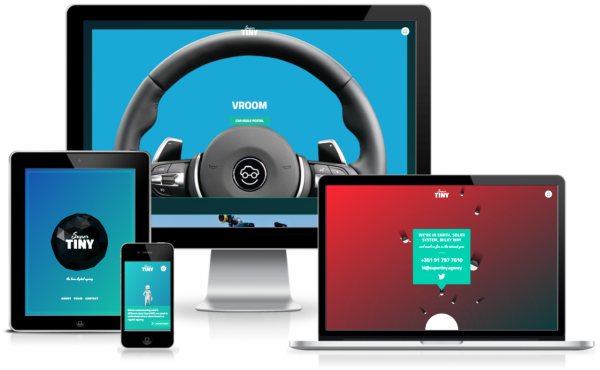 This time our site of the week belongs to a digital agency based in Portugal: SuperTINY. Originally introduced by Helder Cervantes in a forum post around two weeks ago, this is an interesting site in more than one way.
First of all the SuperTINY website is running on the devns branch of ProcessWire, which means having access to all the cutting-edge tools in there. In terms of front-end development – particularly animation and sound –there's also a lot going on here: just about every aspect of this site feels custom built, and it does indeed feel more like a multimedia presentation than a regular website.
Behind the scenes there are at least a few third party modules working their magic. One of those modules is AIOM, the popular open source module for enhancing the speed of any ProcessWire site out there. The forum post mentions a SEO module, presumably referring to MarkupSEO, the all-in-one SEO tool available for ProcessWire.
All in all it's an impressive site. While there's always certain benefit in not going too far off the comfort zone of your visitors, in this context uniqueness is a big plus. Big thanks to Helder Cervantes for sharing this wonderful site with us!
Stay tuned for our next issue
That's it for the 117th issue of ProcessWire Weekly. We'll be back with more news, updates, and content Saturday, 13th of August. As always, ProcessWire newsletter subscribers will get our updates a few days later.
Thanks for staying with us, once again. Hope you've had a great and productive week, and don't forget to check out the ProcessWire forums for more interesting topics. Until next week, happy hacking with ProcessWire!