The 125th issue of ProcessWire Weekly brings in all the latest news from the ProcessWire community. Modules, sites, and more. Read on!
Welcome to the 125th issue of ProcessWire Weekly. This time we're going to introduce two all-new modules, share the latest core development news, and of course we've also got a wonderful new site of the week to show off.
In case you haven't been following our updates lately, we'd really suggest that you also take a look at our previous issue, where we – among other things – discussed the soft launch of ProcessWire 3.0. There's a lot of interesting stuff going on right now, and the ProcessWire project has never felt quite as alive as it does now.
Thanks to all of our readers for being here with us again, and as always, any feedback is most welcome – please don't hesitate to drop us a line if there's anything in your mind you'd like to share with us. Enjoy our latest issue and have a great weekend!
Latest core updates: ProcessWire 3.0.35 is now our stable master release
ProcessWire 3.0 was released last week, but back then we still preferred to call it a soft launch and not to make too much noise about it. This is a major upgrade after all, and with major upgrades some extra caution is always recommended.
So far there have been no major issues with the new codebase, and thus we're finally confident enough to call 3.0 our new master version. In his latest processwire.com blog post Ryan walks us through the complete changelog for ProcessWire 3.0.
Without going into too much detail, ProcessWire 3.0 introduces namespace support, compiled modules and templates, built-in front-end editing, field-specific template files, new API variables, new methods for existing objects, major upgrades for fields, performance upgrades, updates to the Admin GUI, and much more.
All in we're absolutely thrilled about the potential ProcessWir e3.0 introduces. It is an amazing solution for serious developers, those looking for an easy-to-use platform to develope their websites on, and content editors alike.
For a complete list of new features and changes introduced by ProcessWire 3.0, a brief introduction to ProcessWire 2.8, and a summary of our new GitHub repositories be sure to check out Ryan's latest post at the processwire.com blog. Thanks!
New module provides online file editing support for ProcessWire: File Editor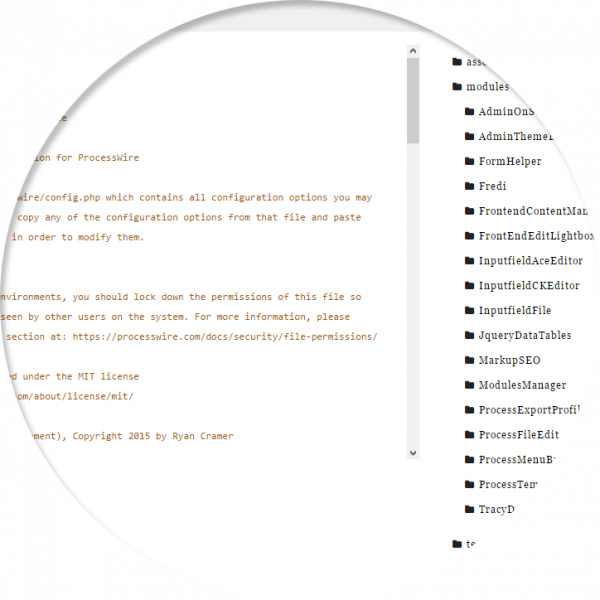 Modules that allow you to edit files online – including those that contain code – tend to divide developers into two separate camps: one considers such modules really useful, while the other considers them not much more than a major security issue.
File Editor is a solution for those who, for whatever reason, really, really need a way to edit files online. In a nutshell it adds a new page to the Admin, and this page acts as a simple file editing GUI.
What we mean by "simple" in this context is that there's a file browser, large editing screen, save button, and thats just about it. While this module doesn't include fancy features like version history, for simple use cases it's no doubt quite enough – and, should the author decide to take this project further, this is a good place to start.
Please note that currently this module isn't in our modules directory and hasn't been properly audited, so if you plan to use it in a production environment, we'd suggest taking all possible precautions first. That being said, big thanks to @fbg13 for sharing this module with us – File Editor certainly looks interesting!
For more details and support requests we'd suggest heading down to the dedicated support forum thread and if you'd like to give this module a try, you can grab it from GitHub. Again: please be careful, for this is not an audited or widely tested module.
Two new modules for building AJAX sites: AjaxIntercoolerJS and TemplateFileHelper
AjaxIntercoolerJS is a new module from @pwFoo. The goal of this module is to provide an easy integration with the intercooler.js JavaScript library. You can read more about intercooler.js from their site, but in a nutshell: intercooler.js provides an easy way for adding AJAX features to HTML page using attributes and a special syntax of it's own.
In order to use AjaxIntercoolerJS you'll also need to install TemplateFileHelper, which is another new module from @pwFoo. Whereas AjaxIntercoolerJS is mainly a wrapper for the intercooler.js library, TemplateFileHelper provides the backbone of a whole site by defining a rather specific structure for all it's template files.
While there are already quite a few MVC-ish solutions and best practices for structuring the template files required by your site, AjaxIntercoolerJS and TemplateFileHelper form an interesting pair. These two are definitely worth keeping an eye out for.
Big thanks to @pwFoo for sharing these modules with us. We're always interested in new approaches to building sites with ProcessWire!
Site of the week: The Tourists' Affairs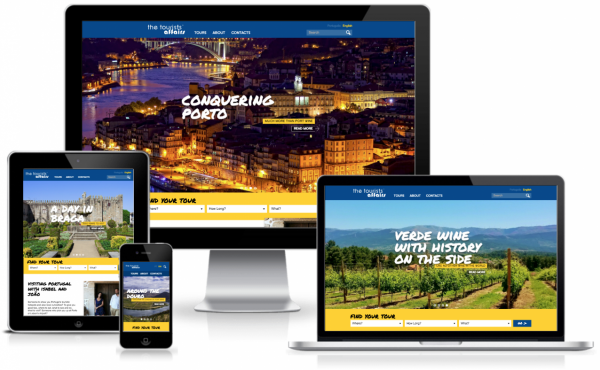 Most of you have probably guessed it by now, but the target group of The Tourists' Affairs are tourists.
Managed by Isabel and João, The Tourists' Affairs features details about a wide variety of tours for anyone interested in visiting Portugal – or you could just make up your own tour and have these professional tour guides help you put it together.
The Tourists' Affairs is colorful, well designed, easy to use, and – of course – mobile friendly. Built by SuperTINY, it instantly struck us as one of the most beautiful sites we've seen in a while. It feels pretty fast too, and Google seems to agree: a score of 89/100 for desktop in Page Speed Insights is definitely worth a few approving nods.
Based on the forum post introducing this site we can tell that behind the scenes it's running AIOM+, MarkupSEO, and apparently a few other modules too. The front-end makes use of jQuery, Swiper and some Instagram-related snippets, but other than that seems pretty much hand-crafted.
All in all this is another splendid site by SuperTINY, and we're very happy to have it as our latest site of the week. Our congratulations to both the agency and the client – great job!
Stay tuned for our next issue
That's it for the 125th issue of ProcessWire Weekly. We'll be back with more news, updates, and content Saturday, 8th of October. As always, ProcessWire newsletter subscribers will get our updates a few days later.
Thanks for staying with us, once again. Hope you've had a great and productive week, and don't forget to check out the ProcessWire forums for more interesting topics. Until next week, happy hacking with ProcessWire!