The 126th issue of ProcessWire Weekly brings in all the latest news from the ProcessWire community. Modules, sites, and more. Read on!
Welcome to the 126th issue of ProcessWire Weekly! For this issue we've got some fresh core update news along with some thoughts about the future of ProcessWire, one new module authored by Adrian Jones, a new collection of recent online resources, and an amazing site of the week.
In case you have skipped some of our recent issues, we'd strongly suggest that you take a closer look at two of our previous issues, ProcessWire Weekly #124 and ProcessWire Weekly #125. As a brief recap, ProcessWire 3.0 was finally soft launched two weeks ago (#124) and officially announced a week ago (#125).
Thanks to all of our readers for being here with us again, and as always, any feedback is most welcome – please don't hesitate to drop us a line if there's anything in your mind you'd like to share with us. Enjoy our latest issue and have a great weekend!
ProcessWire 3.0.36 and a few spoilers about the near future of ProcessWire
In the latest blog post at the processwire.com blog Ryan walks us through some of the latest updates in the core. The biggest update feature wise this week was probably the attachment support for WireMail, which brings us to our next topic: collaboration.
Not only do we now have Francesco Schwarz looking after our issue reports and feature requests, we've also slightly loosened our approach towards contributions and this has already become obvious on the GitHub contributors page. ProcessWire has always been a group effort, but now we're handling it in a way that GitHub can understand too.
In the near future we're going to focus on improving the stability of ProcessWire 3.0. If you're following the stable master branch of ProcessWire you can expect core updates once a week, but if you'd like to get all the cutting-edge updates and help us test them out before they reach the master branch, feel free to track the dev branch instead.
For more news about our future plans, the updated versioning strategy of ProcessWire, and some thoughts about our demo site and what should be done about that please check out Ryan's latest post at the processwire.com blog. Thanks!
New module: Description and Note Variables by Adrian Jones
Description and Note Variables is a new module from Adrian Jones – new in terms that it has just been made available for the general public, but apparently Adrian himself has been using this module for quite some time now, so if you're worried about trying out a brand new module, don't be: this one should be relatively well tested.
In a nutshell this module provides the capability of embedding page content into field descriptions and notes. By applying tags such as [page.parent.url] or [page.id] you can create dynamic instructions for your fields, and there's also basic support for some string manipulations: [page.name.(-|_)] would replace all dashes with underscores.
If you have any questions about the module head down to the Description and Note Variables support forum thread, and if you'd like to check this module out right now, you can grab it from GitHub.
Big thanks to Adrian for sharing your work with us – great stuff as always!
Weekly forum highlights, tutorials, and other online resources
Here we've got a new collection of support forum highlights and other useful and/or interesting resources. As always please let us know if there's anything important we've missed so that we can include it in one of our future issues.
If you're interested in ProcessWire news, discussions, and updates, there's always something going on at the support forum. Since we're only able to include a tiny selection of all that in our weekly updates, head down to the forum for more.
Site of the week: Memelpower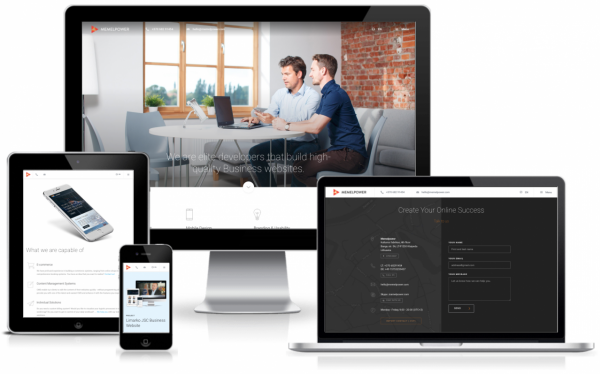 Memelpower specializes in unique, handcrafted, high-quality business websites. Taking a look at their own site, we can easily see how this could be true too: at the very least their own site looks and feels really, really good.
Clean layout, striking images, beautiful typography – this site has it all. It's also responsive, has multiple language versions available, and features a bunch of pretty smart design decisions, such as making contact details available at all times. Content-wise the site is also top-notch, with everything from client testimonials to technology introductions neatly authored and presented.
For those interested in front-end stuff, this site makes use of the Bulma CSS framework. While it's not something we come across that often, Bulma provides most of what you'd expect from a proper front-end framework right out of the box, and their grid is modern and elegant – the only obvious downside being that it's limited to a 12 column setup.
Behind the scenes this site is running a recent version of ProcessWire, and while some adjustments could be done in terms of performance, feels pretty slick. We couldn't help noticing that the server behind the site identifies itself as nginx, not the typical Apache you'd expect. Either way the site works just fine as far as we can tell, so props for that.
Congratulations to Memelpower and specifically the team listed as authors of the site –Kai Noack and Donatas Bengardavičius. That's some amazing work you've done there!
Stay tuned for our next issue
That's it for the 126th issue of ProcessWire Weekly. We'll be back with more news, updates, and content Saturday, 15th of October. As always, ProcessWire newsletter subscribers will get our updates a few days later.
Thanks for staying with us, once again. Hope you've had a great and productive week, and don't forget to check out the ProcessWire forums for more interesting topics. Until next week, happy hacking with ProcessWire!