The 144th issue of ProcessWire Weekly brings in all the latest news from the ProcessWire community. Modules, sites, and more. Read on!
Welcome to the 144th issue of ProcessWire Weekly! This week Ryan has some interesting news to share with us regarding the next step towards the goals mentioned in our 2017 roadmap: a brand new admin theme for ProcessWire.
In other news we're going to take a closer look at two brand new third party modules – one that provides an easy way to embed audio players, and another that adds support for recurring events – and, as always, we've also got a new site of the week to introduce.
Thanks to all of our readers for being here with us again, and as always, any feedback is most welcome – please don't hesitate to drop us a line if there's anything in your mind you'd like to share with us. Enjoy our latest issue and have a great weekend!
On the processwire.com blog this week: introducing a new admin theme
In his latest post at the processwire.com blog Ryan introduces the next step towards the goals mentioned in our 2017 roadmap: a new, work in progress admin theme based on a modern front-end framework.
We'd like to stress that, even though the admin theme already looks nice, it's very much a work in progress and not available for the general public quite yet. This theme is also mainly intended as a starting point for a collaborative project – a collaboration that we hope is going to result in, as Ryan so modestly explains in his post, "best admin themes anyone has ever seen for any CMS".
Here's a little sneak peek into where we are right now: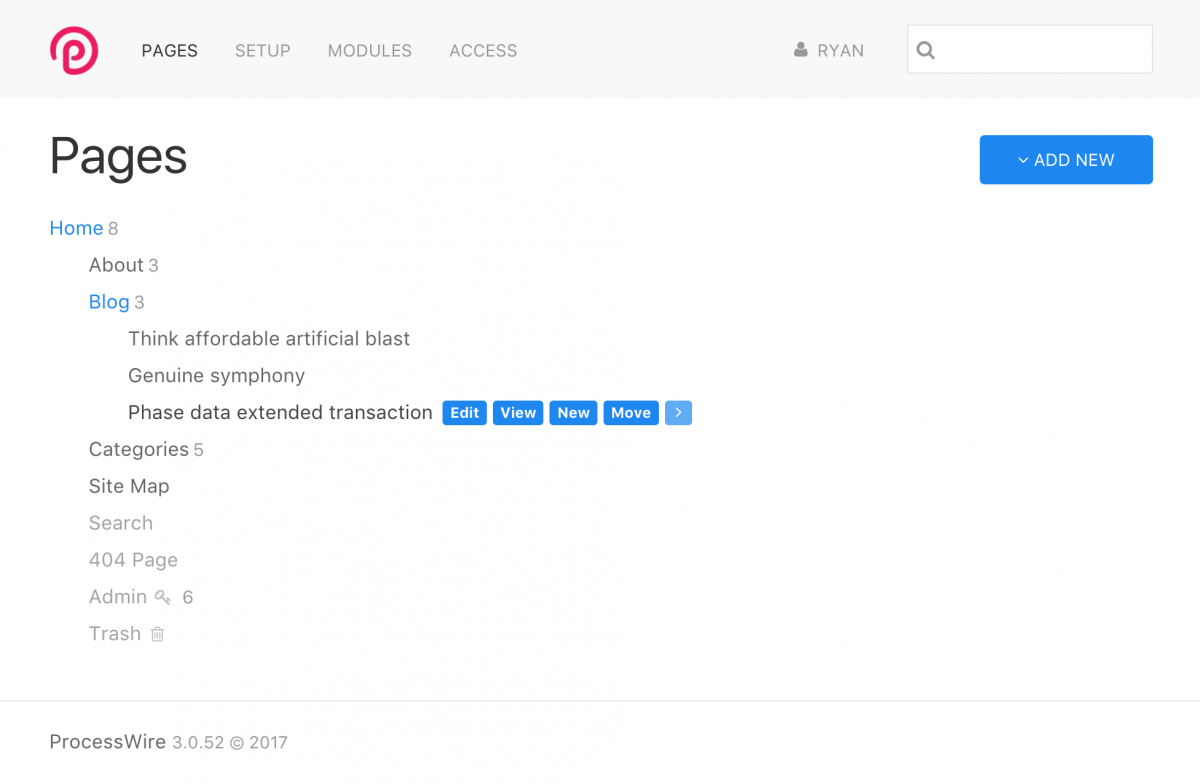 ... and here are some of the highlights from Ryan's post:
The new admin theme – or themes in plural – is going to be a collaborative effort. After the initial development we hope to tap into the expertise of the developers and designers in our community in order to make this a truly great end product.
The new admin theme makes use of the Uikit front-end framework. We're not completely ditching jQuery UI, which parts of our existing admin themes and inputfields currently make use of, but rather looking into combining the two in order to create something that is powerful, flexible, and also looks great.
In the next 2-4 weeks we hope to get this theme ready to be shared with you all, and at that point we can truly start the collaborative phase.
For more details, screenshots, and background information about the new admin theme check out Ryan's latest blog post. Thanks!
New module: Soundmanager2 Audio
Soundmanager2 Audio is a brand new textformatter module for ProcessWire authored by Macrura. This module adds support for embedding SoundManager 2 audio players into text fields, whether CKEditor powered or regular ones, using simple shortcodes: [smplayer tag=audio1 type=bar-ui color=2288CC].
For those not familiar with SoundManager 2, it is a JavaScript based sound player with an extensive developer API and support for a wide range of browsers. It's already used by various popular sites, such as last.fm, TIDAL and Discogs, just to mention a few, and thus a pretty sensible candidate for a ProcessWire module like the one we have here.
The Soundmanager2 Audio module provides a range of configuration options that you can provide as additional shortcode attributes in order to customize both the look and feel of the embedded audio player. Audio files are uploaded into a separate file field and linked with a player by tags, and the player can handle one or more audio files.
For more details about this module we'd suggest checking out the documentation at the dedicated support forum thread. You can install the module with ProcessWire's built-in modules manager or grab it directly from GitHub.
Big thanks to Macrura for sharing this module with us. Embedding audio players into a ProcessWire site has never been quite as easy, and we're sure that this module will be very useful in many future projects!
New module: ProcessRecurringEvents
ProcessRecurringEvents is a new module credited to Clip Magic Web Design. It's worth noting that even though the name starts with "Process", this is actually not a Process module – in this case the name of the module simply implicates that this module is used for processing recurring events.
In a nutshell ProcessRecurringEvents adds a way to implement recurring events using regular pages. After creating an event template and few required fields for it (from date, to date, checkbox for enabling recurrence, number of recurrences, and an options field containing possible interval values) you can create a new event, define recurrence settings, save the page, and this module does all the heavy lifting.
The heavy lifting in this case means that the module will create as many clones of your original page as you've defined in the number of recurrences field for that page. It's worth noting, though, that these clones are – for the most part – separate pages, and modifying most of the values of the original event won't update them. The fields and values that are automatically updated include title, status, start date and end date.
Big thanks to the folks at Clip Magic for sharing this module with us! While useful on it's own, it's also a nice example for anyone looking to create a module that does it's magic by hooking into the page save event.
Site of the week: Tours of Distinction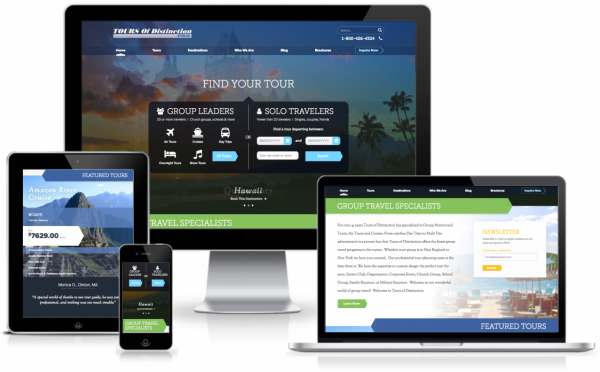 Our latest site of the week belongs to Tours of Distinction, a Connecticut based travel company specializing in Group Motorcoach Tours, Air Tours and Cruises. After over 45 years in the travel business it seems like a reasonably assumption that they probably know what they're doing.
The Tours of Distinction site is the handiwork of Solution Innovators and includes an extensive, AJAX powered tour finder, custom forms, a blog section, and so on. The site looks great and is fully responsive with a touch of progressive enhancement: the tour finder on the home page, for an example, works nicely on mobile devices, but at the same time provides a bunch of extra options for larger screens where there's proper room for them.
Taking a quick look at the tech side, behind the scenes the AIOM+ module is used to minimize and combine CSS and JavaScript files, while the EmailObfuscator module provides some much-needed protection for email addresses on the site. The front-end, on the other hand, makes relatively heavy use of JavaScript libraries, such as jQuery, Cycle2, Tooltipster, Magnific Popup, etc.
Big thanks to Solution Innovators for sharing this site with us, and congratulations to the client, Tours of Distinction, for having such a wonderful site!
Stay tuned for our next issue
That's it for the 144th issue of ProcessWire Weekly. We'll be back with more news, updates, and content Saturday, 18th of February. As always, ProcessWire newsletter subscribers will get our updates a few days later.
Thanks for staying with us, once again. Hope you've had a great and productive week, and don't forget to check out the ProcessWire forums for more interesting topics. Until next week, happy hacking with ProcessWire!