The 152nd issue of ProcessWire Weekly brings in all the latest news from the ProcessWire community. Modules, sites, and more. Read on!
Hello there and welcome to the 152nd issue of ProcessWire Weekly! This time we've got some core and module update news from Ryan, two fresh out of the press third party modules to share, and as always a very interesting site of the week.
Thanks to all of our readers for being here with us again, and as always, any feedback is most welcome – please don't hesitate to drop us a line if there's anything in your mind you'd like to share with us. Enjoy our latest issue and have a great weekend.
That's enough for the small talk this time – let's get down to business!
Latest core updates: ProcessWire 3.0.59, module updates, and more
In his latest post at the processwire.com blog Ryan talks a bit about 3.0.59, which is the latest development version of ProcessWire, and introduces some recently published and/or upcoming updates for the Pro modules.
ProcessWire 3.0.59
ProcessWire 3.0.59 is a minor release, and while there are no new features introduced, but it does contain various improvements, bug fixes, and also documentation updates. It's a recommended update for those of you already using the dev branch.
As a bit of a heads-up, there's a chance that the next release, 3.0.60, could become the next stable version. It's not sure yet, and we'll know more next week, but we're definitely getting very close to a new stable release.
Pro module updates
Various commercial Pro modules have received updates recently: FormBuilder, ListerPro, and some of the ProFields modules. Updates for ProCache and ProFields Table are on their way, and a major update for ProDrafts is due rather soon as well. For more details about these, check out the changelogs on the Pro module support forum threads.
Moving ProcessWire sites to Amazon AWS
As a special feature this week Ryan also talks a bit about moving some existing projects to Amazon AWS. We'll let Ryan fill you in on the details, but if you're wondering why this should be of interest to you, let's just say that it's a great chance for us to get more info about how ProcessWire behaves in a proper cloud hosting environment.
Hopefully we'll be seeing a case study about this AWS project in the near future, but for the time being you can find more details about this project from Ryan's latest blog post, so don't forget to check it out. Thanks!
New module: InputDetect
Input Detect is a new module by Robin Sallis. In a nutshell it is a small utility module that replaces the native login time touch detection with an alternative solution provided by the stable and rather popular What Input JavaScript library.
Unless you use ProcessWire's Admin interface regularly with a touch device, you might not have even noticed that such a feature exists, but the admin actually tweaks certain things based on said touch detection. In some cases this has been helpful, while in others it has caused problems. This module is an attempt to fix some of those.
So, long story short: if you're a touch device user and have indeed had problems with the Admin UI, you might want to check this module out. If it solves those problems for you, that's great – and if not, no harm done, you can always just uninstall it. As a side note, this solution is currently being considered for core inclusion.
Once again big thanks to Robin for sharing another useful module with us. It's good to have folks like you around, keep up the great work!
New module: Dynamic Page Fields
Dynamic Page Fields is a new module by Diogo – in fact so new that it's currently only available as an early beta release and not recommended for production use. That being said: we see a lot of potential in it already, and wanted to give you folks an early taste.
The idea behind Dynamic Page Fields is faily simple: when you're developing a new site and don't yet have all the necessary fields set up, instead of creating them one by one via the admin UI you make a call to a $page->field('default value', 'field_name', 'text') method in any of your template files – and lo, a new field with a predefined value will appear out of thin air. Pretty handy, right?
There is actually a bit more to this module, and the method accepts other arguments too, but what you see above is the most basic form of it. This alone lets you define the default value, the name of the field, and the type of the field, all in one go. What's also great about this is that it will continue to work even after the field has already been created, though at that point it will pull the real value of the field for you.
As far as use cases for this module go, there are many: rapidly converting a bare HTML file into a template file, easily migrating fields from development to production, and so on. As of this writing this module has only been around for a few days, so at this point we're really just waiting to see what happens next, but it's looking pretty good so far.
For more details about Dynamic Page Fields, please check out the support forum thread introducing the module. For the time being you can download the module as a zip file via aforementioned forum thread if you'd like to give it a try – but, again, please do keep in mind that this module is not ready for production use yet.
Site of the week: Präkuscha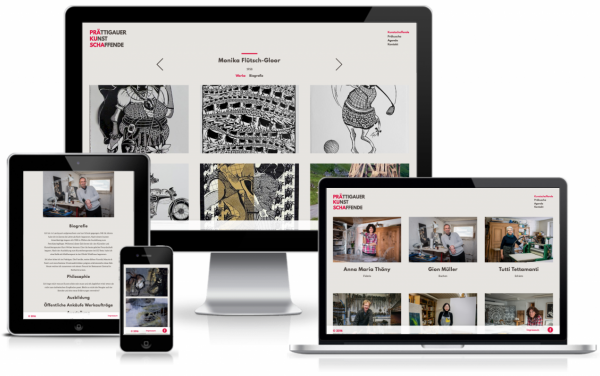 Our latest site of the week is called Präkuscha, and it could be quite accurately described as an online art exhibition. This Swiss site includes biographies and work samples, so to speak, from a collection of artists located in or near Prättigau, Switzerland.
From a technical point of view the implementation of this site seems relatively simple, but serves it's purpose. The front-end of the site is also quite simple, and contains just what is necessary to support the minimal – yet beautiful in it's own way – design. And, finally, the one and only third party module that we were able to recognize was Email Obfuscation.
What makes this site stand out from the crowd is not any specific, flashy detail, but rather the fact that the whole thing has a well planned and implemented feel to it. The design suits the theme well, and the site is enjoyable to browse and use. That's all we expect from a great site, anyway.
Our congratulations and thanks go to both the client and the company behind the site, NOW Agentur. We're always happy to see great sites implemented with ProcessWire, and this is definitely one of those. Keep up the great work!
Stay tuned for our next issue
That's it for the 152nd issue of ProcessWire Weekly. We'll be back with more news, updates, and content Saturday, 15th of April. As always, ProcessWire newsletter subscribers will get our updates a few days later.
Thanks for staying with us, once again. Hope you've had a great and productive week, and don't forget to check out the ProcessWire forums for more interesting topics. Until next week, happy hacking with ProcessWire!