The 155th issue of ProcessWire Weekly brings in all the latest news from the ProcessWire community. Modules, sites, and more. Read on!
Welcome to the 155th issue of ProcessWire Weekly. This time we've got some interesting news related to the new hosting solution behind processwire.com and it's sibling sites, a collection of resources related to new and updated third party modules and tools, a new poll for our readers to participate in, and a wonderful new site of the week.
Last week we included a new section titled "weekly poll", which was definitely a success. We got plenty of votes, and we hope that our future polls will prove out to be even more popular – and, most of all, we hope that the results of our polls will be both interesting and valuable for us all. If you have suggestions for future polls, please let us know!
Thanks to all of our readers for being here with us again, and as always, any feedback is most welcome – please don't hesitate to drop us a line if there's anything in your mind you'd like to share with us. Enjoy our latest issue and have a great weekend.
This week on the processwire.com blog: processwire.com is now powered by Amazon AWS
This week in the processwire.com blog Ryan provides us with some details about the migration of processwire.com, and all it's sibling sites, from a dedicated server at IBM Softlayer to a fully cloud-based Amazon AWS environment. Here are some highlights from Ryan's post:
We're using a proper combination of different Amazon services, including EC2 for our web servers, RDS for MariaDB databases, EBS, Cloudfront for our CDN needs, and Route53 for all our DNS services.
The migration process went smoothly, with virtually no downtime at all – apart from some forum issues, which we'll leave for Ryan to explain. All in all it was a smooth transition, and things are running every bit as fast as before.
Big thanks for the smoothness of this migration go to Jan VandenHengel of Perago Solutions. Jan is the one who helped us migrate from ServInt to IBM Softlayer last year, and thanks to him we're now in an even better place in terms of hosting.
In other news ProcessWire 3.0.61, released just last week, has been doing great. No big hiccups so far, and so on. We should have a new 2.8.x version ready soon too – that's something we'll cover in more detail in one of our future issues.
Ryan has also been busy working on a new version of ProDrafts, which should add support for Repeaters. ProDrafts is a commercial module that enables you to maintain separate draft and live versions of any page. Read more about ProDrafts here.
For more details about the weekly updates, and the AWS migration in particular, don't forget to check out Ryan's latest post at the processwire.com blog and the related support forum thread. Thanks!
Weekly poll: with ProcessWire powering the back-end of your site, what's your favourite front-end solution?
Last week we asked you folks about your favourite ProcessWire feature, and got plenty of answers too – big thanks to everyone who participated! You can view a full list of results via our previous issue, but here are the top three answers:
Custom fields and data structures (48.7% with 56 votes)
Flexible and powerful API (32.2% with 37 votes)
Easy to use Admin interface (6.1% with 7 votes)
This week we're interested in something that's not strictly tied to ProcessWire, but very much related: the approach you take when you're working on a site with ProcessWire. Do you use a front-end framework, and if so, which one?
I don't use a front-end framework (21.7%, 25)

Foundation – http://foundation.zurb.com/ (11.3%, 13)

Bootstrap – http://getbootstrap.com/ (18.3%, 21)

Uikit – https://getuikit.com/ (23.5%, 27)

Materialize – http://materializecss.com/ (1.7%, 2)

Semantic UI – https://semantic-ui.com/ (0.9%, 1)

Pure – https://purecss.io/ (0.9%, 1)

It depends entirely on the project I'm working on (14.8%, 17)

Something else – please let us know via post comments! (7%, 8)
Total votings: 115
Please note that we couldn't possibly list all the possible options here; if your favourite framework isn't mentioned, feel free to post it as a comment to this issue. Thanks! :)
Any and all suggestions for future polls are more than welcome. Thanks in advance for both your answer here, and any suggestions or feedback you might have!
Weekly forum highlights, tutorials, and other online resources
This time our highlights of the week have a clear theme: introducing some of the latest helper modules that don't necessarily require a section of their own, and reintroducing some modules and tools that have recently received updates.
As always please let us know if there's anything important we've missed so that we can include it in one of our future issues. Thanks in advance!
If you're interested in ProcessWire news, discussions, and updates, there's always something going on at the support forum. Since we're only able to include a tiny selection of all that in our weekly updates, head down to the forum for more.
Site of the week: The Crafters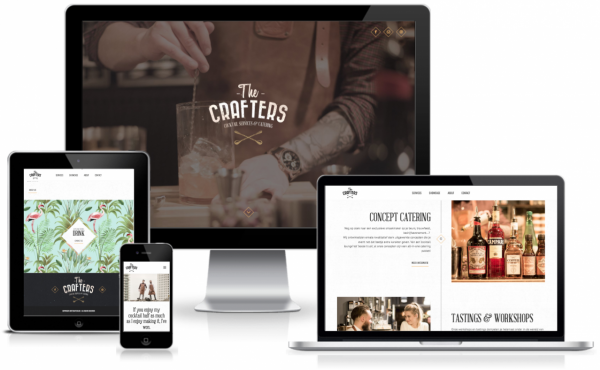 Our latest site of the week belongs to The Crafters, a Belgian company offering a wide range of cocktail and catering services: cocktail lounge, booze truck, tastings, workshops, coffee and tea bar, non-alcoholic juice bar – pretty much anything and everything beverage-related.
This site was first introduced in our support forum just this week, and the front-end of the site is based on Semantic UI. In case you're not familiar with it, Semantic UI is a front-end development framework designed with themeability and human-friendly language in mind — let's just say that it's a very interesting project in itself.
What one will no doubt find the most striking feature on this site is the design: the site of The Crafters looks really, really awesome. The layout is interesting and easy to follow, patterns and photographs are used to liven the site up, and typography is no less than top-notch. Complete with some well placed transitions and progressive image rendering, all in all this is one of the most beautiful sites we've come across in a while.
Behind the scenes the site is running a recent version of ProcessWire – 3.0.55 according to metadata – and protected with HTTPS using a free SSL certificate from Let's Encrypt. There are very few traces of specific modules on this site; in fact the only one we were able to recognize was Simple Contact Form, powering the contact form on the site.
Congratulations to The Crafters for a wonderful site, and thanks to Pieterjan Maes for sharing this site with us. As always, we're really happy to see more great, ProcessWire powered sites like this!
Stay tuned for our next issue!
That's it for the 155th issue of ProcessWire Weekly. We'll be back with more news, updates, and content Saturday, 6th of May. As always, ProcessWire newsletter subscribers will get our updates a few days later.
Thanks for staying with us, once again. Hope you've had a great and productive week, and don't forget to check out the ProcessWire forums for more interesting topics. Until next week, happy hacking with ProcessWire!