The 159th issue of ProcessWire Weekly brings in all the latest news from the ProcessWire community. Modules, sites, and more. Read on!
Welcome to the 159th issue of ProcessWire Weekly! This week we are thrilled to share with you folks the latest core updates, a brand new commercial module by Joshua Gatcke of 99Lime, our latest weekly poll – and of course a new site of the week.
In other news we actually have a new page area here at weekly.pw: poll archive. This is a single page where you can view all our previous polls in a neatly organized list. This way you don't have to browse through all our previous issues just to see what we've asked so far, and the answers we got.
Thanks to all of our readers for being here with us again, and as always, any feedback is most welcome – please don't hesitate to drop us a line if there's anything in your mind you'd like to share with us. Enjoy our latest issue and have a great weekend!
Latest core updates: ProcessWire 3.0.63 introduces client-side image resizing!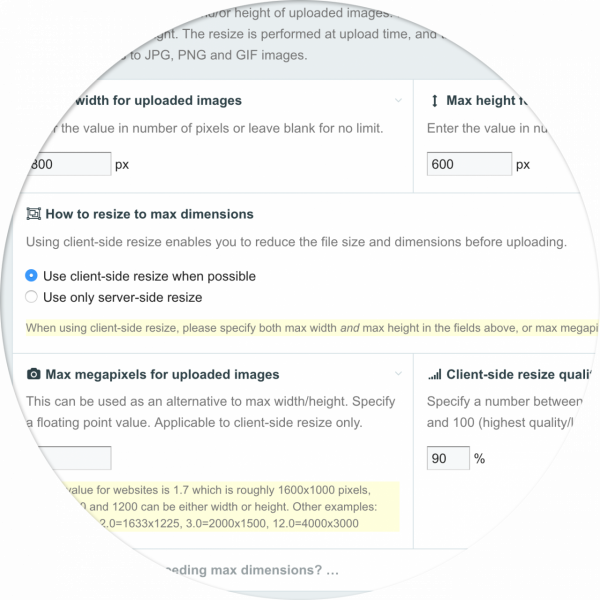 In the latest post at the processwire.com blog Ryan introduces ProcessWire 3.0.63, the latest dev version of ProcessWire. This version adds a new feature that has been on our roadmap for a while now, and by popular demand is now implemented: client-side image resizing.
So, what is this thing all about? Didn't we already have tools for resizing images?
It's definitely true that ProcessWire already has an extensive set of features for resizing images server-side: images are automatically resized to match the limitations defined via field settings on upload, and you can easily get a specific size variation of an image via the API. What this update adds is the ability to perform resize operations upload time before the image even hits the server.
If you're wondering why anyone would even want to do that, let's just say that there are a number of benefits to this approach: not only does this bypass various issues related to large file sizes, it also means fast upload times and greatly decreased server-side load. In other words: everyone benefits.
For more details about the client-side image resizing feature, how it was developed, what kind of problems had to be solved, and what to expect next, check out Ryan's weekly blog post at processwire.com. Thanks!
Weekly poll: what is your favourite feature from our current roadmap?
After a short break from our weekly polls, our weekly polls are back, and this time we'd like to ask for your opinion on the items on our current roadmap.
There are plenty of things on the roadmap, and though all of them are there for a reason, can you name the one that you're most eagerly waiting for? Which one would have the biggest impact on the kind of projects that you work with?
Note that we've already removed from the list below items that can't really be classified as "features" – such as continued performance and security optimizations – or the ones that have already been implemented – such as support for markup regions.
New admin theme (11.7%, 12)

New bundled site profile(s) (5.8%, 6)

Predefined crop settings for image fields (7.8%, 8)

Custom properties for image/file fields (7.8%, 8)

New website (4.9%, 5)

Front-end JS $pages API (18.4%, 19)

Tools for exporting and importing of pages (30.1%, 31)

Expanded image capabilities in CKEditor (5.8%, 6)

More multi-language fields (2.9%, 3)

New cheatsheet (4.9%, 5)
Total votings: 103
While we can't guarantee that a particular feature will find it's way to the core anytime soon, it's always interesting to hear what you folks think is the most interesting feature to come. And as always, if you have any additional notes to add, please don't hesitate to comment on this post.
Feel free to check out the poll archive for results of our earlier polls. All suggestions for future polls are more than welcome too. Thanks in advance for both your answer here and any additional suggestions or feedback you might have!
New commercial module: Recurme by Joshua Gatcke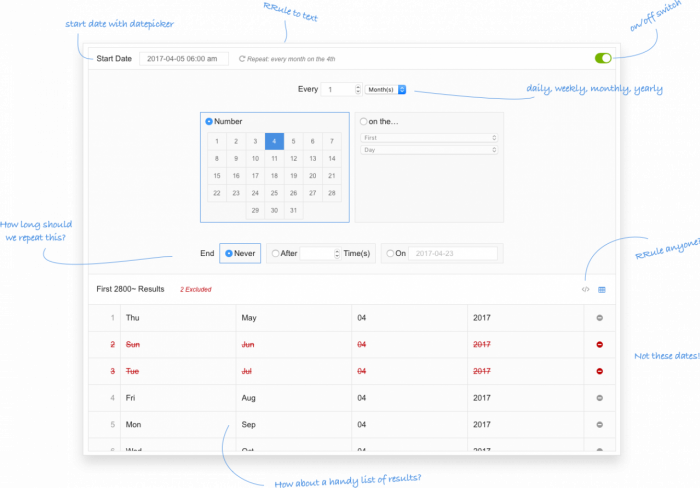 This week we are happy to share with you folks something that is still kind of rare when it comes to third party ProcessWire modules: a commercial module called Recurme.
In a nutshell Recurme, built by Joshua Gatcke of 99Lime, provides you with a couple of easy to use and beautifully designed features, which together constitute a full-featured event management experience:
Inputfield for configuring recurrences. Pretty much all the recurrence options you might hope for are already supported: every N days, weeks, or months; weekday selection; end date or number of occurrences; and so on.
API level tools that make rendering custom calendars and event lists anywhere on your site a breeze. Configuration options allow you to define exactly how each of these should behave, and displayed events are defined with a selector string.
Unlimited amount of fully customizable admin calendars. You can use these as a shortcut for editing events on the site, or simply as a tool for users with admin access to schedule events. It's all up to your needs.
There are plenty of awesome things we'd like to mention about this module, but time and space is limited, so be sure to check out the product page at 99lime.com for more details. In addition to the already pretty amazing feature set it provides, this module also has a well defined API, and the quality of the documentation is really top-notch.
Big thanks to Joshua for building this module and sharing it with us. Recurme seems like a real lifesaver for complex event related needs. There's no doubt that the sheer amount of development time it can save makes it easily worth it's price!
Site of the week: CDS Service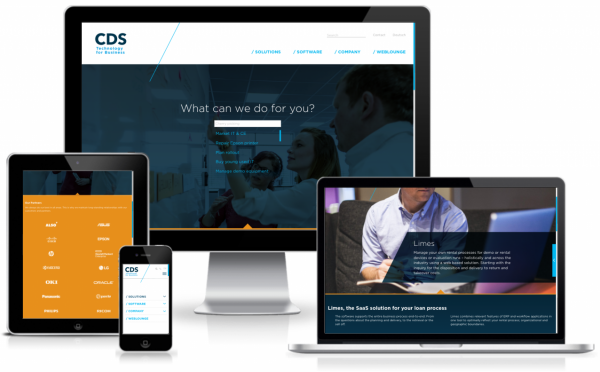 Our latest site of the week belongs to CDS Service GmbH, a German company providing IT and software related services: they buy, refurbish and resell IT equipment, provide remarketing services, plan and help execute rollouts, and even provide their own web based SaaS solutions.
The CDS Service website, designed and developed by designconcepts, has pretty much everything you'd expect from a modern website covered: it looks great, it's responsive, usability is top-notch, and it feels pretty fast – the last part, no doubt, being at least partially thanks to the ProCache module.
The front-end of this site is powered by the Bootstrap front-end framework, while the back-end is powered by ProcessWire 3. Thanks to a recent showcase forum thread we also know that this site makes use of the markup regions feature, includes extensive front-end editing support, and has a bunch of familiar modules installed: Jumplinks, Repeater Matrix, Markup Sitemap XML, and Email Obfuscation, just to mention a few.
For more technical details you should check out the showcase forum thread mentioned above, and for some additional project details and examples of the CDS Service design and branding material in action it's also well worth checking out the project info page at the designconcepts site.
Our congratulations to CDS Service for a wonderful site, and of course big thanks to designconcepts – and particularly Andreas Scheffczyk – for sharing this site with us!
Stay tuned for our next issue
That's it for the 159th issue of ProcessWire Weekly. We'll be back with more news, updates, and content Saturday, 3rd of June. As always, ProcessWire newsletter subscribers will get our updates a few days later.
Thanks for staying with us, once again. Hope you've had a great and productive week, and don't forget to check out the ProcessWire forums for more interesting topics. Until next week, happy hacking with ProcessWire!