The 173rd issue of ProcessWire Weekly brings in all the latest news from the ProcessWire community. Modules, core updates, sites, and more. Read on!
Welcome to the 173rd issue of ProcessWire Weekly! For this issue we've got some new core update and module news from Ryan, a new weekly poll, a list of recent forum highlights and other online resources, and a brand new site of the week.
Though it is also in our list of weekly highlights, there's one item that deserves a special mention: CMS Awards 2017. The votings are now open, and this year you can find us from the Best CMS for SMB category, alongside some pretty serious contenders. In short, it's again the time to show your support for ProcessWire. As always, your support is much appreciated!
Thanks to all of our readers for being here with us again, and as always, any feedback is most welcome – please don't hesitate to drop us a line if there's anything in your mind you'd like to share with us.
Latest core updates: ProcessWire 3.0.74 and the FieldsetPage module
In the latest post at the processwire.com blog Ryan introduces ProcessWire 3.0.74 (dev) and, continuing where we left off last week, a brand new core fieldtype called FieldsetPage.
FieldsetPage bears similarities with regular Fieldsets and Repeaters. The UI is identical to Fieldsets, making it pretty much a no-brainer for content editors, while behind the scenes FieldsetPage borrows a lot from Repeaters, with one notable difference: there's never more than one instance of each FieldsetPage field connected to any given page.
As for reasons to use FieldsetPage instead of Fieldset or Repeaters, there are a few:
Unlike Fieldset, the fields that a FieldsetPage contains are defined in one place, meaning that if you add or remove fields, all pages that include said FieldsetPage field will be updated accordingly.
Behind the scenes FieldsetPage uses a separate Page to store its data. This is also why you can have same fields – such as the "title" field – on both the parent page and the FieldsetPage field.
Using FieldsetPage via the API is really simple, thanks to the fact that it creates a kind of a namespace of its own: echo $page->fieldset->title, $page->fieldset->title = "new value", and so on.
While FieldsetPage offers similar benefits as the Repeater field, it is easier to set up and use, and thanks to its inherent 1:1 relation with the parent page it can be a better choice in terms of performance.
This new fieldtype is already included in the latest version of our development branch, and dev users can get it up and running just by installing the FieldsetPage module. For more details about the FieldsetPage fieldtype, remember to check out Ryan's weekly post at the processwire.com blog. Thanks!
Weekly poll: which ProcessWire news sources do you follow?
This week's poll is a multiple choice one, and for a good reason, since this time we're asking which ProcessWire news sources you folks find most followable. Do you follow them all, or perhaps just one or two select ones?
At this point it doesn't really matter how often you check the latest news, though that might be a good subject for a more in-depth follow-up poll. Thanks in advance for your time – your input is valuable, and helps us improve and focus on the stuff that matters!
Weekly Newsletter (17.2%, 41)

ProcessWire Weekly (31.4%, 75)

ProcessWire News and Updates Blog (23.8%, 57)

News & Announcements at the ProcessWire Support Forum (10.9%, 26)

ProcessWire Twitter account (12.6%, 30)

ProcessWire Facebook group (4.2%, 10)
Total votings: 239
Feel free to check out the poll archive for results of our earlier polls. All suggestions for future polls are more than welcome too. Thanks in advance for both your answer here and any additional suggestions or feedback you might have!
Weekly forum highlights, tutorials, and other online resources
Here's a list of support forum highlights and other useful and/or interesting resources. As always, please let us know if there's anything important we've missed, so that we can include it in one of our future issues.
If you're interested in ProcessWire news, discussions, and updates, there's always something going on at the support forum. Since we're only able to include a tiny selection of all that in our weekly updates, head down to the forum for more.
Site of the week: ChaletOwners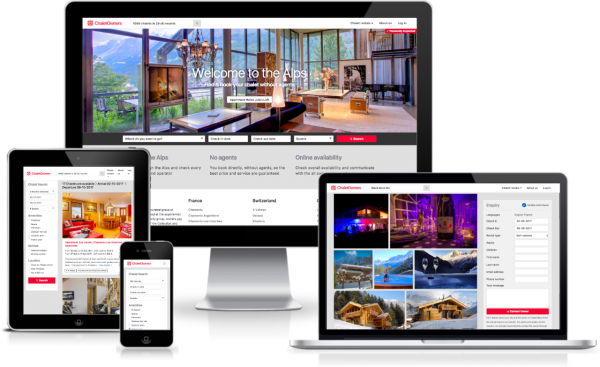 Our latest site of the week, ChaletOwners, is a platform that allows one to find and book a chalet for a nice vacation in the Alps. With more than a thousand chalet choices across six different locations there are plenty of options to choose from, and via the ChaletOwners site finding the most suitable option is a breeze.
Design wise ChaletOwners is a decent looking site, and the user experience seems well thought out. Content is easy to locate, the site is available in three languages, the search features – the quick search at the top of the home page and the extended search deeper in the site – both feel intuitive to use, and there's plenty of useful information – high quality photographs, floor plans, accommodation options, and so on – about the chalets themselves. The overall experience is definitely positive and in line with the purpose and target audience of the site.
The front-end of this site makes use of the Bootstrap front-end framework and various JavaScript tools, including autocomplete library typeahead.js, cross device select plugin jquery.sumoselect, datepicker plugin foundation-datepicker.js, and gallery plugin PhotoSwipe. All connections to the site go through HTTPS, which is the best practice nowadays anyway, and as a curious detail it appears that the bulk of static resources (JavaScript, CSS, and images) get loaded from a separate caching server.
Congratulations to the folks behind ChaletOwners.com, Lion de Montagne Sàrl, for creating such a wonderful website, and thanks for sharing it with us!
Stay tuned for our next issue
That's it for the 173rd issue of ProcessWire Weekly. We'll be back with more news, updates, and content Saturday, 9th of September. As always, ProcessWire newsletter subscribers will get our updates a few days later.
Thanks for staying with us, once again. Hope you've had a great and productive week, and don't forget to check out the ProcessWire forums for more interesting topics. Until next week, happy hacking with ProcessWire!