The 175th issue of ProcessWire Weekly brings in all the latest news from the ProcessWire community. Modules, core updates, sites, and more. Read on!
Welcome to the 175th issue of ProcessWire Weekly! This week we're taking a closer look at the latest core and pro module updates, a brand new third party module, and a new site of the week. We've also got a new weekly poll focusing on one of the hot potatoes of the web industry, AMP.
This week has been a bit challenging, not just with Ryan dealing with a hurricane, but also (though that's by no means comparable) yours truly on a vacation at the sunny Spain. While it's always a pleasure to be here, having to rely on an old tablet has it's downsides. Sorry for all the typos – next week it should be business as usual around here :)
Thanks to all of our readers for being here with us again, and as always, any feedback is most welcome – please don't hesitate to drop us a line if there's anything in your mind you'd like to share with us.
Latest core updates: ProcessWire 3.0.75 and a new version of ProDrafts
This week on the processwire.com blog Ryan talks about the latest development version of ProcessWire (3.0.75), a new version of the commercial ProDrafts module, and the dealing with the effects of a hurricane.
Note that last week we hinted about a new open source module due for a release this week, but that plan has been postponed a bit due to Ryan spending notable part of the week dealing without electricity etc. Anyway, we'll get back to this topic next week.
ProcessWire 3.0.75
ProcessWire 3.0.75 is essentially a bugfix and maintenance release, with focus on resolving and closing user-submitted GitHub issues. As such, this is a recommended update for existing users of the dev branch.
For more details on what's new in this version, feel free to check out the development branch commit log at GitHub for September 1st through 15th.
ProDrafts 6
ProDrafts, on the other hand, has just received some pretty awesome new features – most notably support for Repeaters and Repeater derivatives like Fieldset Page and Repeater Matrix, and a built-in workflow support.
Repeater support is kind of self-explanatory, but the workflow support is a bit more complex feature. In essence it enables less privileged content editors to submit change requests, and content admins to reject or admit those requests, and facilitates communication between these parties.
That's it for our core updates section this week. For more details about the latest core updates and particularly the latest version of ProDrafts, don't forget to check out the weekly blog post by Ryan. Thanks!
Weekly poll: what's your take on Accelerated Mobile Pages?
This week we're interested in your take on the topic that has recently been both praised and critized by industry experts: Google's Accelerated Mobile Pages, or AMP for short. On one hand there's the promise of greatly improved mobile experience, but on the other hand AMP has serious implications in terms of open web and existing standards.
What's your take on this particular piece of tech – have you used it in your projects, do you prefer to avoid it, or are you still waiting to see where it lands before making a decision? Or is AMP, perhaps, a new thing to you altogether?
AMP is great, and I have used it on my ProcessWire projects (3.8%, 4)

AMP is great, but I haven't used it with ProcessWire projects yet (7.7%, 8)

Still trying to decide whether AMP is really worth it (40.4%, 42)

I have decided not to jump on the AMP bandwagon (30.8%, 32)

What's an AMP? (17.3%, 18)
Total votings: 104
If you'd like to explain your views further, feel free to leave a comment to this post. There's only so much one can express through a single multiple-choice answer, after all.
Feel free to check out the poll archive for results of our earlier polls. All suggestions for future polls are more than welcome too. Thanks in advance for both your answer here and any additional suggestions or feedback you might have!
New module: Login With Email
Login With Email is a new module by Noël Bossart. In a nutshell this tiny module allows you to log into the ProcessWire backend using an email address instead of a username – a feature that may come in handy in some projects.
Though the concept behind Login With Email is rather simple, it should be noted that there's a potential gotcha when using it: email addresses are not necessarily unique. If you choose to use this module, you should be aware of this, and perhaps solve that issue with another module or code snippet first.
Either way, big thanks to Noël for sharing this module with us. It's a very useful little tool, that's for sure!
Site of the week: delispot – Kompendium der unaufgeregten Küche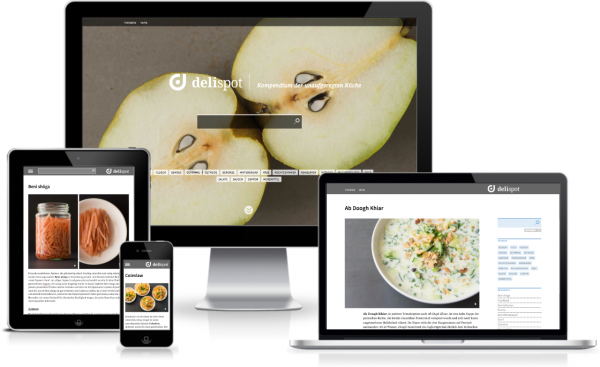 Our latest site of the week is called delispot, and it is a German kitchen compendium. From this site you'll find a ton of information and a bunch of recipes for dishes, drinks, and ingredients divided into various categories and complete with high quality photographs.
The delispot site is the project of Ralf Schmid, and it is obviously powered by ProcessWire. In addition to the great material found from the site, feature wise there are also various tools for searching and filtering content and an RSS feed of the site content. The design of the site is relatively simple, but the typography and photographs make it pleasing to the eye and easy to follow at the same time.
Though the site doesn't seem to use any of the popular front-end frameworks, it is properly responsive, and works nicely on all sorts of screen sizes. The overall usability and readability of the site are top notch, partly thanks to it's no-nonsense approach to any unnecessary visual elements. The few JavaScript features used on the site are largely based on jQuery, Fancybox, and some home-cooked (pun intended) functions, and the sites analytics needs are fulfilled by Piwik.
Thanks to Ralf Schmid for sharing this site with us. We sincerely hope that it gets the recognition it deserves – its a great site indeed!
Stay tuned for our next issue
That's it for the 175th issue of ProcessWire Weekly. We'll be back with more news, updates, and content Saturday, 23rd of September. As always, ProcessWire newsletter subscribers will get our updates a few days later.
Thanks for staying with us, once again. Hope you've had a great and productive week, and don't forget to check out the ProcessWire forums for more interesting topics. Until next week, happy hacking with ProcessWire!