The 179th issue of ProcessWire Weekly brings in all the latest news from the ProcessWire community. Modules, core updates, sites, and more. Read on!
Welcome to the 179th issue of ProcessWire Weekly. This has been another busy week around here, and we've got plenty of interesting stuff to share with you. In this issue we're going to take a closer look at the latest core updates, include a list of recent forum highlights and interesting projects, introduce a new poll, and of course pick another inspiring site of the week.
Perhaps it has something to do with this time of the year, but this week there were in fact too many interesting things happening for me to cram into a single weekly issue. That's why some of the stuff that's happened during this week – such as some newly released third party modules – will instead be covered in next week's issue.
I guess that's what you might call a positive problem.
Anyway, thanks for being here with us once again. As always, any feedback is welcome, so please don't hesitate to drop us a line if there's something in your mind that you'd like to share with us. Right now it's time to grab a cup of hot beverage, sit back, and enjoy our latest issue. Have a great weekend, folks!
Latest core updates: ProcessWire 3.0.79
This week's core updates are focused on covering the issues reported via GitHub, and tweaking some relatively minor things here and there. In short we don't have a weekly blog post from Ryan this time, and there were no major additions to the core either.
Taking a closer look at the commit log for the dev branch of ProcessWire, we can see that a number of issues were closed this week:
... and so on. For a full list of changes this week, see the commit log mentioned above.
In addition to the core updates, AdminThemeUikit also received an update this week. In fact, according to Ryan, "other than for a few small details and rare cases [...] it's nearly production ready". In case you'd like to give AdminThemeUikit a try without installing it yourself, you can log in to the demo site as "bloguser" with password "processwire3".
Any comments or questions regarding the latest core or AdminThemeUikit updates can be posted on the 3.0.79 update support forum thread. Thanks!
Weekly poll: what size of organization do you represent?
This time we're interested in the users ProcessWire. We are well aware that there are a number of sizable companies out there making use of ProcessWire, but what about you right there – do you represent one of said big businesses, or perhaps a smaller one, or could it be that you are a single developer using ProcessWire for your own personal or client projects?
For this poll multiple options are once again allowed, mainly because a number of you probably won't fit just one category. At the very least I'd assume that a notable amount of you use ProcessWire not only for commercial, but also personal projects – but that's quite enough for assumptions, now it's polling time!
I use ProcessWire for my own, non-commercial projects (16.6%, 26)

I work as a freelancer / own my own one-man business (44.6%, 70)

I work for a micro business or non-profit organization (< 10 employees) (16.6%, 26)

I work for a small business or non-profit organization (10-50 employees) (8.9%, 14)

I work for a medium sized business or non-profit organization (50-250 employees) (8.3%, 13)

I work for a large to enterprise scale business or non-profit organization (250+ employees) (5.1%, 8)
Total votings: 157
For the record, we are also aware that the definitions of micro, small, medium, and large businesses are a bit hazy, to say the least. The numbers you see above are based on the way that EU defines small to medium-sized enterprises – so please don't be insulted if you consider yourself or your employee to be in the wrong category :)
Feel free to check out the poll archive for results of our earlier polls. All suggestions for future polls are more than welcome too. Thanks in advance for both your answer here and any additional suggestions or feedback you might have!
Weekly forum highlights, tutorials, and other online resources
Here we've got a new collection of support forum highlights and other useful and/or interesting resources. As always please let us know if there's anything important we've missed so that we can include it in one of our future issues.
If you're interested in ProcessWire news, discussions, and updates, there's always something going on at the support forum. Since we're only able to include a tiny selection of all that in our weekly updates, head down to the forum for more.
Site of the week: Writer Relocations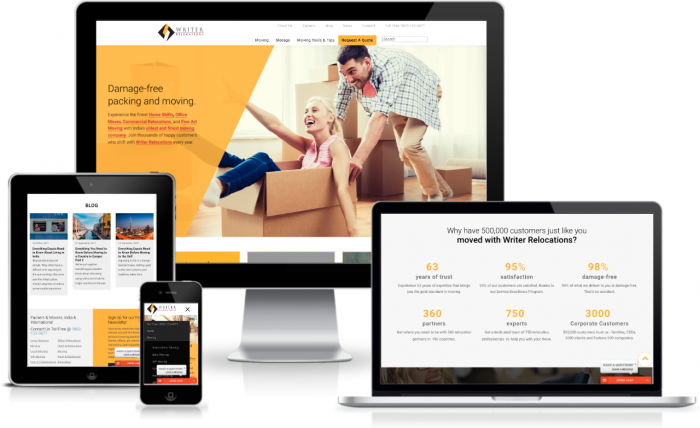 Our latest site of the week belongs to a moving company called Writer Relocations. Based in Mumbai, India, Writer Relocations was founded back in 1953 – meaning that they've been around for more than 63 years now; rather formidable number by any industry standards, that is.
Writer Relocations provides moving and packing services, home and commercial storage solutions, and specialties such as fine art and installation moving. In case you want numbers, they have 750 professionals in 13 offices, 360 partners in 190 countries, 3000 corporate customers – and more than 500.000 customers in total. Not too shabby, right?
The website of Writer Relocations was developed by Pigtail Pundits, another Mumbai based company. The front-end of this site is based on the Bootstrap framework, and design wise it is both beautiful and usable. Behind the scenes the site makes use of various Pro modules, such as Form Builder, ProFields, and ProCache.
Thanks to Pigtail Pundits for sharing this site with us and congratulations to the client, Writer Relocations, for a wonderful site to match their exquisite brand. If I may add, this is one of the most polished sites that I've come across lately – a real masterpiece!
Stay tuned for our next issue
That's it for the 179th issue of ProcessWire Weekly. We'll be back with more news, updates, and content Saturday, 21st of October. As always, ProcessWire newsletter subscribers will get our updates a few days later.
Thanks for staying with us, once again. Hope you've had a great and productive week, and don't forget to check out the ProcessWire forums for more interesting topics. Until next week, happy hacking with ProcessWire!