The 180th issue of ProcessWire Weekly brings in all the latest news from the ProcessWire community. Modules, core updates, sites, and more. Read on!
Welcome to the 180th issue of ProcessWire Weekly. This week we're taking a closer look at the latest development version of ProcessWire, 3.0.80, Ryan is going to answer some common Pro module questions, we've got a new third party module, and we're listing some popular forum topics and other highlights.
Our latest site of the week is actually the first ProcessWire project of a company called Carnevale Design LLC. The site belongs to a TV show that has won two Emmy awards for being an outstanding magazine program, but more about that in a jiffy.
Thanks to all of our readers for being here with us again, and as always, any feedback is most welcome – please don't hesitate to drop us a line if there's anything in your mind you'd like to share with us.
Latest core updates: ProcessWire 3.0.80, Pro module Q&A, and more
In the latest post at the processwire.com blog Ryan talks a bit about ProcessWire 3.0.80, the latest development version of ProcessWire, and goes on to answer some commonly asked questions regarding ProcessWire's language packs and Pro modules.
ProcessWire 3.0.80
ProcessWire 3.0.80 is essentially a maintenance release. A number of issues have been resolved, and probably the most notable new feature here is Repeater support for the user template. Some improvements were also made to module debugging, and a new wireCount() method was introduced in preparation for full PHP 7.2 support.
In his weekly post Ryan goes on to mention that a new stable release of ProcessWire could be out in the next few weeks. We'll keep you posted as soon as we know more about this.
Pro module Q&A, language packs, and CKEditor 5
In addition to the core update, this week Ryan has opted to answer some commonly asked questions regarding Pro modules – licensing, updates, and so on – and also provides us with a handy walkthrough of the process of translating ProcessWire, essentially producing what we refer to as a language pack.
Another topic covered this week's post is CKEditor – and, to be specific, its fifth version. ProcessWire includes a built-in CKEditor inputfield, and as such we're very interested in keeping up to date with the latest CKEditor updates. The future of his feature-packed RTE has a direct impact on us, and we're liking what we've seen so far.
For more details about the latest version of ProcessWire and some really helpful FAQs, don't forget to check out Ryan's weekly post at the processwire.com blog. Thanks!
New module: Virtual Parents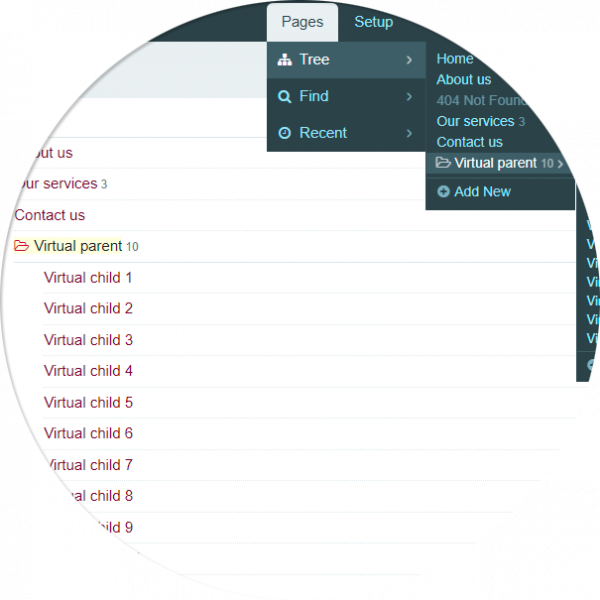 This week we've got a new module called Virtual Parents from Robin Sallis. As a word of warning: this module is very much in its early stages, and should not be considered production ready quite yet. That being said, it is an interesting one, and we wanted to get the word out right away.
Virtual Parents' roots can be traced to a feature request for "fake pages". The idea was that one should be able to create fake – or directory – pages that appear within the admin, but disappear when viewing pages, i.e. on the front-end.
Robin took that idea and delivered a module that does pretty much exactly that:
When a virtual parent page is on the same level as its configured virtual children, this module creates a fake hierarchy in the admin. This applies to the page tree – and just about everywhere else.
When viewed on the front-end of the site, virtual parent and its virtual children are all on same level: example.com/virtual-parent/, example.com/virtual-child/, example.com/virtual-child-2/, etc.
Parent–child relations are based on the pages' location in the page tree, but also their templates, making this feature highly configurable.
The module intercepts a number of actions, such as adding a child page or moving pages, so that the virtual parent pages really do feel like real parent pages.
You can see the module in action in the screenshots at the dedicated support forum thread. For any questions and feedback, we'd suggest that you also turn to said forum thread. Big thanks to Robin for building and sharing this module!
Weekly forum highlights, tutorials, and other online resources
Here we've got a new collection of support forum highlights and other useful and/or interesting resources. As always please let us know if there's anything important we've missed so that we can include it in one of our future issues.
The Module Generator built by Nico Knoll in 2015 allowed one to rapidly set up a module skeleton with all the basics in place. The project has been stagnant for a while, but as of this week Mike Rockett has picked up the baton and continued from where Nico left off – and the new version looks quite promising already!
Our second highlight for the week is a preview of an upcoming third party module from Macrura, Process Documentation. This soon-to-be-released module allows one to create documentation pages within the admin itself.
Another upcoming module, coincidentally also from Macrura, is called Settings Factory (formerly Settings Train). In a nutshell this module aims to streamline management and use of site-wide settings collections.
Lastly we've got two recently released projects we wanted to highlight:
The first one is something we quite liked implementation-wise, but which will no doubt divide opinions when it comes to the subject of the site: a newly released Spanish site for the Camel cigarette brand.
The second one is a bit less controversial: the beautifully designed single-page site for Italian mechatronics and industrial automation company Eureka System.
If you're interested in ProcessWire news, discussions, and updates, there's always something going on at the support forum. Since we're only able to include a tiny selection of all that in our weekly updates, head down to the forum for more.
Site of the week: StyleBoston.tv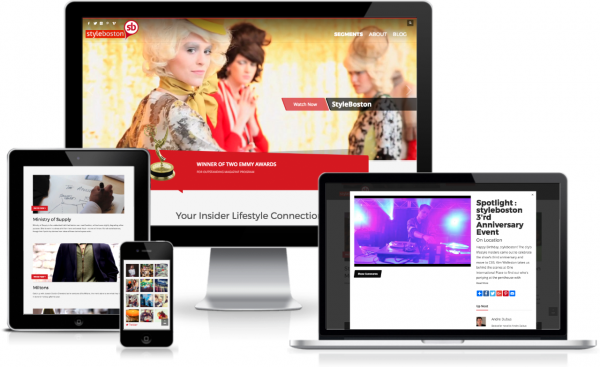 Our latest site of the week belongs to the TV show StyleBoston. Their newly released website was in fact the first ProcessWire project for Carnevale Design LLC, a creative firm from Sunapee, New Hampshire.
StyleBoston is a 30-minute lifestyle and entertainment television show, and a winner of two regional Emmy awards in the Outstanding Magazine category. The show has been airing since 2009, and covers the latest topics in design, fashion, lifestyle, influencers, and entertainment.
The site of StyleBoston features some beautiful visuals, a number of embedded videos from various categories, and embedded feeds from a bunch of social media services – Instagram, Twitter, Facebook, and so on. The content is definitely a key factor on this site, and a big part of why we're featuring it here in the first place.
The front-end of this website makes use of the Bootstrap framework and a number of JavaScript libraries, such as the jQuery carouFredSel carousel plugin. When it comes to the back-end, one familiar name popped after a bit of inspection is the friendly front-end editor Fredi – and, as one would expect from any modern website these days, all connections are secured by HTTPS (using a free SSL certificate from Let's Encrypt).
Congratulations to both the client, StyleBoston, and the author of this site, Carneval Design LLC, for a neat new site. Hopefully we'll get to see more ProcessWire powered projects from Carnevale Design in the near future!
Stay tuned for our next issue
That's it for the 180th issue of ProcessWire Weekly. We'll be back with more news, updates, and content Saturday, 28th of October. As always, ProcessWire newsletter subscribers will get our updates a few days later.
Thanks for staying with us, once again. Hope you've had a great and productive week, and don't forget to check out the ProcessWire forums for more interesting topics. Until next week, happy hacking with ProcessWire!