The 187th issue of ProcessWire Weekly covers ProcessWire 3.0.85, introduces a third party module called Add Image URLs, includes a collection of online highlights, and features a lovely new site of the week. Read on!
There have been so many interesting articles and other resources recently that we just had to include the list of weekly highlights in this issue. We've also got a very nice new module from Robin Sallis called Add Image URLs, and with Ryan back in the office there's a new core version this week too.
A lot of stuff to go through again, so let's get started!
As always, a big thank you to all of you for being here with us, and please don't hesitate to drop us a note if there's anything in your mind that you'd like to share. Your feedback helps us focus on the things that you folks want to hear more about.
Latest core updates: ProcessWire 3.0.85
After some well-deserved offline time Ryan is back in the office, and thanks to that we have a new version of ProcessWire in the dev branch. In case you missed our previous issue, be sure to also check out last week's guest post, in which Bernhard talked a bit about developing Process modules for ProcessWire.
Now, regarding this week's updates: while 3.0.85 is mainly a maintenance release, and includes a number of bug fixes and smaller improvements, it also brings a couple of pretty useful new features to the table. Both are geared towards improving the UX of the Admin interface:
In the Uikit Admin Theme notifications are by default collapsed by type
This means that the three main types of notifications – messages, warnings, and errors – will be grouped by type when you first load the page, but can still be expanded with a click. This update can make the GUI considerably less busy.
Checkbox fields now support a separately configurable checkbox label
In essence this means that you can now define the label displayed above the checkbox field and the label displayed next to the checkbox itself separately. Before you could only set a label, and it was used for both (if necessary).
For more details about this week's updates and a few screenshots that demonstrate what collapsible notifications and the new checkbox label settings look like in action, check out Ryan's latest post at the processwire.com blog. Thanks!
New module: Add Image URLs
This week we've got one all-new third party module to share: Add Image URLs from the ever-so-productive Robin Sallis. Labeled by the author himself as "experimental", this module adds a new "Paste URLs" button next to each image field, and then allows you to paste in a list of image URLs you want ProcessWire to fetch automatically for you.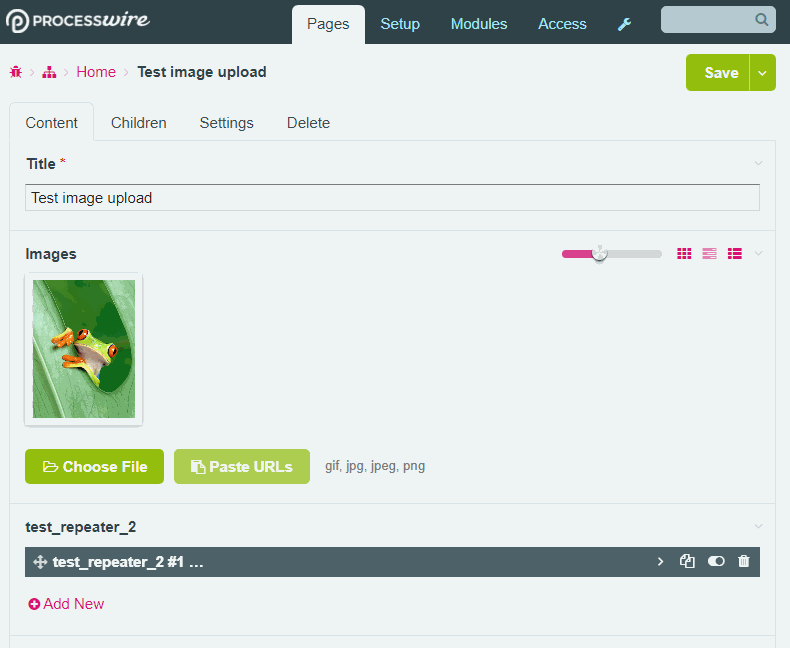 The ability to fetch a file – image or otherwise – from an URL has always been a part of the core, but typically it's only available via the API. This module brings this feature to the Admin GUI, thus providing some nice options in case you need to, say, migrate an existing post with a lot of images to a new site.
Big thanks to Robin for sharing your work with us, once again. Experimental or not, this module will no doubt come in handy for some future projects. Keep up the great work!
Weekly forum highlights, tutorials, and other online resources
Here we've got a new collection of support forum highlights and other useful and/or interesting resources. As always please let us know if there's anything important we've missed so that we can include it in one of our future issues.
If you're interested in ProcessWire news, discussions, and updates, there's always something going on at the support forum. Since we're only able to include a tiny selection of all that in our weekly updates, head down to the forum for more.
Site of the week: :kostal design from Cologne, Germany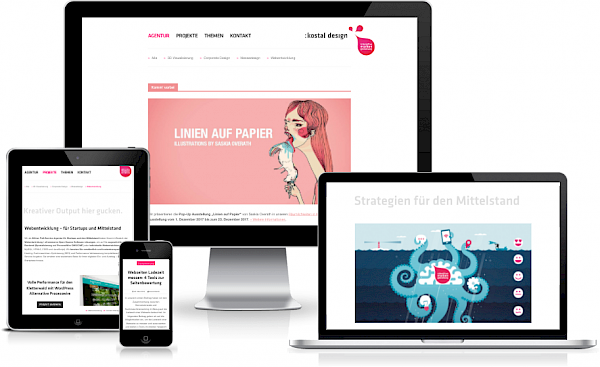 Our latest site of the week belongs to an advertising agency based Cologne, Germany. :kostal design is a full service digital agency, with services ranging from corporate and 3D visual design to exhibition planning and full-on web development.
The site of :kostal design is responsive, and the simplistic – yet beautiful – design puts the content in the front and center. Large images and nicely laid out text, accompanied by tasteful animations, make sure that on this site content really is the king. And while we're talking about content, make sure to check out their articles: there's some pretty great content there (in German though, but that's what Google Translate is for, right?)
The front-end of the :kostal design website is based on the Foundation framework, and includes a number of JavaScript tools and libraries ranging from well known ones such as jQuery to slightly more obscure ones such as the "high-privacy sharing button tool" Shariff. When it comes to actual behind the scenes stuff, this site includes at least two familiar modules: ProCache and FormBuilder.
Congratulations to the folks at :kostal design, and thanks for sharing this site with us – it's always a pleasure to see an agency using ProcessWire for both their own stuff and their client projects!
Stay tuned for our next issue
That's it for the 187th issue of ProcessWire Weekly. We'll be back with more news, updates, and content Saturday, 16th of December. As always, ProcessWire newsletter subscribers will get our updates a few days later.
Thanks for staying with us, once again. Hope you've had a great and productive week, and don't forget to check out the ProcessWire forums for more interesting topics. Until next week, happy hacking with ProcessWire!