The 202nd issue of ProcessWire Weekly brings in all the latest news from the ProcessWire community. Modules, core updates, sites, and more. Read on!
Welcome to the 202nd issue of ProcessWire Weekly! This time we've got some helpful "getting more out of your new ProcessWire installation" type of tips from Ryan, the results from our top 3 ProcessWire modules poll from a couple of weeks ago, and a brand new third party module for migrating content from ProcessWire 2.x to 3.x.
As always, a big thank you to all of you for being here with us, and please don't hesitate to drop us a note if there's anything in your mind that you'd like to share. Your feedback helps us focus on the things that you folks want to hear more about.
I've upgraded to the latest ProcessWire 3.x master release – now what?
This week on the processwire.com blog Ryan talks about some of the things you might want to consider after upgrading your site to make use of our latest master release, ProcessWire 3.0.96. Although not necessary, these are some of the things that allow you to reap the full benefits of the new release, so to speak:
Install AdminThemeUikit
While enabled by default for new sites, for existing sites we'll give you the choice of whether you want to remain on one of the older themes or move on to Admin Theme Uikit. That being said, the Uikit based admin theme is a major upgrade over our previous default and Reno themes, so definitely give it a try.
Install animated GIF support
ImageSizerEngineAnimatedGif module is another built-in but not enabled-by-default feature . This module, developed by Horst Nogajski, will vastly improve the ability of your site to process animated GIF's, so it's definitely a useful addition.
Enable the zoom feature for image fields
Although the focus feature is enabled by default in the new master release, the related zoom feature is not. You can manually enable this field by field via the Input tab, found from the settings of any given image field.
Install ImageMagick support
Though it isn't a new feature in the latest master release, this might be a good time to give the built-in ImageSizerEngineIMagick module a try as well. In case your server supports ImageMagick, it can provide you with some very nice benefits. If not – well, no harm done, the module just won't install.
Don't forget to check out the weekly post from Ryan for more details on the features mentioned above, some insight on how the new master release is working for our users, and also a few personal notes – or perhaps reflections – regarding both the history and future of ProcessWire.
The results are in: here are the top 3 most popular ProcessWire modules based on your votes
A couple of weeks ago we posted a simple poll, asking for your favourite ProcessWire modules. The results from that poll are finally in, so without further ado here are the top 3 – technically top 4, since two modules tied for the third place – ProcessWire modules in 2018 according to the readers of ProcessWire Weekly:
FormBuilder and ProCache
The top 3 were closely followed by runners-up, which included (in no particular order) ProcessWire Upgrade, MarkupSimpleNavigation, AIOM, and Croppable Image. Although the top modules were pretty far ahead of the bunch, all in all we received some forty different module suggestions, so there was a pretty wide spread in the answers.
A special hat tip to whoever suggested "native ProcessWire API" and "PHP". We definitely agree with you that these are by far the most important tool we have, but since we were asking for ProcessWire modules, sadly these couldn't be counted as real votes :)
Congratulations from us to the authors behind the most popular modules – thank you for doing awesome stuff for the ProcessWire community, and keep up the great work!
New module: Pages Export
Pages Export is a tool developed by Kongondo for migrating content from a ProcessWire 2.x installation into a new ProcessWire 3.x installation. Although you can just upgrade a 2.x site to 3.x with relatively little work, this is a really handy tool in case you'd rather set up and test the new site first, and migrate your content once you've got the new site up and running – or perhaps do a full-on rebuild of your site in the background.
The underlying functionality of this module is essentially a backport of the native page export feature of ProcessWire 3, and the import part is also handled by the native page import feature. According to Kongondo, this module has been tested on ProcessWire 2.2-2.7, and it should be able to handle the most common types of content – including Repeaters, files, and images – with ease.
Note: as of this writing this module hasn't (yet) been tested with multi-language fields. If that's what you're working with, you should keep this potential gotcha in mind.
If you'd like to give this module a try, I'd recommend starting from the detailed guide and introduction to Pages Export on the dedicated support forum thread. Once you've grasped the basics, you can clone or download the module directly from the Pages Export GitHub repository.
Once again big thanks to Kongondo for working on this handy new migration tool – it's splendid work, and your input is very much appreciated!
Site of the week: Robertson Homes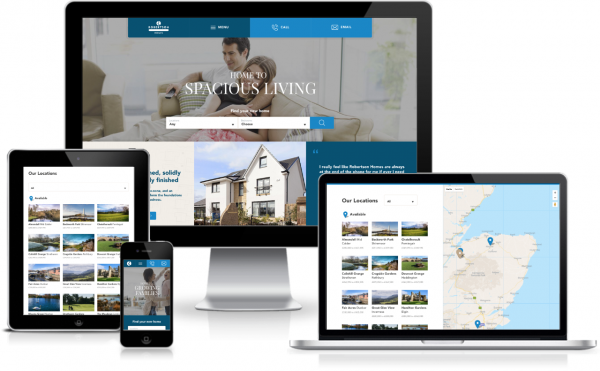 Our latest site of the week belongs to an UK based company called Robertson Homes. They build and sell luxurious new family homes across Scotland and North East England, and also provide various services intended to make moving into your new home as effortless as possible.
The Robertson Homes website, built by 999 Design, is based on the Bootstrap front-end framework. The mobile-first, responsive implementation and the luxurious design were definitely what caught our eye in this project. The fade-in effects give the site a nice dynamic feel, and the UI and different layouts of the site in general are sensibly crafted and feel quite intuitive.
Behind the scenes this site is using the commercial Form Builder module, and that's the only well known module we were able to spot right away. On the other hand there's also quite a bit going on at the JavaScript side – including goal and conversion tracking using both Facebook pixel and Google Analytics.
All in all this is a very good looking and well performing site, and we're happy to have it featured in our sites directory. Thanks for the folks at 999 Design for sharing their work with us, and our congratulations to the client, Robertson Homes, for a wonderful new ProcessWire powered website!
Stay tuned for our next issue
That's it for the 202nd issue of ProcessWire Weekly. We'll be back with more news, updates, and content Saturday, 31st of March. As always, ProcessWire newsletter subscribers will get our updates a few days later.
Thanks for staying with us, once again. Hope you've had a great and productive week, and don't forget to check out the ProcessWire forums for more interesting topics. Until next week, happy hacking with ProcessWire!