The 210th issue of ProcessWire Weekly brings in all the latest news from the ProcessWire community. Modules, core updates, sites, and more. Read on!
Welcome to the 210th issue of ProcessWire Weekly! Hope you've had a great week so far – I sure have, partly thanks to the summer finally reaching even the northernmost parts of Europe. This time of the year even the ProcessWire community tends to get slightly quieter than usual, but we've still got plenty of stuff to share with you folks.
In this issue we'll take a closer look at the latest core updates, and also introduce an interesting new site of the week. We've also got some recent highlights, and our weekly poll is related to a topic that has recently gained a lot of attention particularly from people with legal, business, or development backgrounds: GDPR.
One more thing before we get started: a couple of weeks ago we featured RockFinder, a module that was back then still at alpha stage, and promised to keep you posted as the module's stability improves. Well, RockFinder is now available via the modules directory, and though it's still considered a beta release we definitely recommend checking it out.
As always, a big thank you to all of you for being here with us, and please don't hesitate to drop us a note if there's anything in your mind that you'd like to share. Your feedback helps us focus on the things that you folks want to hear more about.
Latest core updates: ProcessWire 3.0.103 improves database session management, forgot password feature, and comments search engine
This week we have a core updates blog post from Ryan at the processwire.com blog, so be sure to check that one out. The post introduces ProcessWire 3.0.103, our latest development release, which includes improvements to three built-in core modules: SessionHandlerDB, ProcessForgotPassword, and FieldtypeComments.
What's new in 3.0.103?
First of all SessionHandlerDB, which is our built-in alternative for the default session management that stores session data in the database instead of disk, now has a new setting available for disabling parallel sessions. Simply put: if you enable this feature, once you or one of your users logs in from a new device, all existing sessions will be automatically closed.
The biggest update this week is for the ProcessForgotPassword module, which – as the name suggests – handles restoring lost passwords for users. There's a lot of new stuff for this module this week, such as being able to restore password by typing in an email instead of a username, proper spam detection, optional logging, improved security, and the ability to ask for values of other user details before resetting the password.
Third and final update is for the FieldtypeComments module, and more specifically its support for finding comments. While comment-specific find method has been available for quite a while, this week it was updated to act more like the Pages find method, and to support (among other things) full text indexes for comments, sorting comments by multiple properties, and finding comments by properties of the parent page.
Coming up next...
According to Ryan, there will be an updated version of the ProcessCommentsManager – which provides the GUI for managing comments in the Admin backend – available in the near future, and quite likely we'll also see more updates for the search capabilities of the comments fieldtype as well.
Anyway, for more details about the weekly updates mentioned here, be sure to check out Ryan's weekly post at processwire.com. Thanks!
Weekly poll: GDPR is coming, are you prepared?
Recently GDPR – General Data Protection Regulation – has been a hot topic all around the Internet, and even on our very own support forum. In case you've managed to miss this topic, here are a couple of recent discussion threads from our forum that have been specificaly dedicated to this new EU regulation:
If you're not familiar with the GDPR at all, we'd suggest that you take the time to read a bit about it – and you should do it soon, since the regulation will become enforceable 25h of May 2018, after a two-year transition period. In a nutshell GDPR is all about data protection and collection of personal information, and affects a wide range of cases in which the company collecting or processing data or the data subject is based in the EU.
Although GDPR is not directly related to ProcessWire, it definitely affects many (perhaps most) ProcessWire users. In this poll we're simply asking about whether you've already prepared, made changes related to, or otherwise dived into the realm of GDPR. Thanks for your answers in advance!
I am well prepared and have already made all the necessary adjustments (27.1%, 13)

I know what I have to do, but I still have plenty of work to do (39.6%, 19)

I have no idea if, or how, GDPR affects my work or business (25%, 12)

GDPR doesn't have any direct effect on my work or business (8.3%, 4)
Total votings: 48
By the way: if you happen to know a really good GDPR resource, checklist, presentation – or anything along those lines – feel free to share it, either via one of the support forum threads mentioned above, or via the comments section of this post.
Feel free to check out the poll archive for results of our earlier polls. All suggestions for future polls are more than welcome too. Thanks in advance for both your answer here and any additional suggestions or feedback you might have.
Weekly forum highlights, tutorials, and other online resources
Here's a list of support forum highlights and other useful and/or interesting resources. As always, please let us know if there's anything important we've missed, so that we can include it in one of our future issues.
If you're interested in ProcessWire news, discussions, and updates, there's always something going on at the support forum. Since we're only able to include a tiny selection of all that in our weekly updates, head down to the forum for more.
Site of the week: NEXOC Notebooks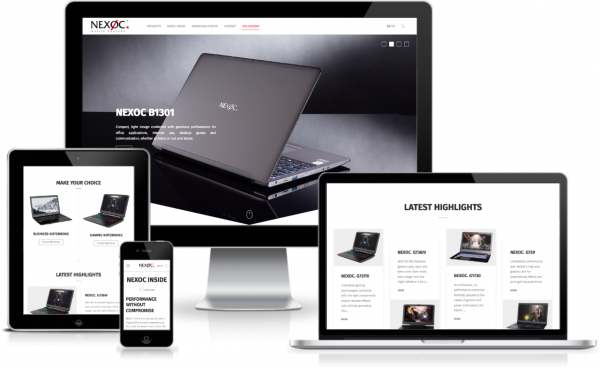 Our latest site of the week belongs to NEXOC. GmbH & Co. KG, a German company that provides notebooks and desktop PC computers for both business use and gaming under the NEXOC brand. Their offering is characterized by beautiful design and customizability: each computer can be designed and customized to match the individual clients' requirements.
The NEXOC website was built by Maximilian Ehrhardt, and some of the more noticeable highlights on this site include responsive and mobile-friendly layout, obviously the design of the site – which is quite beautiful and nicely complemented by various animated effects – and the proper multi-language setup. The product cards in particular seem like they've got plenty of thought behind them, and the end result is both informative and tempting at the same time.
The front-end of this site is based on the Uikit front-end framework, and some additional JavaScript components, such as Owl Carousel and SpriteSpin. Behind the scenes this site is running a number of familiar third party modules, such as Jumplinks, Simple Contact Form, Pages2Pdf, and of course Tracy – the all-in-one debugging and development tool for ProcessWire. From the NEXOC Notebooks showcase forum thread we've also learned that this site includes a very neat PageTable based page builder.
Big thanks to Maximilian Ehrhardt for sharing this site with us, and our congratulations to NEXOC for their awesome new ProcessWire powered website!
Stay tuned for our next issue
That's it for the 210th issue of ProcessWire Weekly. We'll be back with more news, updates, and content Saturday, 28th of May. As always, ProcessWire newsletter subscribers will get our updates a few days later.
Thanks for staying with us, once again. Hope you've had a great and productive week, and don't forget to check out the ProcessWire forums for more interesting topics. Until next week, happy hacking with ProcessWire!