The 211th issue of ProcessWire Weekly brings in all the latest news from the ProcessWire community. Modules, core updates, sites, and more. Read on!
Welcome to the 211th issue of ProcessWire Weekly. In this issue we've got a core updates section with some highlights from the commits made to the dev branch during the past week or so, a weekly poll related to page builders, a brand new Payment module from a company called Typografics – and a stunning new site of the week belonging to dancer, choreographer, and teacher from Hamburg.
Although our previous week's GDPR poll wasn't the most popular one we've had so far, the results were interesting: the upside is that two-thirds of respondents did consider themselves moderately well-prepared... but at the same time one in four respondents admitted not having a clue about its effects. So, although the regulation is now in full effect, clearly there's still work to do – particularly in terms of communicating to both end users and developers alike what that actually means.
As always, a big thank you to all of you for being here with us, and please don't hesitate to drop us a note if there's anything in your mind that you'd like to share. Your feedback helps us focus on the things that you folks want to hear more about.
Latest core updates: ProcessWire 3.0.104
Our latest development version, available via the dev branch at GitHub, is ProcessWire 3.0.104. As Ryan explains in a brief forum status update, this version doesn't contain any big changes or new features, but rather focuses on getting issue reports sorted out, as well as making various smaller improvements.
While you can review all the changes for the past week – 13 commits in total – via the GitHub comparison view, here's a summary of what's new:
Usability improvements to CKEditor and specific Admin features, such as radio buttons (which now wrap as expected) and error messages (which now show field labels instead of names)
Couple of styling related fixes for Repeaters, mostly related to missing or misaligned outlines – including one small layout problem that was only affecting Firefox users
A fix for an issue where wire-temp-dir.txt – the log file for issues observed while trying to remove temporary directories – wasn't very helpful due to a small variable mix-up
A fix for an Options fieldtype problem where defining custom IDs for option values wasn't possible, even though it was supposed to be
We'll have more core update news by next week, so stay tuned for that. This week's updates may be minor, but in case you're already using the dev branch, you should definitely consider updating to the latest version. Thanks!
Weekly poll: what's your take on the rising trend of page builders?
Page builders, page blocks, content blocks, visual builders – whatever it is that you prefer to call 'em, the concept remains more or less the same: creating the content of a page from a set of a set of components of varying types. You might, for an example, drop in a regular text block, then a gallery block, and then a news feed block. Some implementations support nesting, so that blocks can contain other blocks, and so on.
Perhaps it's just me, but I've seen a lot of talk about this concept recently, and it feels like it's a rising trend among CMS users. While ProcessWire wasn't exactly built around this idea, it turns out that our built-in custom fields methodology – and particularly our support for "multiple" or "repeatable" custom fields – lends itself really well for a block or page builder concept as well.
So, this week we'd like to get your opinion on this so-called page builder approach – what do you think of it, do you already use it, or have you perhaps decided to steer away from it?
Page builder is my go-to approach for building new sites (26.4%, 28)

I'd like to build a site based on the page builder concept, just haven't had a chance yet (15.1%, 16)

I'd like to build a site based on the page builder concept, but don't know where to start (12.3%, 13)

In some rare cases page builders could make sense – but usually they don't (31.1%, 33)

Page builders are not my thing, or not useful for my typical projects (15.1%, 16)
Total votings: 106
As always, feel free to further explain your views via our comments section. In case you'd like to discuss this further, there are already some great page builder related topics on our support forum as well, just Google "page builder processwire" and pick your favorite. Or just start your own discussion.
Feel free to check out the poll archive for results of our earlier polls. All suggestions for future polls are more than welcome too. Thanks in advance for your answer here, as well as any additional suggestions or feedback you might have.
New module: PaymentMollie
PaymentMollie is a brand new third party payment module from Typografics, originally developed for their fundraiser webshop (read the whole story). PaymentMollie depends on (and extends) the PaymentModule base module developed by Antti Peisa, vastly simplifying the process of integrating your ProcessWire powered site or shop with the Mollie payment platform.
While both the fundraiser site that PaymentMollie was developed for and the sample code provided via the module's GitHub repository both depend on the Padloper shop module (also developed by Antti Peisa), the entire reason for PaymentModule to exist was so that we could abstract payment method implementations and make them easy to share between sites and modules. As such, even though PaymentMollie is indeed trivially simple to integrate with Padloper, it works just fine without it.
For more details about the PaymentMollie module and including instructions on getting it up and running in your own projects, check out the PaymentMollie GitHub repository. If you have any questions, feel free to drop by at the dedicated support forum thread.
Big thanks to the folks at Typografics for sharing this module with us!
Site of the week: Swaantje Gieskes, a dancer, choreographer, and teacher from Hamburg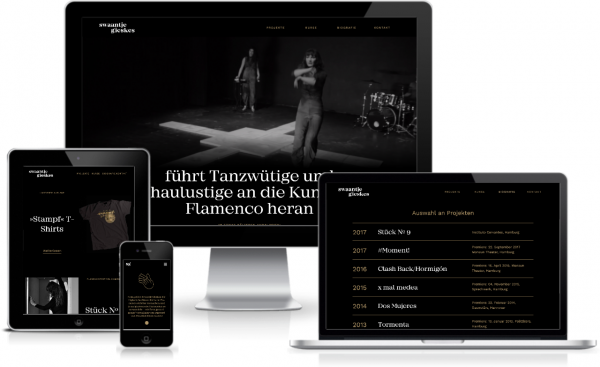 Our latest site of the week belongs to Swaantje Gieskes – a dancer, choreographer, and teacher based in Hamburg, Germany. Her focus is on flamenco with a twist of contemporary dance, and from this site you'll find introductions to her projects, a short biography, details about upcoming courses, and contact details.
Once you visit the site, you'll pretty much instantly see what it is that first caught our eye: the use of a video component – and not just as a loosely related visual gimmick, but as an element that is directly related to the subject of the site, and has a sort of feeling of being an integral part of the site as well. Once you start browsing, you'll notice a number of similar details: elements that slide into view, transitions between page loads, on so on. All in all browsing this site is a really enjoyable experience.
Developed by Manuel Borst and designed by Kevin Visdeloup, there's not that much we can say about the implementation of the site, except that the end result feels both fast and reactive – even if some of that perceived speed can be credited to the unobtrusive page transitions, which make moving between pages feel almost instantaneous. The site is obviously responsive, and includes an SSL certificate for proper security – but that's just about it. No recognizable front-end frameworks or third party modules here.
Our congratulations to Swaantje Gieskes for a really great website to represent your expertise – and thanks to Manuel Borst and Kevin Visdeloup for both going with ProcessWire, and sharing this site with us!
Stay tuned for our next issue
That's it for the 211th issue of ProcessWire Weekly. We'll be back with more news, updates, and content Saturday, 2nd of June. As always, ProcessWire newsletter subscribers will get our updates a few days later.
Thanks for staying with us, once again. Hope you've had a great and productive week, and don't forget to check out the ProcessWire forums for more interesting topics. Until next week, happy hacking with ProcessWire!