The 214th issue of ProcessWire Weekly brings in all the latest news from the ProcessWire community. Modules, core updates, sites, and more. Read on!
Welcome to the 214th issue of ProcessWire Weekly! This time we've got a brief issue, mainly due to other commitments of yours truly. We'll get back to our full content next week, but for this issue we do still have some really nice updates – including a list of screencasts from Jonathan Lahijani, and a brand new site of the week.
Talking about updates, here's something you should keep an eye out for: Marcus Herrman is setting up a new newsletter, and knowing him the content will no doubt be top notch. In other news Philipp Urlich – better known in the ProcessWire community as Soma – has set up a ProcessWire Discord server, so definitely check that one out as well. And now for our weekly updates...
As always, a big thank you to all of you for being here with us, and please don't hesitate to drop us a note if there's anything in your mind that you'd like to share. Your feedback helps us focus on the things that you folks want to hear more about.
Latest core updates: ProcessWire 3.0.106
The latest post at the processwire.com blog is all about ProcessWire 3.0.106. In addition to various minor tweaks and fixes, this version actually includes a couple of brand new features:
Major improvements to tag support for fields: adding tags to fields has been possible for quite a while already, but ProcessWire 3.0.16 adds a whole new interface for managing tags and makes it possible to use tag names just like field names in selector queries.
Updates to the $input API variable: $input->urlSegmentStr() now accepts a couple of optional parameters ($verbose and $options), and two brand new methods ($input->pageNumStr() and $input->httpHostUrl()) were added.
Updates to API usage of Inputfields: new method $inputfield->getRootParent() returns the furthest InputfieldWrapper from the Inputfield, and $inputfield->getForm() returns the InputfieldForm instance that the Inputfield is part of.
Other updates this week include improvements to the user-admin-all permission, fixes to the native front-end editing support, and improvements to the MarkupPagerNav class. For more details about the update mentioned here be sure to check out Ryan's weekly post at the processwire.com blog.
Check out the ProcessWire vs WordPress screencasts made by Jonathan Lahijani
Jonathan has been working on a ProcessWire themed screencast site wirecasts.com, and this week we were thrilled to find out that there's actually already a whole collection of screencasts available via YouTube. The videos released so far are part of a list labeled "ProcessWire vs. WordPress", but don't let the title confuse you: this is not just another "my CMS is better than yours" thing – in fact quite the opposite. The videos we've seen so far are of great quality, and give both platforms fair treatment.
The reason for the somewhat controversial "vs" title, as explained by Jonathan himself in the description of the list at YouTube, is that the main target audience for the videos are WordPress developers interested in ProcessWire – although the material is generic enough to also work wonders for any non-WordPress developer. Case in point, here's the screencast video focusing on page caching in WordPress and ProcessWire:
Definitely check the videos out even if you've got no WordPress experience whatsoever – and if you happen to know a WordPress developer who might benefit of a quick dive into the ProcessWire side of things, you know what to do. As for the release date of the WireCasts site, we don't know anything more than you folks, but you can subscribe to the mailing list at wirecasts.com in order to get a notice when it goes live.
Big thanks to Jonathan Lahijani for another high quality ProcessWire resource – really looking forward to seeing the full WireCasts site in action!
Site of the week: In Bianco e Nerd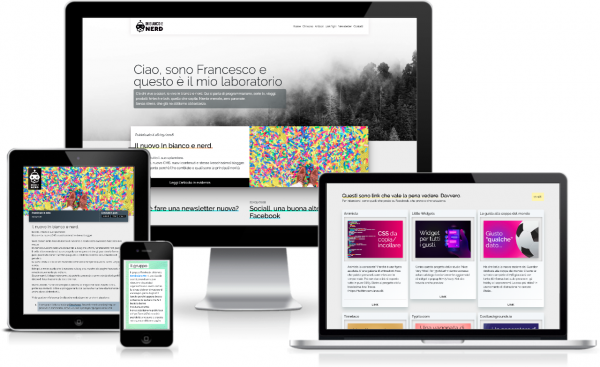 Our latest site of the week belongs to a self-proclaimed Italian nerd community, In Bianco e Nerd. Also described as a "very active" and "lovely" community, In Bianco e Nerd is a projet led by Francesco Mugnai, and consists of four separate channels of content: In Bianco e Nerd Facebook page, the 800+ member Facebook group called Nerdissimo Me, a blog labeled White and Nerd, and a newsletter.
The front-end of this responsive website is built on top of the Bootstrap front-end framework, and includes a Jotform based contact form, and cookie consent tool from iubenda. One particular thing about this site is that it seems to load really fast, which could be credited in part to the ProCache module running behind the scenes.
According to the showcase forum thread some of the other third party modules behind this site include the likes of AdminOnSteroids, ColorPicker, ProFields, and Social Share. Hosting is provided by DigitalOcean, and there's a Cloudflare proxy in front of this site.
Big thanks to Francesco Mugnai for both sharing this site with us, and promoting ProcessWire – we wish all the best for him and his nerd community!
Stay tuned for our next issue
That's it for the 214th issue of ProcessWire Weekly. We'll be back with more news, updates, and content Saturday, 23rd of June. As always, ProcessWire newsletter subscribers will get our updates a few days later.
Thanks for staying with us, once again. Hope you've had a great and productive week, and don't forget to check out the ProcessWire forums for more interesting topics. Until next week, happy hacking with ProcessWire!