In the 220th issue of ProcessWire Weekly we're going to cover some recent ProcessWire articles, introduce the latest updates to the Designme project, and highlight some interesting forum threads. Read on!
Welcome to the 220th issue of ProcessWire Weekly. Ryan has been busy working with client work, so we've got no major core updates to talk about, and for me personally this issue comes out right before my vacation, so forgive me for choosing to go with another light version this week.
Anyway, I've hand-picked some highlights from the support forum and the web that I believe you folks might find interesting. There's also a pretty neat new site of the week, belonging to a hotel, restaurant and conference center called Onder de Linden.
As always, a big thank you to all of you for being here with us, and please don't hesitate to drop us a note if there's anything in your mind that you'd like to share. Your feedback helps us focus on the things that you folks want to hear more about.
Designme is looking more awesome by the day – check out the updated demo video
Surely you folks haven't forgotten about Designme, the upcoming visual layout builder for ProcessWire's edit screens? This project was first featured in our 217th issue 7th of July, and since then it has been evolving on a pretty darn fast pace.
Here are some highlights showcased in the updated demo video – with Designme you can do all of this – and a lot more – real-time:
Adding and removing fields, fieldsets, and tabs to/from the template
Re-arranging and resizing fields and modifying all of their settings
You can work on hidden fields and their values while Designme is active
You can edit template files, one or more at a time, using the ACE Editor
And here's that new showcase video, in case you'd like to see how it all actually comes together:
This module is by far one of the most interesting ProcessWire projects we've seen in a while, and words alone won't do it much justice, so be sure to check out the showcase video above. Absolutely brilliant work from Joshua and his team!
Quick tips on implementing contextual components in PHP and in ProcessWire
As a follow-up for a blog post from Colloq discussing their go-to approach for building HTML components that are both semantically correct and easily reusable via some PHP functions and their parameters, Marcus Herrmann wrote a post of his own explaining how to achieve the same using Laravel Blade or ProcessWire.
Spoiler alert: in the case of ProcessWire Marcus is using the wireRenderFile() function as a really simple wrapper for embedding his reusable components or partials.
Simple yet powerful – thanks for sharing this, Marcus!
Introduction to ProcessWire and a PW vs. WP comparison by hosting company 1&1
1&1, a rather prominent web hosting company, recently released a detailed introduction to ProcessWire. In their article they cover everything from the history of the system and the set of features it provides right down to the actual first steps one should to take in order to start developing sites with ProcessWire.
They also compare some features between ProcessWire and WordPress, and while some of their arguments feel a bit off, for the most part even this section of the article – just like the entire thing – is of great quality and manages to remain properly impartial.
"It's a little bit like music. You don't need much talent or time to create a generic pop song. The arrangement is put together automatically with auto-tune correcting any errors. The music can often be heard on the radio since it's low entry level. More complex music usually offers more variety, but also needs more skill to compose."
– 1&1 explaining the difference between WordPress and ProcessWire
Thanks to Adrian for sharing this article with us via the ProcessWire on the Web thread!
Anything else going on?
If you'd like to hear what others are using as their development environment or chime in with your own ideas, check out the very recently started development environment suggestions thread. There are already some great suggestions there.
Looking for new ideas for your portfolio? Great, we've got a thread for that as well.
Although it's a bit quiet right now, the "what's on your checklist for the end of a web design project" thread is still worth checking out – and while you're at it, feel free to share some details regarding your own quality control process. That's definitely something we'd love to hear more about!
Finally, while we're not keen on adding fuel to the "WordPress vs. ProcessWire" debate, the ProcessWire badly needs a modern website template preset thread contains some interesting ideas. We can probably all agree that ProcessWire shouldn't try to duplicate what WordPress does, but there are no doubt some ways we could explore in order to ease the lives of less technically adept site builders.
Other than that, there's always something going at the support forum, and never a dull moment – just open the Activity feed and follow the latest happenings, or visit the Leaderboard for a quick look on what's hot right now.
Site of the week: Onder de Linden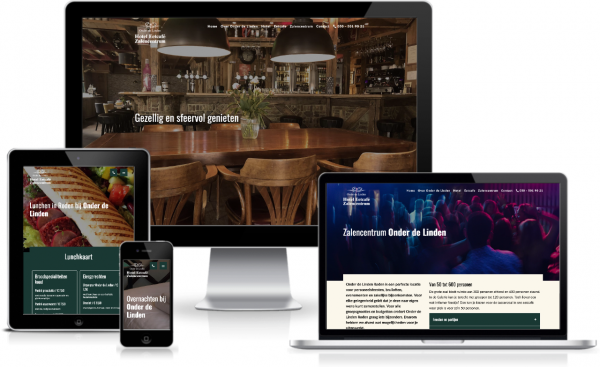 Our latest site of the week belongs to a hotel, restaurant and conference center in the Northern part of the Netherlands called Onder de Linden. Their ProcessWire powered website was created by Project90, a web design and development company based in Roden, Netherlands.
The Onder de Linde website follows a relatively straightforward implementation, with most of the pages following more or less the same layout choices. That being said it does look pretty awesome, partially thanks to the large, high quality images which are scattered across the site, and occasionally flavored with a nice parallax effect.
When it comes to implementation side, the front-end of this website makes use of the Bootstrap front-end framework, and the contact form is powered by the Form Builder module. Entire website is protected with HTTPS, and the necessary SSL certificate is provided by the free certificate authority Let's Encrypt.
Our congratulations to Onder de Linden for their splendid new website, and thanks to Project90 for trusting ProcessWire!
Stay tuned for our next issue
That's it for the 220th issue of ProcessWire Weekly. We'll be back with more news, updates, and content Saturday, 4th of August. As always, ProcessWire newsletter subscribers will get our updates a few days later.
Thanks for staying with us, once again. Hope you've had a great and productive week, and don't forget to check out the ProcessWire forums for more interesting topics. Until next week, happy hacking with ProcessWire!