In the 225th issue of ProcessWire Weekly we're going to discuss the latest core development news, list some recent ProcessWire related articles and other resources, and introduce a new site of the week. Read on!
Welcome to the 225th issue of ProcessWire Weekly! This time we'll start by checking out the latest core and module development news Ryan has just shared via a brief update at the support forum, and continue with some recent ProcessWire related highlights: articles, videos, third party modules, and such.
As always, a big thank you to all of you for being here with us, and please don't hesitate to drop us a note if there's anything in your mind that you'd like to share. Your feedback helps us focus on the things that you folks want to hear more about.
A brief update from Ryan: ProcessWire 3.0.112 is coming out next week, a new module in the works
As Ryan explains in his brief support forum update this week, this time there's no new core release available. ProcessWire 3.0.112 should be out by this time next week instead, and in other news Ryan is also working on a new module called FieldtypeVerifiedURL.
FieldtypeVerifiedURL is, as Ryan describes it, a "self-healing URL field". Simply put, it's an extended version of the built-in URL fieldtype, with an added ability to periodically check that the stored link still works as expected:
The field stores response codes, which makes it possible to query pages by the code returned for the URL in said field whether a success code (2xx), a redirect code (3xx), or an error code.
It can also store returned titles as an optional feature. This should come in handy if you want to, for an example, display the title of the linked document as the link text on your site.
The field can be configured to return an empty value in the case of an error. Because if the link is indeed broken, it's probably best not to show it to site visitors at all, right?
For more details, check out Ryan's update via the support forum – and feel free to take part in the discussion if you've got suggestions or feedback regarding the new URL fieldtype. Thanks!
Weekly forum highlights, tutorials, and other online resources
Here's a list of support forum highlights and other useful and/or interesting resources. As always, please let us know if there's anything important we've missed, so that we can include it in one of our future issues.
Finally there's a small bonus feature for users of the commercial PadLoper eCommerce module: PadOpt is a free add-on for said module, designed to extend PadLopers ability to handle product variations. This one is definitely worth checking out if you're working on a more complext ProcessWire and PadLoper powered store.
If you're interested in ProcessWire news, discussions, and updates, there's always something going on at the support forum. Since we're only able to include a tiny selection of all that in our weekly updates, head down to the forum for more.
Site of the week: Kompetenzzentrum Migration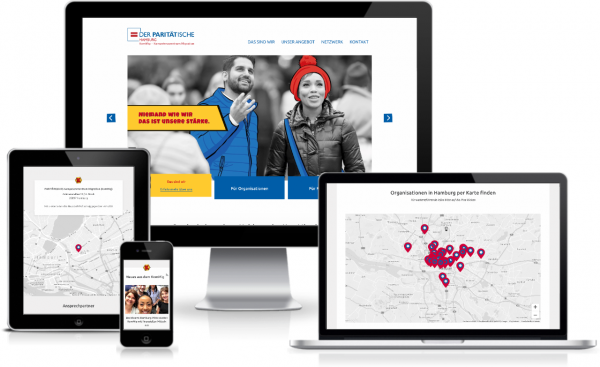 Our latest site of the week belongs to a non-profit based in Hamburg, Germany: Kompetenzzentrum Migration, a competence centre focused on the empowerment of refugees and organizations founded by them. The ProcessWire powered website of Kompetenzzentrum Migration was crafted by Nils Wiere, a web designer based in Hamburg-Altona.
In addition to the regular content pages, this site includes a database of organizations focusing on specific areas of expertise: jobs, education, family, culture, networking, and so on. The organization database, the main attraction of this site, supports filtering by tag or language, is sortable, and provides a map view as well.
This site boasts a simple yet beautiful design, provides a proper responsive layout, and makes use of the commercial ProCache caching module for an increased performance.
Big thanks to Nils Wiere for sharing this site with us, and our congratulations to the organization behind this project, Kompetenzzentrum Migration!
Stay tuned for our next issue
That's it for the 225th issue of ProcessWire Weekly. We'll be back with more news, updates, and content Saturday, 8th of September. As always, ProcessWire newsletter subscribers will get our updates a few days later.
Thanks for staying with us, once again. Hope you've had a great and productive week, and don't forget to check out the ProcessWire forums for more interesting topics. Until next week, happy hacking with ProcessWire!