In the 237th issue of ProcessWire Weekly we'll share the latest core dev news and a brief status update on the new processwire.com website, take a look at the Template Field Widths module and a list of recent ProcessWire resources, and showcase a fresh new site of the week.
Welcome to the 237th issue of ProcessWire Weekly. This time we've got a quick status update regarding core development and the work in progress processwire.com website from Ryan, a new third party module called Template Field Widths from Robin Sallis, and plenty of interesting highlights from the support forum and the web in general.
If you're reading this issue at weekly.pw, you've probably noticed that this time I'm off my usual schedule by a day or so. Sorry for that. Various things came up, and I wasn't able to get the issue ready for publishing in time, so it ended up getting released on Sunday instead. Sorry for the confusion – next week we're going back to the regular schedule.
Thanks to all of our readers for being here with us again, and as always, any feedback is most welcome – please don't hesitate to drop us a line if there's anything in your mind you'd like to share with us. Enjoy our latest issue and have a great weekend!
Weekly update from Ryan: news regarding upcoming releases and a status update on the new processwire.com website
This week Ryan posted his usual update via a support forum post (here's the full content of said update), and here's the summary of some of the key points:
There were no major core updates this week, so no new core version in the dev branch this week either, but we can expect one by next week. Also: the current plan is to get a new stable master release out before the end of the year, so we should expect that sometime within the next month.
The new processwire.com website is progressing well. Based on the feedback from last week Ryan has made some minor visual tweaks, and there should be more information about the whole project along with the core updates in next week's update.
Now, as always when we're getting close to releasing a new master version, this is the point where we'd like to ask you folks for your help in testing the current dev version:
If you're already using the dev version and see anything "off" about it, please file a bug report via GitHub. On the other hand if you haven't yet had the time to check the dev branch out yet, feel free to do so now – although keep in mind that even if our dev releases tend to be remarkably stable, they are development releases, and thus things can and will change, and some quirks may occasionally creep in.
Thanks in advance for each and every one of you taking the time to help us make the next master release as stable as possible. Your work is greatly appreciated.
For more details please check out Ryan's weekly update at the support forum. Thanks!
New module: Template Field Widths by Robin Sallis
Template Field Widths is an admin helper module from Robin Sallis. As the name might already suggest, the module is related to configuring template-specific field widths by embedding a brand new, easy to use UI tool directly within the Template edit screen: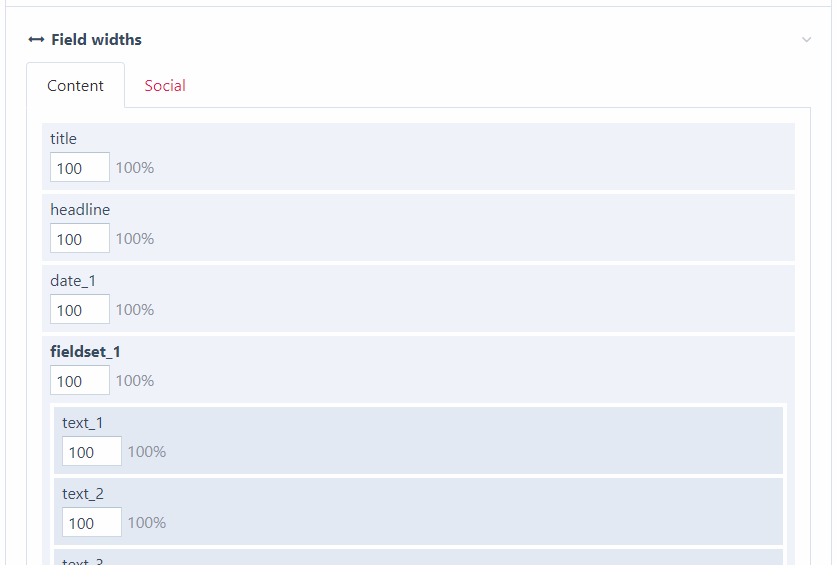 Now, while you can view and set up the field widths within the Template editor without this module, you can't actually see the field arrangement visually. Also, in order to make changes to the field widths, you need to click or tap on the field name, thus opening a new modal window containing the width of that specific field among other setting.
This module greatly streamlines that process by making the end result instantly visible, and also by providing a single UI for defining all field widths in one place. Even though setting up field widths is a task that you probably don't go through every day, when you do, you'll definitely enjoy the enhanced workflow that this module provides.
Thanks to Robin for sharing this module with us. I for one am absolutely loving it, and can't wait to put it in action!
Weekly forum highlights, tutorials, and other online resources
Here we've got a collection of support forum highlights and other useful and/or interesting resources. As always please let us know if there's anything important we've missed so that we can include it in one of our future issues.
While this is loosely related to ProcessWire, we've noticed that quite a few ProcessWire users are fond of the Uikit front-end framework. If that's true for you as well, you may find Awesome Uikit worth checking out. It's a curated list of Uikit tools and resources: editor plugins, starter kits, page builders and tools, and more. Thanks to Bernhard for mentioning this in the general dev area of the support forum!
​​​​​​If you're interested in ProcessWire news, discussions, and updates, there's always something going on at the support forum. Since we're only able to include a tiny selection of all that in our weekly updates, head down to the forum for more.
Site of the week: Meatspace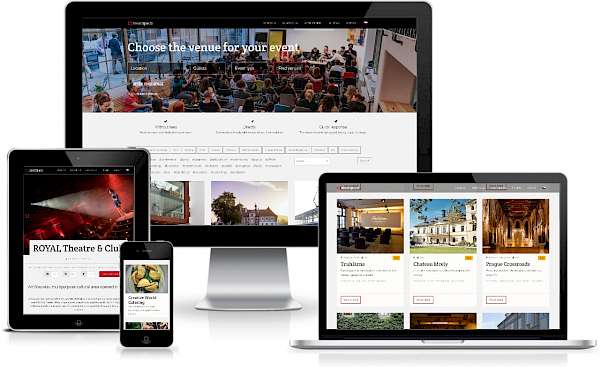 Our latest site of the week belongs to Meatspace. The stated mission of this somewhat curiously named company is to connect venues with event organizers. Based in Prague, the capital city of the Czech Republic, they were originally known as evnt.cz, but changed the name to Meetspace in May 2017.
[:meatspace:] Deriving from cyberpunk novels, Meatspace is the world outside of the net, the real world. Opposite of the Cyperspace.
The website of Meatspace is essentially a directory of venues and services. Venues are categorized based on their location, and also tagged with keywords such as "meeting", "wedding", "historical", or "coworking". There are plenty of locations to choose from, and plenty of details about each of them. The services section provides the ability to easily request related services – such as catering – for your events.
The design of the Meatspace website is clean and organized, with the content – venues and services – in the focus. While it may not be the most aesthetically pleasing of our past sites of the week, the design of the site is definitely easy on the eyes, and it's easy to see that here the form follows the function: the portal is easy to use, and things are generally speaking exactly where you'd expect to find them. As a special mention they've got great quality images of the venues, which is a really good thing in this type of service.
Behind the scenes this site makes use of at least two popular third party modules, FormBuilder and AIOM+ (All In One Minify). The front-end of the site is based on the Foundation framework, and finally the website is also multilingual, providing content in both English and Czech.
Big thanks to the folks at Meatspace for sharing their website with us! ProcessWire is a great system for directory services such as this one, and we're always happy to see new businesses put it into action!
Stay tuned for our next issue
That's it for the 237th issue of ProcessWire Weekly. We'll be back with more news, updates, and content Saturday, 1st of December. As always, ProcessWire newsletter subscribers will get our updates a few days later.
Thanks for staying with us, once again. Hope you've had a great and productive week, and don't forget to check out the ProcessWire forums for more interesting topics. Until next week, happy hacking with ProcessWire!