In the 240th issue of ProcessWire Weekly we'll cover the latest development version of ProcessWire, 3.0.122, and also take a peek at a brand new third party module Pages At Bottom from Robin Sallis. Read on!
Welcome to the latest issue of ProcessWire Weekly! This time we'll walk you through ProcessWire 3.0.122, which is our latest development version. We've also going to take a peek at a brand new third party module Pages At Bottom from Robin Sallis and showcase a really amazing new site of the week belonging to the UK based National Youth Music Theatre.
Thanks to all of our readers for being here with us again, and as always, any feedback is most welcome – please don't hesitate to drop us a line if there's anything in your mind you'd like to share with us. Enjoy our latest issue and have a great weekend!
Latest core updates: ProcessWire 3.0.122
This week we've got a new version of ProcessWire available via the dev branch at GitHub. As Ryan explains in a weekly core updates post at the support forum, this version doesn't add anything major: ProcessWire 3.0.122 contains minor bugfixes and small improvements.
You can review the ProcessWire 3.0.122 commit log at GitHub for more details, here's a brief summary of what's happened since last week:
Minor PHP 7.2 / 7.3 compatibility improvements.
Minor improvements to ProcessPageLister, InputfieldCheckbox, and PHPDoc comments.
Usability improvement for CKEditor link dialog, where selecting a page now auto-updates selectable files even if the file selection wasn't open when page was selected.
Fixed an AsmSelect CSS issue, where inactive items were not correctly colored in Chrome for Windows.
Fixed an issue where cloning part of page tree would show wrong number of children until page reload.

Fixed an issue where Safari wasn't updating column widths properly in AdminThemeUikit when showIf conditions were used.

Fixed an issue where PageImage::size() was unintentionally overriding original aspect ratio of the image when cropping was disabled.

Fixed an issue where "L SEP" separator originating from applications such as Figma, Sketch, or PhotoShop wasn't being automatically removed from stored text.

Fixed an issue where WireArray::import() was preventing importing of duplicate items even with duplicateChecking disabled.
In his post Ryan has also included a screenshot of the message editor screen of the upcoming ProMailer module and some additional notes on our schedule – which is currently looking really good, and we may in fact have a new master release by next week. Anyway, be sure to check out Ryan's post for more details!
New module: Pages At Bottom by Robin Sallis
Pages At Bottom is the latest third party module developed by Robin Sallis. With this new module Robin – who should really get some sort of medal for being exceptionally active member of the ProcessWire community – implements a user-requested feature of allowing specified pages to always remain at the bottom among their siblings.
This module is really easy to get up and running: just install it and select via module settings the pages you want to keep at the bottom, and that's it. Simple as it gets.
In future versions of the module the plan is to keep these bottom pages sorted by their order in the module settings, and the module already prevents any UI or API method of moving other pages below them in sort order – including core features such as $pages->sort() and $pages->insertAfter().
It's worth noting, though, that this module works as long as the page sort order is "drag and drop". If you sort your pages by any another criteria, such as the name or a custom field, this module leaves those pages alone.
Once again our gratitude goes to Robin for contributing this module to our collective toolboxes – it's a great addition, and will no doubt find it's place in future projects!
Site of the week: The National Youth Music Theatre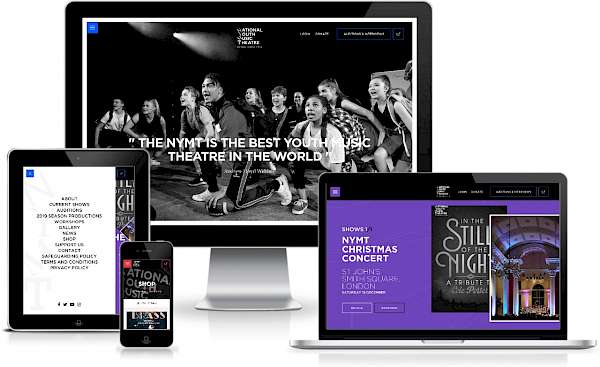 Our latest site of the week is The National Youth Music Theatre. Founded in 1976 by Jeremy James Taylor, UK based NYMT offers opportunities in pre-professional, musical theatre training for talented young people of all backgrounds aged 10 to 23 years through skills workshops, master classes, residential courses led by industry professionals, and both commissioning and presentation of exciting new work and - in collaboration with some of the UK's leading creative minds - producing bold, new realisations of major works of the core repertoire.
Right from the get-go the website of the NYMT has a unique, strikingly beautiful, and artistic look and feel: bold colors, interesting layout, overlapping image elements, and various transitions and scroll-triggered animations. Considering for whom this site was built – and what the audience of the site most likely expects to see there – the design and front-end implementation of this site are both spot-on.
Developed by London based web design agency Internet Dreams Studio, this website is based on the Bootstrap front-end framework, and includes a whole bunch of front-end JavaScript components, ranging from the likes of jQuery and Modernizr to somewhat more obscure or lesser known ones, such as Remodal and jQuery Parallax. In terms of performance the website handles itself very well, which is at least partially thanks to mod_pagespeed being enabled behind the scenes.
Our congratulations to both The National Youth Music Theatre, and the agency behind the design and implementation of this site, Internet Dreams Studio! For more details, please check out the NYMT website – there's a lot of quality content there, if you're even remotely interested in hearing about NYMT and what they've been up to – and of course the showcase page at the Internet Dreams Studio website.
Stay tuned for our next issue
That's it for the 240th issue of ProcessWire Weekly. We'll be back with more news, updates, and content Saturday, 22nd of December. As always, ProcessWire newsletter subscribers will get our updates a few days later.
Thanks for staying with us, once again. Hope you've had a great and productive week, and don't forget to check out the ProcessWire forums for more interesting topics. Until next week, happy hacking with ProcessWire!