In the 243rd issue of ProcessWire Weekly we'll cover the preview version of the new processwire.com website, the DataSet import module bundle, and the newly released website of schwarzdesign. Read on!
Welcome back to the latest issue of ProcessWire Weekly! Hope you've had a great week so far, and a great start for the new year as well.
In our first issue for the year 2019 we're absolutely thriled to announce that a preview version of the new processwire.com website is now live. We're also going to check out a new module bundle labeled DataSet import, and showcase the brilliant new website of the German web design and Internet agency schwarzdesign.
Thanks to all of our readers for being here with us again, and as always, any feedback is most welcome – please don't hesitate to drop us a line if there's anything in your mind you'd like to share with us. Enjoy our latest issue and have a great weekend!
Preview version of the new processwire.com website is now live!
As promised last week, a preview version of the new processwire.com website is now live. It hasn't yet replaced the public site, but while we're getting everything up and running, you can check the new site out at https://processwire.com/newsite/.
While there's no full-blown blog post this week, Ryan posted the URL to the new site, along with a brief status update, via this support forum thread. At this time we'd very much appreciate your feedback on the new site.
There are already plenty of replies on the support forum, so be sure to check out what others had to say as well. Hopefully we'll see some of those suggestions implemented on the site before it replaces our old one – which is also going to happen pretty soon, according to Ryan:
I'm still working out a few small details, but it should be 99% functional. I expect to replace the existing main site early next week. If you have a chance to test it out, please let me know how if you come across anything that isn't working or any browser/platform specific issues.
— Ryan
Have fun testing our new site, and please let us know how it works for you. Suggestions and feedback are more than welcome, so don't hold back your comments. Thanks!
DataSet import modules
DataSet import modules is a new module bundle developed by Tamas Meszaros for use in various projects where the ability to process and import large numbers of pages has been a key requirement. According to the author, the importing abilities of this project have been validated at least up to 200k+ fairly complex pages.
Behind the scenes the Dataset import modules utilize another module from the same author,called Tasker. This integration makes it possible to perform long-running import tasks in the background without fear of timeouts.
The main features implemented by these modules include ...
Importing data from CSV and XML sources in the background. The module will purge, update, and overwrite existing pages, and create or update child pages automatically.
Support for user configurable mappings between the input provided, and existing fields of the site – including the processing of page references.
On-the-fly data conversion and composition, e.g. joining multiple CSV columns into a single field.
Downloading external resources, i.e. files and images, during the import.
While there are other modules modules – such as ImportPagesCSV or ImportPagesXML – that already provide a straightforward method for importing smaller and less complex sets of data, the DataSet import modules are a great way to process much bigger and more complex imports. Overall it's a great addition to our collective toolboxes.
If you'd like to hear more about this module, feel free to check out the DataSet import modules support forum thread, and for even more details visit the DataSet import wiki at GitHub. Big thanks to Tamas for sharing his work with us!
Site of the week: schwarzdesign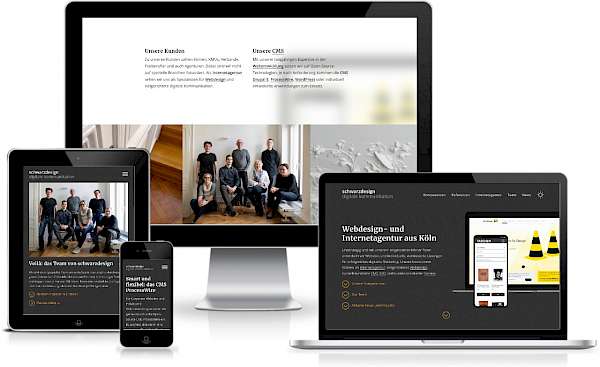 Our latest site of the week belongs to a web design and Internet agency from Cologne, Germany — schwarzdesign. They've been using ProcessWire for their client projects for quite a while, and just before Christmas their own site was migrated from Drupal to ProcessWire as well.
The website copy, which is only available in German, covers a range of topics, such as the company, team, their competences, references, and also includes a news section with plenty of quality content – such as this post about the web design trends we'll likely see in 2019.
The design of the site is modern and comfortably airy. Simple design elements, plenty of space, some animations and transitions, large and high quality in-context images – all the elements you'd expect to see on a website for a web design agency.
One feature that we found particularly interesting is the "light switch" in the top bar: this allows you to switch the design from dark to light, and back again. In practice the site has not just one, but actually two distinct designs – and it's not just a cheap party trick either, as they both actually look really, really nice!
Regarding behind the scenes details, here are some highlights from the showcase forum thread:
The front-end of the site is based on a stripped down version of the Bootstrap 4 front-end framework, with only the most important components included.
Speed is further boosted by keeping external dependencies to bare minimum, and with all scripts authored in vanilla Javascript, even jQuery was entirely eliminated.
Third party modules used on the site include ProFields, Automatically Link Page Titles, TinyPNG Image Compression, Color, Tracy Debugger, Sitemap, Duplicator, and ALIF - Admin Links In Frontend.
Check out aforementioned showcase forum thread for more details, and if you have any comments or questions, feel free to post them as replies as well. Big thanks to the folks at schwarzdesign for trusting ProcessWire, and congratulations for their new website!
Stay tuned for our next issue
That's it for the 243rd issue of ProcessWire Weekly. We'll be back with more news, updates, and content Saturday, 12th of January. As always, ProcessWire newsletter subscribers will get our updates a few days later.
Thanks for staying with us, once again. Hope you've had a great and productive week, and don't forget to check out the ProcessWire forums for more interesting topics. Until next week, happy hacking with ProcessWire!