In the 258th issue of ProcessWire Weekly we'll cover a hosting upgrade for the processwire.com site and it's subdomains, introduce PW Review and Terminal module, and feature the new site of O'Neil Cinema. Read on!
Welcome to the latest issue of ProcessWire Weekly! This time we're going to cover the processwire.com hosting upgrade – featured in this week's processwire.com blog post – and introduce a brand new ProcessWire news and information outlet called PW Review.
We're also going to check out a new third party module called Terminal, and introduce a new site of the week belonging to a US based movie theatre chain called O'Neil Cinema.
Thanks to all of our readers for being here with us again, and as always, any feedback is most welcome – please don't hesitate to drop us a line if there's anything in your mind you'd like to share with us. Enjoy our latest issue and have a great weekend!
On the blog this week: processwire.com hosting upgrades
In this week's blog post Ryan talks about an upgrade to the hosting environment behind the processwire.com website – and all our subdomain sites, including the modules and developers directories.
From a single static server to a load-balanced multi-server environment
For those of you fluent in server and hosting terminology, here's what went on behind the scenes this week – silently and without interruptions to the service, thanks to the expertise of Jan from Perago Solutions:
We went from a static Amazon/AWS EC2 instance to an Amazon/AWS EBS load balancer setup with automatic failover. We've also switched from our existing RDS instance to a new MySQL compatible Aurora cluster RDS database, also running at Amazon/AWS. HTTPS now comes by way of Amazon's enterprise-grade SSL certificates as well.
Now, if servers and hosting aren't your strong suit, here's a brief summary:
Our sites (processwire.com, modules.processwire.com, directory.processwire.com, etc.) used to live on one server. Now they're on multiple servers, and requests are automatically distributed (load balanced) among those.
If there's an issue, a working machine will automatically take the place of the one deemed "unhealthy" without any noticeable downtime (automatic failover).
Our databases are hosted on a separate service running Aurora, Amazon's alternative to MySQL, advertising up to 5x performance improvement.
In addition to the changes listed above, the email service was switched from SendGrid to Amazon SES (Simple Email Service).
Technically none of this should be visible to the users of the site, though – basically this just means that we're now running on a very enterprise-y environment, and as a result our site should be able to handle massive load without breaking a sweat.
What about core updates?
For those interested in the latest core updates, there have been quite a few of those as well this week, but we'll cover them in more detail in our next issue. There's nothing major in there, but some very nice additions nevertheless.
Be sure to check out the blog post from Ryan for more details on the hosting upgrade and the issues – and solutions to those issues – it brought up. Thanks!
PW Review is a brand new ProcessWire online resource from Charles Stevens
This week we have something really interesting to share with you, and that something is a website called PW Review – a brand new ProcesWire CMS news and information outlet created and curated by long time ProcessWire user and active community member Charles Stevens.
My goal is to cover the modules (commercial and non-commercial) that may not get that much press or attention. I will also be covering modules that maybe you haven't heard about in awhile.

— Charles Stevens
In other words PW Review is a new publication with the goal of bringing out ProcessWire content, modules and module authors, and other related content on a regular basis and in a positive manner. Knowing Charles and his communication style, you can no doubt except to find both well-thought-out and insightful articles from this site.
In case anyone is wondering about the relation between PW Review and ProcessWire Weekly, it's in the name: Weekly will remain a weekly publication, while PW Review will publish new content less frequently, but in more detail. PW Review also includes new types of content, such as podcast recordings and interviews.
While PW Review only started out this month, there's already plenty of interesting content at the site to check out:
If you're interested in contributing, feel free to send your content or ideas to the email address visible on the Submissions page. As Charles explains on the disclosures page of the site, the long term goal of PW Review is to become a true community project, with content and guidance from many different authors.
Big thanks to Charles for his work on this project – we're looking forward to seeing more content at the PW Review. Keep up the great work!
New module: Process Terminal by Adrian
Terminal is a new Process module from Adrian. This module, which was originally part of Tracy Debugger, is now provided as a stand-alone tool because some environments were considering it "spammy". The Terminal module still integrates with Tracy, though: when both are installed, you'll see a Terminal panel in Tracy Debugger.
The key feature of Terminal is that it provides a back-end tool for accessing the server directly, using bash (Linux command line) commands. If you need to access basic stuff like directory listings, creating folders, or even more complex things like running MySQL commands directly via your site, this module does exactly that.
Additionally you can use the upload and download commands easily upload files to the server from your local machine, or download server files to your machine.
Since Terminal provides access to the server through the admin side of your site, it can be potentially dangerous. In other words: do not install this module unless you trust that your site is safe and every single superuser can be granted server side access.
Big thanks to Adrian for sharing his work with us – despite the warning above, Terminal is a truly powerful admin tool, and definitely a nice addition to our modules directory!
Site of the week: O'Neil Cinemas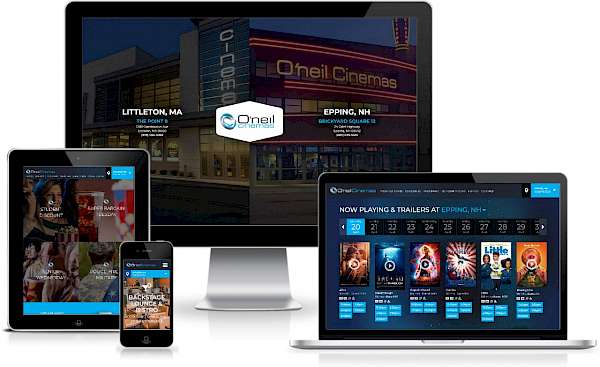 Our latest site of the week belongs to O'Neil Cinemas, a company running two movie theatres in the United States: in Littleton, Massachusetts, and in Epping, New Hampshire.
The website of O'Neil was recently redesigned by their long-time partner SFA Marketing with a focus on user experience, improving various aspects of the site from navigation to content and also adding automation and integrations to the mix. There's plenty of content on this site, such as an event calendar and a blog, but the most prominent feature of the site is definitely the "now playing" feature, complete with showtimes, ticket sales, and trailers.
Regarding what's running behind the scenes here, there are at least two familiar third party modules in play here: FormBuilder and ProCache. The front-end is based on the Bootstrap front-end framework, and on the JavaScript side there's plenty of stuff going on – from the good old jQuery library right down to the visual flare of particles.js and parallax.js.
You can read more about the redesign process and what it included from the SFA Marketing case story for O'Neil Cinemas. Big thanks to SFA Marketing for sharing this project with us, and our congratulations to O'Neil Cinemas for their new website!
Stay tuned for our next issue
That's it for the 258th issue of ProcessWire Weekly. We'll be back with more news, updates, and content Saturday, 27th of April. As always, ProcessWire newsletter subscribers will get our updates a few days later.
Thanks for staying with us, once again. Hope you've had a great and productive week, and don't forget to check out the ProcessWire forums for more interesting topics. Until next week, happy hacking with ProcessWire!