The 26th issue of ProcessWire Weekly is here with latest core and module updates, brand new site of the week, and more. Read on!
Another Saturday and another issue of ProcessWire Weekly is here. Hope you've had a great week, and hope you'll also enjoy our weekly summary. Leave us feedback if there's anything bothering you – or if you'd just like to say "hi!"
This time we'll be taking a look at some new modules, including a very interesting project for "enterprise grade" ProcessWire sites – more about that later. We'll also introduce a new site of the week and mention a blog post at processwire.com you really should take a look at.
Now, let's get this thing started!
Latest core updates: new Modal Tabs feature and some notification additions
The big update this week is a new feature called Modal Tabs. In essence this allows you to define any tab in ProcessWire's page edit to function as a modal version: selecting it won't display the fields of the tab inline with other fields, but rather opens them in a modal window.
This is especially useful when handling really large sets of fields, where even the browser render time alone is going to be an issue. Under such conditions, this new feature greatly improves the scalability of page edit.
You can read more about the Modal Tabs feature and the reasoning behind it from Ryan's latest blog post, ProcessWire Core Updates, 2.5.8.
In other news, the new system notifications system introduced in ProcessWire 2.5 has received support for email notifications, "annoy" flag (for notifications that pop up on screen real-time, instead of simply updating the bug counter), and expiring notifications.
Cronjob Database Backup and Cronjob Empty Trash by Christoph Thelen
We've got two new modules this week, Cronjob Database Backup and Cronjob Empty Trash, both by Christoph Thelen (aka kixe):
Cronjob Database Backup periodically backups your database tables (all or just the ones you've selected) using ProcessWire's native Database Backup tool, while Cronjob Empty Trash periodically deletes trashed pages. The interval at which tasks are run (daily, weekly, etc.) can be configured separately for both modules.
Please note, though, that since these modules use LazyCron, they're not actually real (system level) cron tasks. If you're not familiar with how LazyCron works, it's important to understand that while it simplifies things in many cases, it also has some downsides:
LazyCron tasks only run when the site has visitors (and in the case of these modules, visitors with one of the expected roles / permissions), and...
since they run in parallel with page render requests made by those users, they will slow down page load times during those particular requests.
Nevertheless, these are very nice helper modules, especially for smaller use cases, and very easy to set up. Thanks to Christoph for making them available for us!
Introducing enterprise-grade Active Directory integration for ProcessWire
Folks at Conclurer are working on yet another very interesting project for ProcessWire: WireAD provides quite extensive Active Directory integration with features ranging from simple login support and user import to proper SSO solution. This is a continuation to their earlier LDAP sign in module, just in a much larger scale.
Anyone working on especially "enterprise grade" ProcessWire solutions should keep an eye on this project. Integrating web solutions with Active Directory (used by a lot of organisations for managing their users) has obvious benefits – such as greatly reduced workload, when users are managed in one central location instead of multiple, separate systems.
https://www.youtube.com/watch?v=aNkBp_W5G2M (403)
Conclurer, you're doing awesome job and making the lives of us ProcessWire developers so much easier – thank you!
Using ProcessWire fields efficiently
There's a new blog post digging into efficient use of fields at processwire.com. You can check out the whole post here, so we won't be going into much detail here. The post contains both specific tips and more general guidelines and applies to ProcessWire users of all skill levels.
Definitely worth checking out, even if you're confident in your ProcessWire skills. There's always something new to learn, after all!
New blog post: Making efficient use of fields in ProcessWire (optimizing field usage) – https://t.co/swcvoxN7DP

— ProcessWire (@processwire) November 6, 2014
Site of the week: Super Pola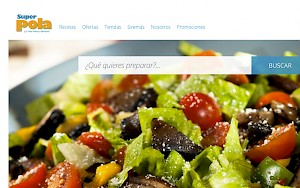 Super Pola is a supermarket chain in the Dominican Republic.
Their site is very neat, sporting a clean, modern, and attractive design – but what really makes it stand out is the recipe search, where everything from the list of ingredients to recipes themselves is presented in a very easy-to-understand and reassuring way.
The site looks great and the food looks great – an obvious choice for our site of the week section. Congratulations to Pagés BBDO for crafting something really unique and awesome!
Stay tuned for our next issue
That's all for this week – thanks for reading and hope you've enjoyed your stay! As always, suggestions are more than welcome, either as comments here or via the feedback form.
Our next issue, ProcessWire Weekly #27, will be out Saturday, 15th of November, with a newsletter version delivered a few days later to ProcessWire newsletter subscribers.
Until then, happy hacking with ProcessWire!