In the 269th issue of ProcessWire Weekly we're going to cover ProcessWire 3.0.135, introduce a bunch of new tutorials and other highlights, and take a closer look at a brand new site of the week. Read on!
Welcome to the 269th issue of ProcessWire Weekly! Hope you've had a great week so far, and a relaxing weekend ahead of you. In this issue we're going to walk you through the latest ProcessWire core updates (3.0.135), highlight a bunch of resources, and finally introduce a brand new site that belongs to the Swiss author Adina Andres.
While we don't have any new modules to introduce this week, there are two work-in-progress projects included in our weekly highlights section, so definitely check them out. We'll make sure to provide a more in-depth introduction once these modules are stable enough, and preferably included in the modules directory.
Thanks to all of our readers for being here with us again, and as always, any feedback is most welcome – please don't hesitate to drop us a line if there's anything in your mind you'd like to share with us. Enjoy our latest issue and have a great weekend!
Latest core updates: ProcessWire 3.0.135
In the latest post at the processwire.com blog Ryan talks about ProcessWire 3.0.135, the latest iteration of our dev branch that focuses on .htaccess updates, adds additional layers of security, adds clarity to debug mode, and improves upon the installer.
To summarize, here's what's new in version 3.0.135:
Our main .htaccess file has received numerous updates. While none of these are strictly speaking necessary and you can continue running your site without this new version, they do add some extra layers of security, and as such updating an old .htaccess file with the new rules is obviously recommended.
ProcessWire now provides fallback .htaccess files for specific directories. These directories include assets, templates, and the site directory, and the purpose of said fallback files is to prevent direct access to some files, providing an additional layer of security in case the root .htacess file ever gets compromised.
Installer now has a clear explanation on what the debug mode is, and an option to enable it. Similarly, logging in the first time as a superuser will result in a quick introduction to this feature, and logging in if it's enabled will result in a reminder that it's enabled (just to make sure that you haven't forgotten it on for a live site).
Much of the post is dedicated to explaining how you can update an existing .htaccess file with the new rules we're now shipping with, as this process usually involves some manual work. There are also clear explanations on why each new section makes sense, and notes on making sure that they're not going to cause you problems if enabled.
That's it for the core updates section this week. Be sure to check out the latest post at the processwire.com blog for more details on the updates, and instructions on getting your site updated with the new .htaccess rules. Thanks!
Weekly forum highlights, tutorials, and other online resources
Here's a list of support forum highlights and other useful and/or interesting resources. As always, please let us know if there's anything important we've missed, so that we can include it in one of our future issues.
Finally, szabesz recently shared on the forums a real gem that we'd like to pass on: the Front-end Developer Handbook 2019. This site is simply full of examples, instructions, links to external resources, and helpful illustrations regarding the rather complex field known as front-end development. This is by far the most through guide we've seen in a very long time, and definitely worth checking out!
If you're interested in ProcessWire news, discussions, and updates, there's always something going on at the support forum. Since we're only able to include a tiny selection of all that in our weekly updates, head down to the forum for more.
Site of the week: Harte Zeiten für Träumer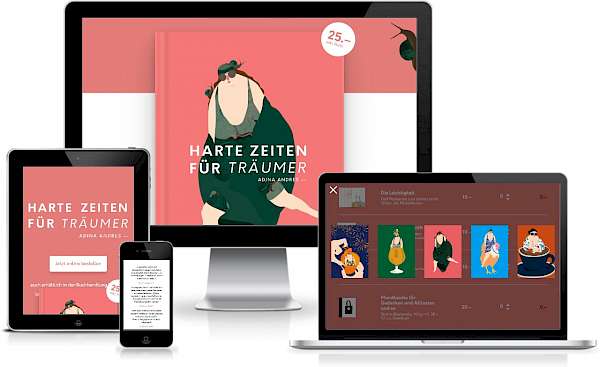 Our latest site of the week is known as Harte Zeiten für Träumer and it's a really nice one-pager created to promote the book and other products from Swiss author Adina Andres. The name of the site is the name of the book as well, and literally translates to "Hard Times for Dreamers".
This site was built by CLUS, which is an advertising agency based in the beautiful city of Chur, Switzerland. As mentioned above, the site is a one-pager focused on the products of author Adina Andres: there's a short introduction to her book Harte Zeiten für Träumer, some quote/review content, a simple product selection and checkout form (with Stripe payment integration, apparently), and basic contact details.
The design of the site is fun, quirky, and positively unique, consisting mostly of simple shapes, beautiful illustrations, and some really big text. There's not a whole lot of content here, but it's thoughtful and to the point, so we have absolutely no complaints in that regard. What lies below the deceivingly simple front-end is definitely a point of interest as well: as it happens, this site makes use of ProcessWire as a headless CMS, and the front-end is based on React – a really neat combination indeed!
Big thanks to the team at CLUS for sharing this project with us, and congratulations to Adina Andres for her new website – and good luck with the sales of the book and other products, they seem quite intriguing to say the least!
Stay tuned for our next issue
That's it for the 269th issue of ProcessWire Weekly. We'll be back with more news, updates, and content Saturday, 13th of July. As always, ProcessWire newsletter subscribers will get our updates a few days later.
Thanks for staying with us, once again. Hope you've had a great and productive week, and don't forget to check out the ProcessWire forums for more interesting topics. Until next week, happy hacking with ProcessWire!