27th issue of ProcessWire Weekly is here with latest module releases, fresh site of the week and more!
This time we're going to focus on modules, site profiles, and some more general ProcessWire resources. This week there are no core updates, but we do have a section about ProcessWire 2.5, the TL;DR of which is that if you haven't upgraded your sites yet, right now would be a great time to do that!
Hope you enjoy our weekly update – have a great, productive and relaxing weekend, and please don't hesitate to drop us a note if you've got anything to say.
Are you using ProcessWire 2.5 yet?
ProcessWire 2.5 has been around for a while, and things have, so far, gone smoothly. We've been ironing out some minor bugs, but apart from that, nothing alarming has come to our attention. In short, it's yet another solid and stable ProcessWire release – if you haven't upgraded to 2.5 yet, this is a very good time to do so!
Want to check it out before upgrading?
There have been various UI changes, new features and other changes, so it might feel a bit scary to jump from an older version straight to the latest ProcessWire release. No worries, though; lightning.pw provides perfect tools for checking 2.5 out:
Want to try out @processwire 2.5.1? New versions are always available on lightning.pw in about 15 minutes after they've got published :-)

— lightning.pw (@lightningpw) September 16, 2014
Why should you upgrade?
To this day there are still zero known security vulnerabilities affecting any of the ProcessWire releases, and we hope to keep it at that. There have been various improvements, though, both performance and security feature wise, in the past years.
If you're running an old version of ProcessWire (especially pre 2.3), it might be worthwhile upgrading your site anyway. This way you get the benefits of all the little tweaks we've bene working on under the hood
Another compelling reason is, of course, the fresh UI. Especially if you're coming from an earlier release (2.3 or older), there are going to be some major usability and UI improvements waiting for you in the 2.5 branch!
Impressive list of new features and improvements in ProcessWire 2.5: "@processwire: ProcesssWire 2.5 changelog – https://t.co/tW1pNHFtG1"

— Jean-Luc Jumpertz (@JLJump) September 27, 2014
Upgrading ProcessWire is easy
Please note that when upgrading you'll want to make extra sure that everything works – take a look at the upgrade guide for more details about the upgrade process, best practices, version specific tips, etc.
If you're upgrading from 2.3.4 or newer version, there's also the ProcessWire Upgrade module. It provides a nice and automated way to upgrade ProcessWire. As always, if in doubt, ask at the forum and we'll help!
ProcessWire upgrade is so polished, it puts other u/g processes I've run to shame. http://t.co/kL3R6P956d

— Alan (@alancbristow) November 11, 2014
Simple Contact Form is an answer to all your everyday contact form needs
Simple Contact Form is a new module by Bea Dav, and as the name suggests, this module allows you to create a simple contact form for your site. Submitted messages can be emailed to the address defined in the module config and, optionally, saved on your site.
The module provides various options for presenting contact forms, includes optional support for the Twig templating engine and built-in spam protection, etc. Overall this is a great choice for those who simply need a contact form for their site, not something at the scale of the commercial ProcessWire Form Builder.
For full details on how to configure, set up and use the module, please see the related forum thread here. Thanks to Bea for creating this module – it's a clean and simple answer to a common need. Great work!
Publishing podcasts made easy: introducing the Podcast Profile
Every now and then you might hear that ProcessWire is a platform for much more than just "regular everyday websites". Well, the Podcast Profile we're featuring this week is a very good example of this in action!
In a nutshell, Podcast Profile is a platform for publishing your own podcast feeds. In fact, the output of the "site" created using this profile doesn't contain HTML at all; the podcasts and podcast episodes you create are automatically turned into an iTunes compatible RSS / XML feed.
For more details, installation and setup guide, etc. check out the forum thread here. Thanks to Michael Spooner for creating this profile – it's a great example of what one can create simply by using the native features of ProcessWire and a little template level magic!
Recent ProcessWire resources
Here's a little collection of recent ProcessWire resources, some of which we might've mentioned earlier, but all of which we feel are worth mentioning:
Site of the week: Galerie Luise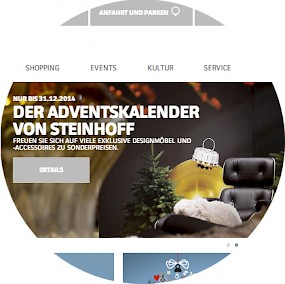 For some reason a lot of our featured sites come from Germany, and this week is no exception. This time the featured site of the week belongs to Galerie Luise, a shopping mall in Hannover, Germany.
The site, designed and built by neuwaerts, features shops and other important details of the mall itself, but focuses on events held at Galerie Luise. All the usual building blocks of a great online experience can be found from this site: it's responsive, modern, looks good, and, most importantly, feels great!
Thanks to neuwaerts for bringing us more and more awesome sites to look up to!
Stay tuned for our next issue
That's all, folks – thanks for reading and hope you've enjoyed our weekly update! As always, suggestions and feedback can be submitted as comments here or via the feedback form.
Our next issue, ProcessWire Weekly #28, will be out Saturday 22nd of November. Until then, happy hacking with ProcessWire!