In the 276th issue of ProcessWire Weekly we're going to summarise the latest weekly update from Ryan, introduce a new third module called WireMail Mail Logger, and highlight a new site of the week. Read on!
Welcome to the 276th issue of ProcessWire Weekly! We'll keep this issue relatively brief, but there's still some pretty neat stuff to cover. Our main topics this week are the latest weekly update from Ryan – in which he announced some upcoming Pro module and core related updates – and a new third party module called WireMail Mail Logger.
Our latest pick for the site of the week was developed by Timo Anttila of Tuspe Design for the organizational change and employee engagement solution Priocta. It's a really nice-looking modern website with beautiful design and easy-to-grasp user interface.
Thanks to all of our readers for being here with us again, and as always, any feedback is most welcome – please don't hesitate to drop us a line if there's anything in your mind you'd like to share with us. Enjoy our latest issue and have a great weekend!
Brief weekly update from Ryan: upcoming updates for core features and Pro modules
This week's update from Ryan comes in the form of a support forum post, because – as Ryan explains in the post itself – there's plenty of stuff on the works, but little to show right now. Be sure to check out the entire post for all the nitty-gritty details, though.
Here's a brief summary of what you might expect to find from next week's post, which should be a lot more in-depth:
Multi-page feature for FormBuilder forms with "prev" and "next" pagination features and independent validation for each "pagination page".
Entirely new Inputfield module called InputfieldToggle, providing a full-featured toggle type input for the checkbox Fieldtype.
Last but not least, there are some upcoming UI enhancements for manipulating column widths of fields in ProcessWire.
Again, we hope to dive deeper into the topics mentioned above by next week, so stay tuned for that. In the meantime be sure to leave a note at the "Weekly update for August 23, 2019" support forum thread for more details. Thanks!
New module: WireMail Mail Logger by Bernhard Baumrock
WireMail Mail Logger, also known as RockMailLogger, is a new module released just this week by Bernhard Baumrock. In a nutshell this module adds an entry to a ProcessWire log file for each message sent using WireMail.
The mail logging feature provided by this module can be quite helpful while debugging email related issues, but also if you just want to check what kind of messages your site is actually sending out. WireMail Mail Logger is also really easy to get started with: just install it and you're good to go. Log entries can be viewed via ProcessWire's log viewer.
Keep in mind, though, that since the message itself will indeed be logged, you probably don't want to enable this module on a production site in case you're sending messages that shouldn't be fully readable by superusers.
You can install this module via the built-in module installer, or – in case you prefer the manual installation method – you can grab the code from the RockMailLogger GitHub repository. If you have any questions or require support, head down to the dedicated support forum thread.
Thanks to Bernhard for sharing this module with us!
Site of the week: Priocta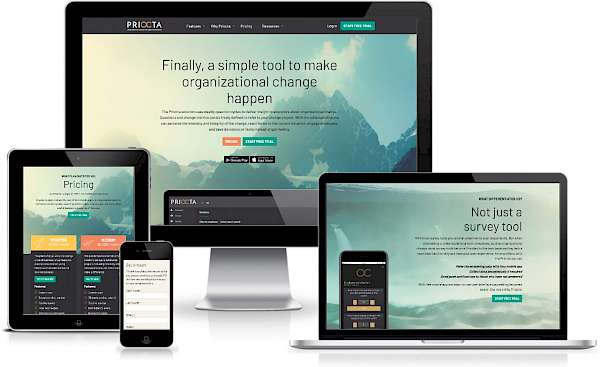 Our latest site of the week belongs to Priocta: a product designed to drive organizational change via weekly question cycles and comprehensive analytics.
One thing in particular that Priocta does to set itself apart from the competition – mainly other questionnaire tools – is that there are mobile applications for Android and iPhone platforms to make collecting answers easier and more reliable. This also allows them to send push notifications for users that haven't yet replied, etc.
The Priocta website's focus is on showcasing the features of the Priocta solution, both web GUI and the mobile app. There are separate sections for pricing, contact form, resources, and even a built-in blog feature. Overall the site feels rather intuitive, it's easy to use on different types and sizes of devices, and the design looks really splendid – all in all there's a lot to like about this site!
The front-end of the Priocta website has certain tell-tale signs of the Bootstrap front-end framework, and behind the scenes this site is powered by the ProCache module – the latter of which is also used to combine and minify required CSS and JavaScript assets. Other than that it seems like a pretty typical setup, with jQuery and a few other usual tools and libraries.
Big thanks to the developer behind the site, Timo Anttila, for sharing this project with us. Our congratulations to Priocta for their new, ProcessWire powered website!
Stay tuned for our next issue
That's all for the 276th issue of ProcessWire Weekly. We'll be back with more news, updates, and content Saturday, 31st of August. As always, ProcessWire newsletter subscribers will get our updates a few days later.
Thanks for staying with us, once again. Hope you've had a great and productive week, and don't forget to check out the ProcessWire forums for more interesting topics. Until next week, happy hacking with ProcessWire!