28th issue of ProcessWire Weekly brings together latest ProcessWire news: core updates, modules, resources, and more. Read on!
This week we've got a bunch of new modules, some of our regular topics (site of the week, forum highlights) and some core updates too. There are probably a few things we've missed, so if anything like that comes to mind, please let us know.
Hope you enjoy our weekly news and updates and have a great, relaxing, and productive weekend. Now, let's get this thing started!
Latest core updates (ProcessWire 2.5.9)
This is a summary of the core updates for the week, as described by Ryan in his latest blog post, ProcessWire core updates (2.5.9). For more details, please visit the original post.
Our first update for the week affects the way thumbnails (in image fields and image selection tool for RTE fields) are handled in the ProcessWire admin. A bunch of new configuration settings have just been added, making it possible to configure the quality and size of said thumbnails, and adding hi DPI / retina support, among other things.
Second update is for the notifications system, where notification age and expiration timers now update real-time. Especially for expiring notifications this looks pretty neat; check out the screenshot at the processwire.com blog post. The JavaScript part of the system was also partly refactored to make it simpler behind the scenes.
We've also got something for the aspiring module authors out there: the ProcessHello module has received a huge update. This update makes it a proper starting point for Process modules making use of all the neat new ProcessWire 2.5 features. Check out the entire list of updates!
New module: Admin Restrict Page Tree
Admin Restrict Page Tree is a new module that prevents specific roles from accessing the page tree, redirecting them to another page instead. It includes configuration settings for roles and the target (landing) page, making it quite flexible.
This module is particularly helpful if you want to craft a custom admin experience for one or more user roles. With the tools it provides you can easily redirect them to the view they're intended to see and have done with it.
There's not much more to say here – it's a really simple module with a really simple use case. Thanks for the module goes to Wanze (code), Kongondo (ideas), and Netcarver (final product) – nice teamwork, guys!
New module: Fieldtype YAML
Another new module this week is Fieldtype YAML, built by Christian Raunitschka. It's a fieldtype that stores YAML, converting it to an object (WireArray or an instance of stdClass) or an associative array runtime. Very useful for storing complex data, rapidly prototyping new data structures, importing content from certain other system, etc.
If you're not familiar with YAML yet, you might want to check out the Complete idiot's introduction to YAML, and other resources linked to in the modules directory page of Fieldtype YAML. It's a very simple syntax for storing data in the form of objects, and this fieldtype makes using it in ProcessWire trivially simple.
Thanks to Christian for creating this new Fieldtype – it's definitely going to be useful!
Forum highlights of the week
For those of us who can't hang around the ProcessWire support forum all the time, here are a few of threads worth checking out. By no means is this a comprehensive list, there's way too much content these days for that – this is more like a teaser of what you'll find once you start digging in, really.
Site of the week: Pondok Nyoman Bagus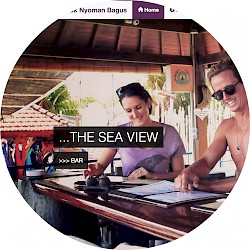 As the winter draws closer, browsing the site of Pondok Nyoman Bagus – a newly renovated hotel located at the Pererenan Beach in Bali – gives one a nice, warm, and sunny feeling. Built by Sudigital, this is one of the latest additions to the ProcessWire sites directory and our pick for the site of the week this time.
What makes the site stand out are the large images dominating just about every page. There are a couple of different views, including a gallery and a booking form, and while the content in general is somewhat sparse, overall the site is doing a very good job at communicating the benefits of the location – and, of course, promoting the hotel itself.
From a more technical point of view, the site feels quite fast, part of which can probably be credited to the Minify module used behind the scenes. An eagle-eyed visitors can also spot a few familiar features from the Bootstrap framework here and there. Nothing wrong with that, though; there's no need to reinvent the wheel for each and every site we build!
Anyway, thanks to Sudigital for a great addition to the sites directory – we look forward to seeing more from you!
Stay tuned for our next issue
That's it for now, folks. We'll be back next week with all new topics – I hope you've enjoyed your stay, and please let us know if there's anything we can do to improve these weekly updates. Your feedback is always appreciated.
For more news, updates, and great discussions, remember to visit the ProcessWire support forum – weekends are always busy around there, with lots and lots of interesting topics popping up.
Our next issue, ProcessWire Weekly #29, will be out Saturday, 29th of November. Until then, happy hacking with ProcessWire!