In the 282nd issue of ProcessWire Weekly we'll walk you through some news regarding upcoming core features and pro modules, check out some recent forum resources, and more. Read on!
Welcome to the 282nd issue of ProcessWire Weekly! This week we've got some core and pro module news directly from Ryan, a new weekly poll (which is actually going to be a multi-part series of related polls), some weekly highlights from the support forum, and a brand new site of the week.
The poll that we have in this issue is going to be a multi-part one, with a new one going online with each new issue between now and (probably) the end of December this year. As always we'd be really happy if you could take the time to reply, and please also let us know if you've got any additional suggestions for new polls – or for new answers for the ongoing one for that matter.
Thanks to all of our readers for being here with us again, and as always, any feedback is most welcome – please don't hesitate to drop us a line if there's anything in your mind you'd like to share with us. Enjoy our latest issue and have a great weekend!
Weekly update from Ryan: some core updates, and news about the next version of FormBuilder
According to the latest weekly update posted by Ryan at the support forum part of the week was again spent resolving outstanding GitHub issues. While there were no major core updates this week, one update was made that allows markup regions to support nested pw-optional regions, and brings removed pw-optional regions to debug info.
FormBuilder v40
In case you're a FormBuilder user, you should be happy to hear that the next version of this widely used module should be ready for release by next week.
Among other things FormBuilder v40 will include support for paginated forms, so it's a pretty big deal. If you managed to miss the original announcement, definitely check out the video showcasing some of the features that will be available with the new version.
Custom field support for files and images
One more detail we'd like to highlight is that next core version should include custom field support for image/file fieldtypes – and, as it happens, this feature will likely do a bit more than what one might've expected.
This update – which is at an early testing phase, but according to Ryan looking quite good already – will make it possible to use a subset of ProcessWire's Fieldtype and Inputfield modules for defining custom data structures. Hopefully we'll be able to provide more details by next week, so stay tuned for that.
If you'd like to comment on this week's update, feel free to do so at the weekly update thread at the support forum. Thanks!
Weekly poll: working remotely (#processwireworks)
It's been a while since we last posted a poll, and this one differs slightly from our usual topics for two reasons: first of all it's not really about a technical subject, and second of all it's going to be a multi-part one, with a set of related polls scheduled to be included with our future issues.
Now, the gist of the series is that we'd like to learn more about how ProcessWire users actually work (hence hashtag processwireworks), and the first question that popped up is remote work: do you work remotely, and if so is it a constant thing or perhaps a day or two every now and then. Particularly if you don't do any remote work, we'd also like to hear if that's by choice, or something you might want to change in the future.
We're well aware that working remotely can mean a lot of different things, so feel free to add a comment or send some feedback if you have something else you'd like to add to your answer. Also: if you have suggestions for future polls, please let us know. We've got some ideas, but it's always great to hear your suggestions as well :)
I work remotely full time or almost full time (51.1%, 48)

I work remotely half the time or less on a regular basis (22.3%, 21)

I work remotely sometimes (18.1%, 17)

I don't do any remote work, and prefer to keep it that way (5.3%, 5)

I don't do any remote work, but would like to in the future (2.1%, 2)
Total votings: 94
Feel free to check out the poll archive for results of our earlier polls. All suggestions for future polls are more than welcome too. Thanks in advance for both your answer here and any additional suggestions or feedback you might have.
Weekly forum highlights, tutorials, and other online resources
Here's a list of support forum highlights and other useful and/or interesting resources. As always, please let us know if there's anything important we've missed, so that we can include it in one of our future issues.
If you're interested in ProcessWire news, discussions, and updates, there's always something going on at the support forum. Since we're only able to include a tiny selection of all that in our weekly updates, head down to the forum for more.
Site of the week: Caravanya – the app for camping, wild camping, or standing free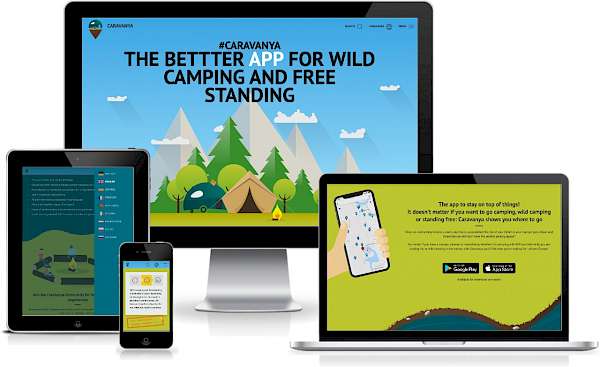 Our latest site of the week belongs to Caravanya, which is an app for camping, wild camping, or standing free. The app – which you should check out in case you're at all into the topics mentioned here – will soon be available for both Android and iOS devices, while the website introduces the app, the team behind it, and contains plenty of country-specific travel-related information.
This site features a beautiful design with colorful and personal vector graphics and animations that give it a bit of extra "oomph". It's also responsive (obviously) and has a nice mobile-first feel to it (which, I guess, shouldn't be much of a surprise considering that this is a website for a mobile app). When it comes to languages, there are a total of nine of those here, making it a truly multi-lingual site.
As for some behind-the-scenes details, we can at least say that the site is using the commercial ProCache module, as well as the freely available Login/Register module for the registration feature. The "visible part" of it is based on the Uikit front-end framework, and another potentially interesting detail we spotted while diving into this site is the use of JSON-LD metadata.
Big thanks to the folks at Caravanya for trusting ProcessWire for their web presence and sharing this site with us, and all the best with their app!
Stay tuned for our next issue
That's all for the 282nd issue of ProcessWire Weekly. We'll be back with more news, updates, and content Saturday, 12th of October. As always, ProcessWire newsletter subscribers will get our updates a few days later.
Thanks for staying with us, once again. Hope you've had a great and productive week, and don't forget to check out the ProcessWire forums for more interesting topics. Until next week, happy hacking with ProcessWire!