In the 285th issue of ProcessWire Weekly we're going to cover ProcessWire 3.0.143, and a brand new module called Page List Select Multiple Quickly. In other words we've also got a new weekly poll, and a brand new site of the week. Read on!
Welcome to the latest issue of ProcessWire Weekly! This time we're going to discuss the latest core development news and introduce ProcessWire 3.0.143 (dev). We're also going to take a closer look at a brand new module from Robin Sallis – called Page List Select Multiple Quickly module – that implements a small but neat UX update for the core Page List Select Multiple inputfield.
Our latest site of the week belongs to a Swiss designer and manufacturer of frameless glazing systems, and we've also got a new poll – as well as the results from last weeks poll – for the ongoing #processwireworks series. Regarding the poll series we've got a good amount of data already, and we're planning to do a proper summary of entire series in our last issue for 2019, so stay tuned for that!
... and while we're on the topic of the polls, please note that there was a slight technical hiccup in our last week's statistics; this has now been corrected, and the web version of weekly issue #284 contains an updated chart with the "doesn't work with ProcessWire" group included as well.
Thanks to all of our readers for being here with us again, and as always, any feedback is most welcome – please don't hesitate to drop us a line if there's anything in your mind you'd like to share with us. Enjoy our latest issue and have a great weekend!
Latest core updates: ProcessWire 3.0.143
The latest weekly update from Ryan was available via the support forum and covers our current development version, ProcessWire 3.0.143. Compared to previous version, 3.0.142, this week's release contains 26 new commits and mainly focuses on stability-enhancing updates – in other words bug fixes and minor improvements to existing features.
In addition to overall quality control, this version makes some improvements to our built-in logging system as well:
ProcessWire now detects identical log entries occurring close to each other, and instead of polluting the logs with duplicate records, updates the timestamp and adds a counter to make it easy to see how many of those entries you've got. (This counter is also detected when you're viewing log entries via the Admin.)
In addition, the output in the "errors" and "exceptions" logs now have improved readability, isolating error messages and filenames from stack traces.
Lastly, the ajax navigation in Setup > Logs now shows logs in newest-to-oldest (modification date) rather than alphabetical. This means that the log at the top of the list is always going to be the one most recently updated.
Next week we're going to keep the focus on stabilizing the dev branch in preparation for a new master branch version. This means that there won't be a lot of new stuff, and we'll rather focus on covering as many of the reported issues as possible.
In case you have any feedback or questions regarding this week's updates, be sure to check out the full update from Ryan. In case you're currently using the dev branch, it'd be great if you could also let us know if you've had any problems with it – the easiest way to do that is via the processwire-issues repository at GitHub. Thanks!
New module: Page List Select Multiple Quickly by Robin Sallis
Page List Select Multiple Quickly is a brand new module developed by Robin Sallis. This is an addition to the built-in "Page List Select Multiple" inputfield, and in a nutshell just makes the workflow a little bit more streamlined: while with the native feature you can select multiple pages and the page tree is closed after each selection, with this module installed the page tree remains open, making it faster to pick more pages.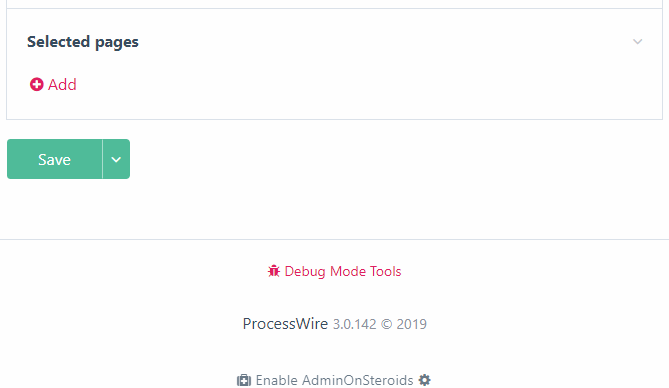 Developed as a response to a question posted at the support forum, this is a simple module that can nevertheless make a big difference in terms of UX. It's worth noting, though, that this isn't a new inputfield, but rather a plugin that modifies the behaviour of an existing one. As of this writing there's also no way to limit its effects to just some Page List Select Multiple inputfields.
While it's not yet available via the modules directory, you can already install the module directly via the Page List Select Multiple Quickly GitHub repository. Big thanks to Robin for setting this module up and sharing it with us – great work as always!
Weekly poll: what is the cost of your typical ProcessWire project? (#processwireworks)
Continuing with our poll series, this time we're interested in hearing about the scale of your typical ProcessWire project – and, in this case, by scale we're referring to the cost. A project's price tag doesn't necessarily say a whole lot about it, but it'd be interesting to know what kind of price ranges a typical ProcessWire project tends to go for.
As always we've included some pre-thought-out price ranges, but in case you work on a number of different project scales, feel free to pick more than one option. Alternatively you can just pick the one that applies to the majority of your work – either way is fine for us, really. Note that for clarity we've opted to make our ranges USD; if you're used to euros, that's roughly 10% less than the EUR value.
Tip: you can also type a conversion-related query – such as "3000 EUR to USD" – into Google, DuckDuckGo, or Bing (and probably most decent search engines), and they'll give you the USD value based on current exchange rate.
$1.000 or less (14.7%, 19)

$1.000 - $3.000 (33.3%, 43)

$3.000 - $5.000 (25.6%, 33)

$5.000 - $10.000 (17.8%, 23)

$10.000 - $20.000 (7%, 9)

$20.000 or more (1.6%, 2)
Total votings: 129
Regarding our last week's poll – which, again, is still open in case you haven't yet had the chance to add your answer – the initial results are in. We've again included a pie chart of the results below, but to summarize:
It seems that out of our respondees the biggest group (by a pretty big margin) are those who work with other platforms as well.
If we count together the group who work with ProcessWire full-time and those spending more than half of their time with it, this includes the vast majority of all respondees.
Around one fourth of those responding to the poll answered that less than half of their work, or just a small part of it, is related to ProcessWire.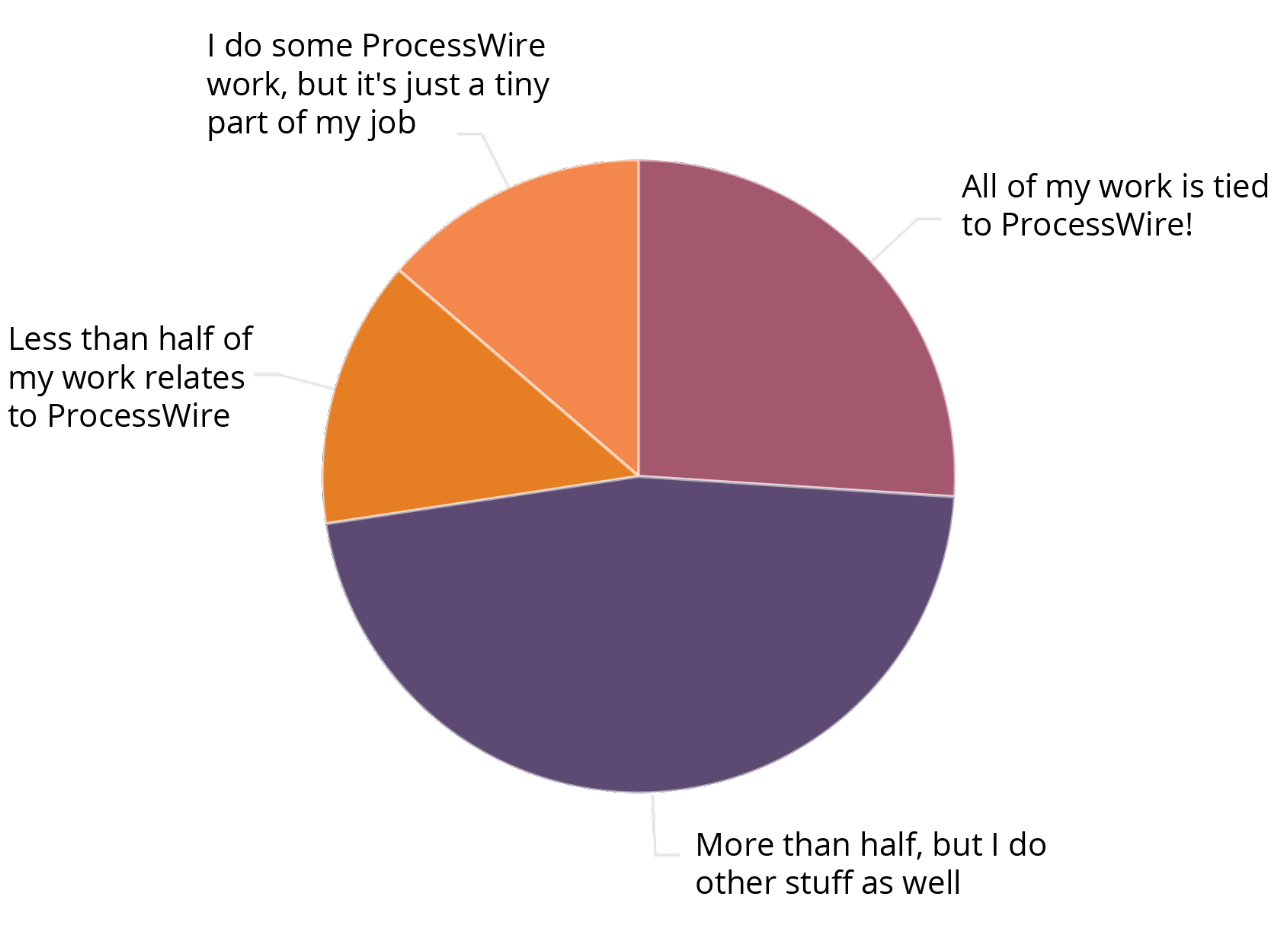 Thanks again for everyone who answered the poll – and in case you haven't yet, feel free to do it now, as all the earlier polls in the #processwireworks series are still open.
Feel free to check out the poll archive for results of our earlier polls. All suggestions for future polls are more than welcome too. Thanks in advance for both your answer here and any additional suggestions or feedback you might have.
Site of the week: swissFineLine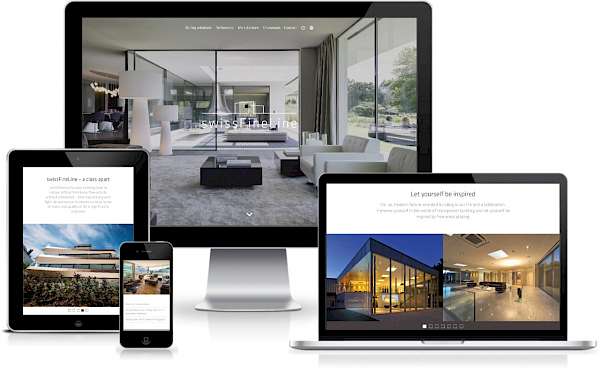 Our latest site of the week belongs to swissFineLine AG – a company that produces an exclusive frameless glazing system that, in their own words, enables flowing transitions between the interior and exterior. This innovative, family owned company strives to keep up a "Swiss level of perfection", promoting quality over quantity and tailor-made solutions over mass-production.
The website of swissFineLine encompasses their timeless and simple design principles – the design of the site are modern yet simplistic, and there's a real no-nonsense feel to it. Various effects bring a bit of extra spark into the mix, while keeping the overall experience calm and classy. There's a whole extranet built for this client as well, and you can find some details about that from the case story by the designer and developer behind this site, Philippe Künzler (webaff).
Some of the behind-the-scenes highlights include the use of multi-language features, and Uikit framework for the front-end. In addition to multi-language options, the site also features different country-specific versions, though we're not quite sure about how this was actually done. Other than that, there's the extranet section mentioned above, and this site also includes – according to the case story – dozens of users with different roles.
Big thanks to Philippe Künzler for sharing this project with us, and our congratulations to swissFineLine AG for their new website!
Stay tuned for our next issue
That's all for the 285th issue of ProcessWire Weekly. We'll be back with more news, updates, and content Saturday, 2nd of November. As always, ProcessWire newsletter subscribers will get our updates a few days later.
Thanks for staying with us, once again. Hope you've had a great and productive week, and don't forget to check out the ProcessWire forums for more interesting topics. Until next week, happy hacking with ProcessWire!