In the 286th issue of ProcessWire Weekly we'll cover the updates included in ProcessWire 3.0.144, highlight recent resources from the support forum, and introduce a new weekly poll. Read on!
Welcome back to the latest issue of ProcessWire Weekly! This time we're going to walk you through the updates included with ProcessWire 3.0.144, currently the latest version of ProcessWire dev branch. We've also got a list of highlights – code snippets, hooks, and tutorials – from the support forum, and a new weekly #processwireworks poll.
Our latest site of the week belongs to a German company specializing in software development and usability: Youbility Software. Their website boasts a really unique design, and as always there are some interesting technical aspects to it as well.
Thanks to all of our readers for being here with us again, and as always, any feedback is most welcome – please don't hesitate to drop us a line if there's anything in your mind you'd like to share with us. Enjoy our latest issue and have a great weekend!
Latest core updates: ProcessWire 3.0.144
The latest version of the dev branch, ProcessWire 3.0.144, was introduced by Ryan via a forum post this week. A more in-depth blog post is planned (hopefully for next week), but in the meantime here's a summary of what's new in this release:
UI improvements to the "overrides" tab in field edit.
Instead of just a static list of templates with overrides, you can now actually click the name of the template to modify that particular override. Additionally changes are now rendered as a visual diff instead of just the default and overridden values side by side.
The ability to enable more settings to be overridden per template.
Adding more properties to the list of overrides has been possible for a while now, but only if you had the advanced mode enabled. Since there have been no issues with this feature, it's now available without advanced mode as well – though there is also a disclaimer explaining that this may not always work as expected.
Version 3.0.144 adds a new Inputfields JavaScript API.
The intention of this feature is to make interfacing with Inputfields via JavaScript more streamlined and consistent. The API is already used by the core, but it's still a work in progress, with more features to be added later.
Other changes included in this release include a simple diff tool added to WireTextTools (this is what made the "changes" diff in field overrides possible in the first place), the option to render checkbox fields without a label, and support for defining CKEditor config settings case-by-case using data attributes.
Finally, an update to the ability to merge duplicate log entries, as introduced in 3.0.143 last week: this feature is now disabled by default. While it can be tremendously helpful in some situations, there are also cases where keeping those duplicate rows is actually preferable, and thus we felt that this likely makes more sense as an opt-in feature.
You can find more details regarding this week's core updates from the weekly update by Ryan at the support forum, so be sure to check it out. In case you have any comments or questions, feel free to post them at the support forum as well Thanks!
Weekly forum highlights, tutorials, and other online resources
Here's a list of support forum highlights and other useful and/or interesting resources. This week we've actually got a kind of a theme here, and that is sharing some helpful code snippets that we've come across lately.
As always, please let us know if there's anything important we've missed, so that we can include it in one of our future issues!
If you're interested in ProcessWire news, discussions, and updates, there's always something going on at the support forum. Since we're only able to include a tiny selection of all that in our weekly updates, head down to the forum for more.
Weekly poll: what kind of products and services you offer for your ProcessWire clients? (#processwireworks)
In our ongoing #processwireworks poll series this week we're interested in hearing a bit more about the kind of products and services you offer for your ProcessWire clients: do you build sites and then hand them over, or are you also hosting them? What about custom module work, or services such as SEO consulting or a11y/usability consulting?
Let us know what sort of services you offer. As always we've included a prepopulated list of options, but this time we've also enabled the option to add your own answers to the list. As always: thanks in advance for your answer!
Website design and/or development (23%, 69)

Mobile application development (3.3%, 10)

Custom module development (7.3%, 22)

Graphic design (web or print) (13%, 39)

Hosting and related services (11%, 33)

Customer support (maintenance) (16.3%, 49)

Search engine optimization (SEO) (11.3%, 34)

Advertising and/or marketing (SEM etc.) (4.3%, 13)

Usability and/or accessibility consultation (8%, 24)

Something else – what? (2.3%, 7)
Total votings: 300
Regarding our last week's poll, the results are again in, and it appears that there's quite a bit of variance:
The most popular cost group was $1-3K with 35.5% share of all answers, and the $3-5K range was pretty close behind with a 22.4% share.
The $5-10K range got 17.8% of answers, and the $1K or less range also managed to amass a respectable 15% share.
When it comes to the most typical project cost, less than 9% of replies fell into the $10-20K range, and less than 1% to the $20K+ range.
See below for a visual representation of the results. All in all it seems that the majority of ProcessWire developers primarily take part on projects that range from a few thousand up to nearly ten thousand USD. Less than thousand and more than ten thousand USD ranges were – relatively speaking – less common, as are big projects ($20K or more).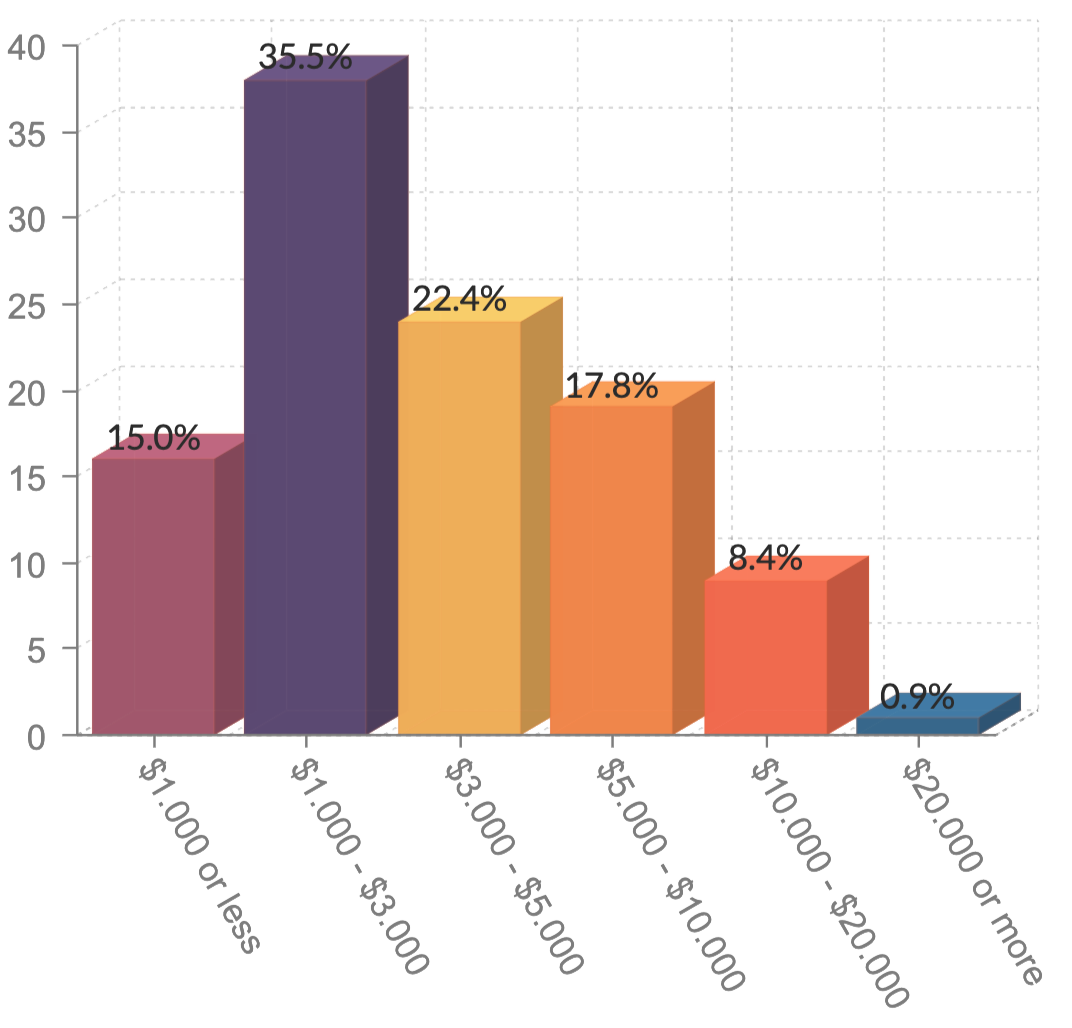 Feel free to check out the poll archive for results of our earlier polls. All suggestions for future polls are more than welcome too. Thanks in advance for both your answer here and any additional suggestions or feedback you might have.
Site of the week: Youbility Software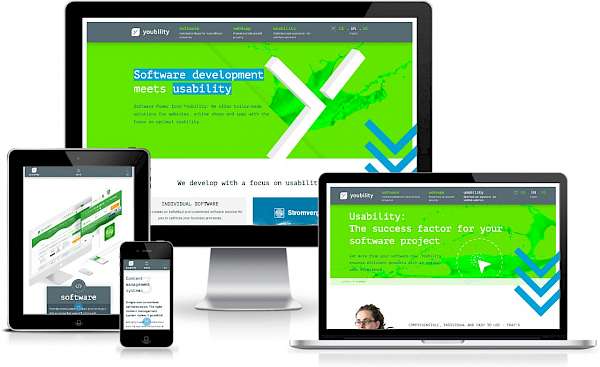 Our latest site of the week belongs to the German software development agency Youbility.
Youbility is a software company that offers tailor-made solutions for websites, online shops, and apps with focus on usability. Their services range from the deeply technical topics, including the development of apps and CMS powered websites, to more end-user-centric areas such as usability, A/B testing, and conversion optimization.
The website of Youbility is a curious one, and probably on the more artistic side of the sites of the week that we've featured so far. That being said, the site is also easy to follow, and provides plenty of visual clues as for navigating it and figuring out where to find just the content you're looking for. The overall design is bold and interesting, and feels like a great fit for a company such as Youbility
The front-end of the Youbility website has the characteristics of the Bootstrap front-end framework, and the performance of the site is being boosted using the commercial caching and optimization module ProCache. The site is properly multi-lingual (German, English, and Spanish), and from a technical SEO point of makes extensive use of various metadata features, such as JSON+LD and OpenGraph tags.
Big thanks to Youbility for trusting ProcessWire as the platform for their own website, and sharing your site with us! For anyone interested, it appears that Youbility currently has a few open positions; in case you'd like to work on software projects and happen to be based near Dresden, Germany, be sure to check out their jobs page for more details.
Stay tuned for our next issue
That's all for the 286th issue of ProcessWire Weekly. We'll be back with more news, updates, and content Saturday, 9th of November. As always, ProcessWire newsletter subscribers will get our updates a few days later.
Thanks for staying with us, once again. Hope you've had a great and productive week, and don't forget to check out the ProcessWire forums for more interesting topics. Until next week, happy hacking with ProcessWire!