In the 289th issue of ProcessWire Weekly we're going to take a quick look at ProcessWire 3.0.146, introduce two new third party modules, and host a new weekly poll. Read on!
Welcome to the latest issue of ProcessWire Weekly! This time we're going to take a quick look at the latest dev version of ProcessWire, 3.0.146, and introduce two brand new third party modules: RockAwesome (a Fieldtype and Inputfield module bundle by Bernhard Baumrock), and WireMailgun (a WireMail module by Chris W. Thomson).
In other news we've got another weekly poll in which we continue the #processwireworks theme, and finally in the site of the week section we're going to check out the enticing website of the German professional photo studio Foto Flück.
Thanks to all of our readers for being here with us again, and as always, any feedback is most welcome – please don't hesitate to drop us a line if there's anything in your mind you'd like to share with us. Enjoy our latest issue and have a great weekend!
Latest core updates: ProcessWire 3.0.146
Latest version of ProcessWire available via the dev branch at GitHub is 3.0.146, which – compared to 3.0.145 – contains about 22 commits, of which many are fixes and small improvements, but there are some rather interesting new features included as well. Ryan has posted a quick update on the 3.0.146 version at the support forum.
One particular feature introduced in 3.0.146 that could have notable effects in the long term is the one that Ryan focuses in his update as well: the ability for Fieldtypes to use a custom class for Field objects instead of always using the core default Field class. So far this is mostly an under the hood update with no significant effects for everyday use, but in the long term it will likely greatly simplify working with Field/Fieldtype APIs.
Be sure to check out the weekly update from Ryan for more details, as well as some notes on next week's schedule. Thanks!
New module: RockAwesome
RockAwesome is a new module from Bernhard Baumrock. This module implements a straightforward FontAwesome icon picker field in the Admin, with the ability to search and suggest icons from the ones that are currently available.
While there are already other icon inputfield modules available, RockAwesome is very specific to FontAwesome, and as such rather simple to set up and get started with. The module does require one manual installation step, though: you need to download the FontAwesome icon package, and point the module to the correct metadata JSON file.
Once installed and set up, the module is very straightforward. Icon info is saved as a string, so you can easily use that in your template files: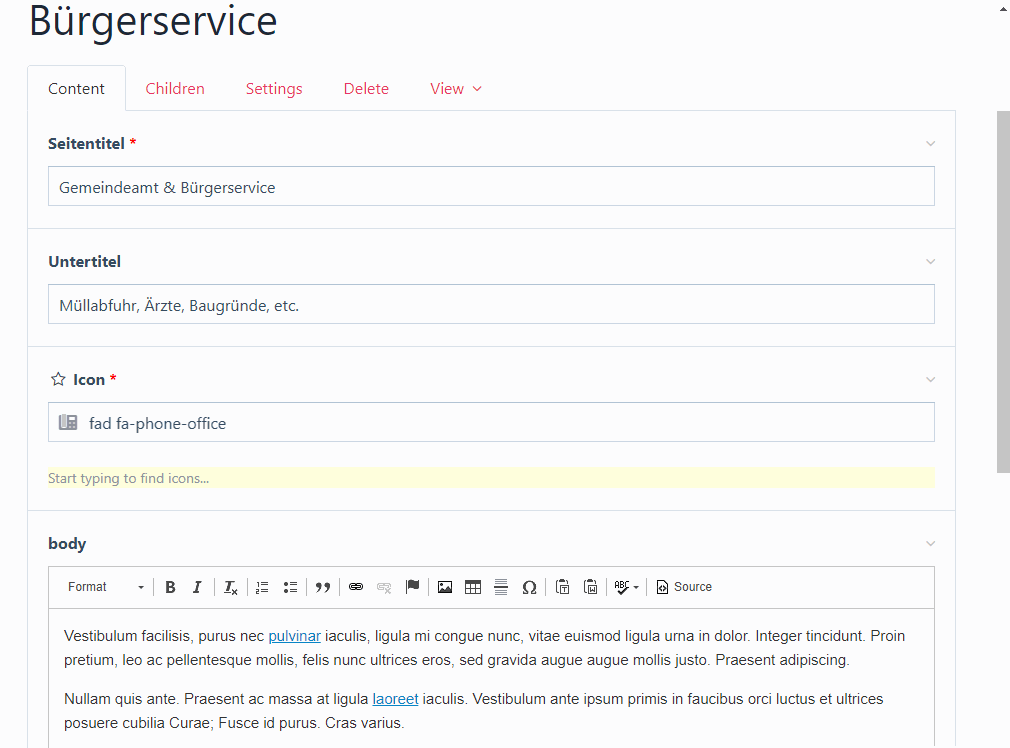 Big thanks to Bernhard for sharing yet another fun and useful project with us!
New module: WireMailgun by Chris W. Thomson
WireMail Mailgun API, WireMailgun for short, is a rewrite and alternative for one of our existing WireMail modules, WireMailMailgun. Long story short, WireMailgun started out as an update for an existing module, but eventually changed and evolved enough to warrant a release as a brand new module instead.
WireMailgun adds the ability for a ProcessWire website to send email through Mailgun's transactional email API service. In order to use this module you'll have to register for an account on the Mailgun website, but the setup is straightforward, and the account itself is free – though technically it does come with some limitations, such as a shared IP, and a limit of 10.000 emails per month (which is likely more than enough for most sites.)
Using WireMailgun is a no-brainer, really: it's a typical WireMail module, so all you have to do is install it and start sending messages. For API use check out the documentation for wireMail() function, as well as the WireMail class. Finally, you can read more about additional methods provided by WireMailgun at the WireMailgun GitHub repository.
Big thanks to Chris W. Thomson for all the work he's put into this project, as well as sharing the result of that work with us – very much appreciated!
Weekly poll: do you find it difficult to convince clients or other developers to choose ProcessWire? (#processwireworks)
In this week's poll we're interested in hearing about your experiences promoting ProcessWire to clients, co-workers, and/or other developers. If and when you do this, do you find it easy or difficult? Are there common issues you often face, or is it all just smooth sailing?
If you do find it difficult, please also let us know why, in case it's something we might be able to give more consideration for in the future. You can also send us feedback via the comments section of this issue at weekly.pw, or via the weekly.pw feedback form.
Once again thanks in advance for your answer. Also, please feel free to answer our previous #processwireworks polls as well, in case you haven't yet done so; you can find them at weekly.pw, starting from issue #282.
Can't say that I do – it's been going pretty smooth! (37.3%, 19)

Sometimes, but with a bit of effort it's all good (43.1%, 22)

I do find it a bit difficult – and here's why... (19.6%, 10)
Total votings: 51
In last week's poll we asked you to name the main reasons you use ProcessWire, and got quite a few answers – which is awesome! Based on the data we have so far the top three reasons in order were flexibility, ease of use for developers, and ease of use for end users. The top three was closely followed by friendly and helpful community, scalability, security, and performance.
Overall the results here were very much in line with what we'd expected: there are many reasons that make ProcessWire such a great platform, but generally speaking folks do seem to take liking to its flexibility, ease of use – for both developers and users – and of course the friendly and outright amazing community.
In our poll the steady stream of core updates, existing familiarity with the system, and existing features such as third party modules were slightly less popular reasons to choose ProcessWire, while clients requesting ProcessWire specifically was at the end of the spectrum, right next to other (non-listed) reasons.
Here's a visual representation of the results: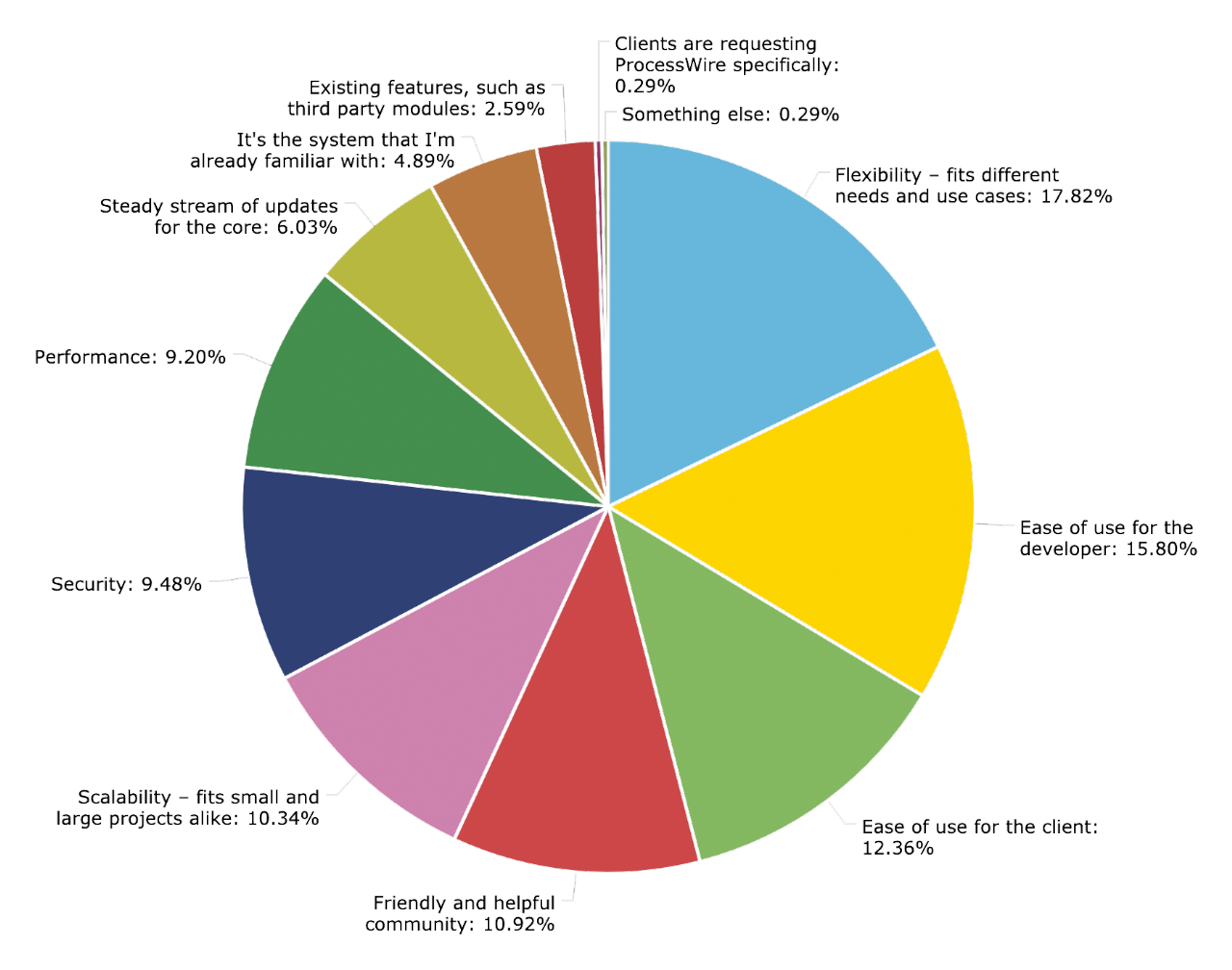 Feel free to check out the poll archive for results of our earlier polls. All suggestions for future polls are more than welcome too. Thanks in advance for both your answer here and any additional suggestions or feedback you might have.
Site of the week: Foto Flück – a photo studio from Sinzig, Germany
Our latest site of the week belongs to Foto Flück, which is a professional photo studio located at Sinzig, Germany. They are a privately owned and family-run company with over 60 years of history, and they can handle all sorts of photo shoots: weddings, portraits, newborns, wildlife – you name it.
The website of Foto Flück was designed and developed by FlipZoom Media, and has a really nice responsive layout and an absolutely stunning design. On this site the photographs are obviously on the focus – and there are plenty of those to go around – but text content is also well authored and stylishly laid out. Combined with generous amounts of small effects and animations, the overall impression of the site is both modern and welcoming.
The content of the site appears to be largely built with content blocks, which include regular content areas, pricing tables, personnel introductions, and galleries. There's a dedicated section for news, the contact form is powered by the FormBuilder Pro module, and behind the scenes optimizations are being handled by ProCache. Front-end of this site is powered by the Foundation front-end framework, as well as some additional tools and libraries.
Big thanks to David Karich of FlipZoom Media for sharing this project with us, and our congratulations to Foto Flück for their new website. Great work from everyone involved in this project!
Stay tuned for our next issue
That's all for the 289th issue of ProcessWire Weekly. We'll be back with more news, updates, and content Saturday, 30th of November. As always, ProcessWire newsletter subscribers will get our updates a few days later.
Thanks for staying with us, once again. Hope you've had a great and productive week, and don't forget to check out the ProcessWire forums for more interesting topics. Until next week, happy hacking with ProcessWire!