You're reading the 29th issue of ProcessWire Weekly, introducing all the latest modules, interesting forum topics, and more. Read on!
Perhaps I'm just imagining things, but the amount of new modules seems to be increasing all the time. This week there were, again, so many new releases that we have to cover some of those next week. Don't worry, though – we'll get there eventually.
In addition to introducing latest modules, we've got some of our other regular topics to discuss too; namely a new site of the week, latest resources, and core updates.
Enjoy our weekly update, folks. As always, comments and suggestions are more than welcome!
Latest core updates (ProcessWire 2.5.10)
Until now, altering ProcessWire system configuration settings – file permissions, database credentials, timezones etc. – has required manually modifying a config.php file.
What's wrong with editing config.php?
While not exactly a demanding task, one might still say that it's a bit off in the overall context of ProcessWire. After all, everything from pages, templates and fields right down to individual module settings can already be managed via the Admin backend.
ProcessWire has a great programming API for crafting sites, applications, and whatnot for all sorts of needs, but it's also a very effective tool for quickly mocking up data structures and playing around with new concepts. As a matter of fact, this is one of its core strengths.
Introducing ProcessWireConfig
This week our core update is a brand new module for configuring ProcessWire site right from within the site itself. While it does require latest updates to the ProcessWire's core to function, (for the time being) it's actually a separate module – one called ProcessWireConfig.
In a nutshell, ProcessWireConfig is a Process module (Admin tool) that allows you to tweak more than thirty native config settings directly within your site. In addition, it also allows you to easily set up new site-specific custom config settings for your needs!
For more details (and screenshots) about ProcessWireConfig, we urge you to take a closer look at the latest blog post by Ryan. We believe that ProcessWireConfig is a great addition to the ProcessWire ecosystem and definitely a step forward – hopefully you'll feel the same!
New module: Pia - Pageimage Assistant
Pia - Pageimage Assistant is a new (mainly API level) image management tool by our resident expert on all things related to images and photography, Horst Nogajski.
Pia provides an easy-to-use GUI for configuring site-wide image sizing settings, support for defining image sizes and used settings on a case by case basis with selector strings, and new shortcut methods for different types of crops:
$image->crop('square=100') creates a new 100x100 px crop of the image
$image->contain('square=100') fits the image into a 100x100 px square
$image->cover('square=100') makes the image cover a 100x100 px area
For a more in-depth and eloquent description of this new module, please visit the forum thread introducing Pia. Once again we're thankful to Horst for lending us his expertise... and making image processing a bit easier for all ProcessWire users out there!
New module: Page Protector
Page Protector, a brand new module by Adrian, brings in support for protecting individual pages, branches (pages and their children, grandchildren, etc.) or your entire site with one click.
By default, protected areas can be accessed by all logged in users, but you can also specify the exact roles allowed to access specific protected area. For convenience, the module adds a new option to "settings" tabs of pages, and a summary view of all the protected areas of your site within the module config screen.
For each protected area, you can define a custom message displayed when a guest (public, non-logged-in user) or user without required roles attempts to view it. For more settings and more in-depth description of the module, visit the thread introducing it.
Thanks to Adrian for making this module available – it's a very useful addition to our collective, virtual toolboxes!
ProcessWire resources of the week
These are some of the latest resources (forum posts, articles, etc.) we've found interesting. Please feel free to add your tips as comments here – or submit them via the feedback form to get them posted in our upcoming issues!
Site of the week: Rich Rosendale, Certified Master Chef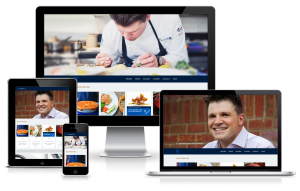 This time we're featuring the really gorgeous site of an American chef Rich Rosendale, richrosendale.com.
From recipes to cooking classes and the timeline of the chef himself, everything is presented in a very clean, usable, modern and just plain beautiful way. You don't even have to be a foodie to enjoy this site!
Responsive web design is pretty much the de facto standard way of building sites these days, and this site does it very well. Every single detail seems well thought out, and the user experience is pretty awesome regardless of your device or the amount of screen estate available.
Thanks to Process Interactive for this awesome exhibit for the ProcessWire sites directory. We're lucky to have talented people like you working with ProcessWire – really hoping to see more of your work in the future!
Stay tuned for our next issue
That's all for 29th issue of ProcessWire Weekly. We'll be back with more news and updates next Saturday, 6th of December. ProcessWire newsletter subscribers will get our updates a few days later as always.
Thanks again for staying with us – hope you've had a great and productive week so far, and don't forget to check out the ProcessWire forums for more interesting topics. Until next week, happy hacking with ProcessWire!