In the 290th issue of ProcessWire Weekly we're going to introduce the latest addition to the ProDevTools module package and a third party image picker field from gebeer, check out a new site of the week, and more. Read on!
This time we've some rather interesting new modules to share: one of them is the latest addition to the ProDevTools module package – UserActivity – and other one is the image picker fieldtype and inputfield combination developed by gebeer.
In other news we've got a new weekly poll, and as always a new site of the week as well. The poll in this issue is a part of our ongoing #processwireworks poll series – and, in fact, likely the last one before a more in-depth summary of the results later this year.
Thanks to all of our readers for being here with us again, and as always, any feedback is most welcome – please don't hesitate to drop us a line if there's anything in your mind you'd like to share with us. Enjoy our latest issue and have a great weekend!
On the processwire.com blog this week: introducing the UserActivity module
While there have been no new updates for the core this week, there is still a new post at the processwire.com blog, in which Ryan takes a moment to introduce the latest addition to his commercial ProDevTools module package: UserActivity.
The UserActivity module in a nutshell
In a nutshell UserActivity is a module that provides helpful information and related warnings in case a page on the site is already being edited by another user. This is achieved by modal popups (in Page Editor), as well as an indicator in the Page Tree.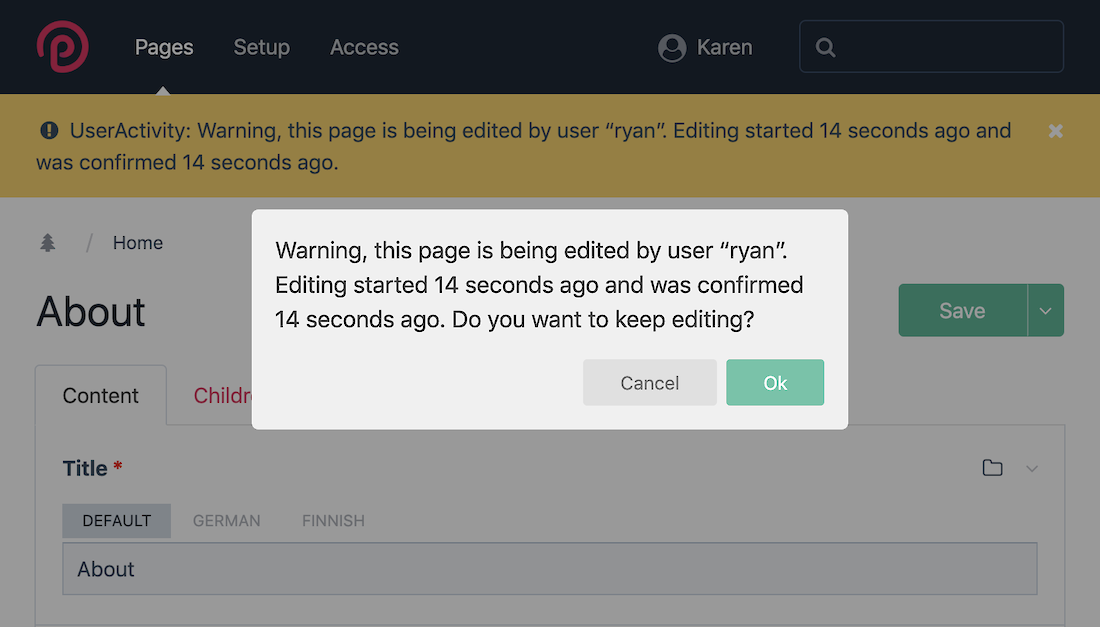 Features of the UserActivity module
While technically this may sound like a simple thing – and in fact the core already has the ability to notify you if you start editing the same page in another tab or window – there's actually more to this module than might be obvious at first glance:
There's a notification if you start editing a page that is already being edited by another user, along with various details, such as when said user started editing current page, and when they were active.
If a page has been saved by another user while you were editing it, the module warns you of this to avoid unintentional data loss and/or confusion caused by content getting accidentally overwritten.
There's a configurable timeout for inactivity period, after which the module will ask you to confirm that you're still editing the page, and it can also identify the case where you've been logged out while editing a page.
In case another user starts editing the page while you're also working on it, the module detects this and notifies you.
In addition to the automatic admin features mentioned above, the module provides a simple API for querying the status of a specific page: with just one call you can easily check if someone is editing a specific page, and if so, then who that someone is.
For more details and screenshots of this module in action be sure to check out the latest blog post at processwire.com. Thanks!
New module: FieldtypeImagePicker by gebeer
FieldtypeImagePicker and Inputfield ImagePicker make up a brand new module bundle developed by gebeer. Together they make it possible to store images to a custom folder on the disk – customizable as a relative path starting from /site/templates/ – and then choose one of those images to use on a given page.
Image selection is achieved by a visual image picker, which makes it easy to distinguish selectable images from each other. The example used by gebeer on the support forum involved a custom SVG font, but technically you could use this module to handle any use case that requires selecting an image from a predefined, shared set of options.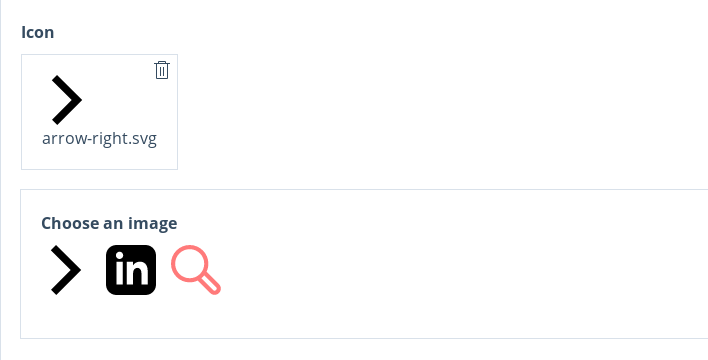 As of this writing this module isn't yet on the modules directory, but you can install it directly by cloning or downloading the module files from the FieldtypeImagePicker GitHub repository. The repository also includes a README with more in-depth introduction to the module and it's settings, so be sure to check it out.
Big thanks to gebeer for developing this module and sharing it with us!
Weekly poll: acquiring clients #processwireworks
This week's poll was inspired by one particularly interesting discussion on the support forum, the topic of which was finding ProcessWire clients, as well as marketing one's own expertise. If you'd like to discuss this further, check out the Beer Garden at the support forum – said discussion will be one of the latest ones there.
This time we're asking how you're actually getting ProcessWire projects in; or, in other words, how you're handling customer acquisition. You can choose one or more of the options available in the poll, but since it's entirely possible that we've left something important out, please feel free to suggest new options by selecting the "other" choice.
As always, thanks for your answers in advance! In the last issue for 2019 – which will be out by 28th of December – we're going to provide a summary of all the poll results so far, and your answers here help us make said results more useful for others.
Directly reaching out to prospective clients (5.2%, 5)

Networking with other developers, agencies, and businesses (25.8%, 25)

Search engine marketing and/or other forms of (digital) advertising (2.1%, 2)

Content marketing: videos, blogging, posting guides and e-books, etc. (2.1%, 2)

Direct contacts from potential clients through my own website (16.5%, 16)

Direct contacts to/from potential clients through social media (2.1%, 2)

Contacts acquired through the ProcessWire support forum (6.2%, 6)

Physical location, clients walking straight in (0%, 0)

Freelance marketplaces (3.1%, 3)

Word of mouth (36.1%, 35)

Something else, what? (1%, 1)
Total votings: 97
Feel free to check out the poll archive for results of our earlier polls. All suggestions for future polls are more than welcome too. Thanks in advance for both your answer here and any additional suggestions or feedback you might have.
Site of the week: Hurry, an advertising agency from Finland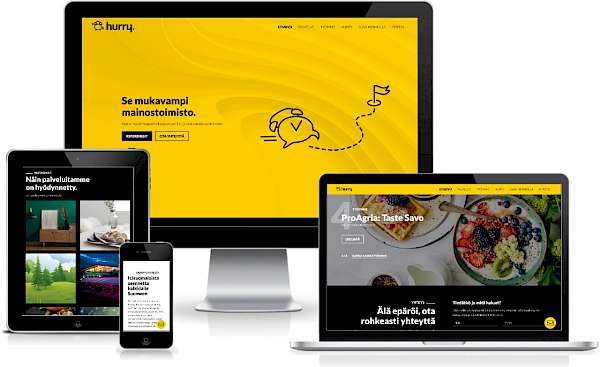 Our latest site of the week belongs to Hurry, which is a Finnish advertising agency with offices in Joensuu and Kuopio.
They offer a variety of services in the areas of marketing planning, visual design, and digital marketing – and you can also book them for tailored training sessions.
The website of Hurry was a co-project of Timo Anttila, Molentum Oy, and Hurry Oy. The design of the site is rather straightforward and neatly organized, yet by no means boring: there are plenty of little creative details and interesting typographic choices that liven the site up, and content blocks use of a variety of different layout options as well.
The front-end of this site appears to be based on the Bootstrap front-end framework, and behind the scenes caching and minifying and bundling styles and scripts are being handled by the commercial ProCache module. Other highlights here include the use of the third party chat service Pure Chat, as well as the analytics service Hotjar.
Big thanks to Timo Anttila for sharing this project with us, and our congratulations to Hurry for their new website. Looking sharp!
Stay tuned for our next issue!
That's all for the 290th issue of ProcessWire Weekly. We'll be back with more news, updates, and content Saturday, 7th of December. As always, ProcessWire newsletter subscribers will get our updates a few days later.
Thanks for staying with us, once again. Hope you've had a great and productive week, and don't forget to check out the ProcessWire forums for more interesting topics. Until next week, happy hacking with ProcessWire!