In the 291st issue of ProcessWire Weekly we're going to take a closer look at the latest core updates, check out a brand new third party module called ProcessHelpVideos, and introduce a new site of the week. Read on!
Welcome to the latest issue of ProcessWire Weekly! This issue is somewhat less packed than some of our more recent issues, yet we've still got plenty of interesting content to share: we'll start with the latest core updates, then introduce a new third party module called ProcessHelpVideos, and finally showcase a brand new site of the week.
For the past two months we've been running polls with an ongoing #processwireworks theme, and the one we published in our previous issue (Weekly #290) was the last one of the series. The polls are still open, so feel free to visit our past issues (starting from 282) if you'd like to vote and haven't had the chance to do so yet. We'll give the polls a week or so and then close them. The final results will be in the last issue for the year.
Big thanks to all who've taken the time to answer our polls – the information you've given us is invaluable, and we're thrilled to take that data and, hopefully, provide you with some interesting and useful insights based on it.
Thanks to all of our readers for being here with us again, and as always, any feedback is most welcome – please don't hesitate to drop us a line if there's anything in your mind you'd like to share with us. Enjoy our latest issue and have a great weekend!
Latest core updates: ProcessWire 3.0.147 RC1
Ryan talks about this week's commits in a forum post published on Friday. The gist of it is that this week the focus has been on resolving issues and stabilizing the dev branch. Currently the version of the dev branch is 3.0.147, which we're also considering the first release candidate (RC1) for the next master version.
In the past week we've had 13 commits, all focusing on issue reports – mostly minor fixes, but once again if you're already using the dev branch, it might be a good idea to update to the latest version. Some examples of the issues covered in this version:
Removing items from FilenameArray properly ignores any attached query strings, which are typically used for file versioning in this context.
The AJAX search provided by Process Page Search correctly handles field names with uppercase characters instead of jut lowercasing them.
An issue with $config->setLocation() was fixed. Previously paths were not getting set properly due to a slight mistake with variable names.
WebP images are now served with correct content type with the pageFileSecure config option enabled.
Compatibility updates for PHP 7.4. These affected two parts of the core specifically – HTML Purifier and PWGIF. As a result Purifier was updated to a new version, and issues with the PWGIF tool were fixed locally.
Compatibility updates for the 6G firewall. Some searches within admin were being blocked by this particular third party security tool.
In addition to the ones mentioned above, in this version there were also some smallish improvements to ProcessPageLister, new LanguagesPageFieldValue::getNonEmptyValue() method, a number of typo fixes for phpdoc comments, and some other likely less relevant changes.
That's it for the core updates this week. Be sure to check out the forum post from Ryan for additional insight into our current status and future plans, as well as some interesting news regarding an upcoming Pro module called LoginRegisterPro. Thanks!
New module: ProcessHelpVideos
One of the latest modules to appear on our radar is one called ProcessHelpVideos. Built by gebeer, the stated goal of this module is to help users – such as content editors – get accustomed to their new environment by bringing a brand new Help Videos section into the Admin menu.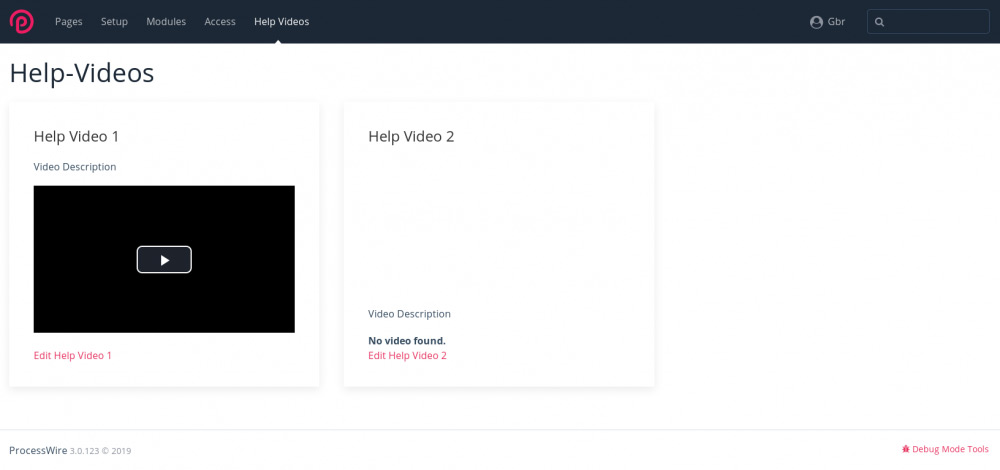 Once this module is installed, site admins can upload videos in MP4 format (optionally accompanied by additional text content) to said new admin section, and users with the process-helpvideos permission can then view the videos and related content whenever they need help with a specific feature of the site.
Since these videos are simply pages in the page tree, managing them is a rather trivial task. Installing the module automatically sets up all the required fields and templates, and also creates a Help Videos section in the admin. Pretty much the only thing this module can't do is providing you with ready-to-use videos – which, considering all the things that can change from site to site, is entirely understandable.
Big thanks to gebeer for developing this module and sharing it with us!
Site of the week: Food Show
Our latest site of the week belongs to a UK based catering company known as Food Show. The roots of this private company can be traced all the way back to 1987 when it was founded by CEO Andrew Gosling, and today they are premier London event caterers working with some of the prestigious venues in Europe.
The Food Show website was developed by Internet Dreams Studio, and – unsurprisingly, considering all the gorgeous work we've seen from them before – features a captivating, dark yet colourful design with no details spared when it comes to providing a one-of-a-kind user experience. On this site bold typography, photography, and generous amounts of transition effects are used to create a dynamic and truly unique end result.
The majority of the end-user facing part of this site is based on the Bootstrap front-end framework, while transitions and related effects are being powered by the Animate On Scroll JS library. Other front-end features include the likes of jQuery, Slick, and Infinite Scroll, while newsletter subscriptions have been outsourced to MailChimp.
Big thanks to the folks at Internet Dreams Studio for sharing this project with us, and our congratulations to Food Show for their new and utterly gorgeous website!
Stay tuned for our next issue
That's all for the 291st issue of ProcessWire Weekly. We'll be back with more news, updates, and content Saturday, 14th of December. As always, ProcessWire newsletter subscribers will get our updates a few days later.
Thanks for staying with us, once again. Hope you've had a great and productive week, and don't forget to check out the ProcessWire forums for more interesting topics. Until next week, happy hacking with ProcessWire!