In the 298th issue of ProcessWire Weekly we're going to take a quick look at the latest core updates, introduce the PWGeeks project, and highlight some recently released ProcessWire content. Read on!
Welcome to the latest issue of ProcessWire Weekly. This time we're going to take a quick look at the dev branch updates from the past week, and share some interesting content picks from our support forum.
As a weekly project highlight we're going to introduce a site called PWGeeks, which is a curated list of ProcessWire content from all over the web, and we're also going to pick a new site of the week – this time belonging to the German creative agency dreiform.
Thanks to all of our readers for being here with us again, and as always, any feedback is most welcome – please don't hesitate to drop us a line if there's anything in your mind you'd like to share with us. Enjoy our latest issue and have a great weekend!
Latest core updates in the dev branch, and a weekly update from Ryan
From this week's weekly update post at the support forum you can find a quick status update from Ryan. In this post Ryan talks a bit about some of the stuff he's currently working on, and also provides a link to this week's core commits.
We'll likely see a version bump to 3.0.150 by next week, but for the time being here's a summary of what's new in the dev branch since last week. Mostly minor bug fixes, but there's also one addition to the list of built-in wire* functions, and some incremental updates and optimizations to existing core features:
Fix to issue #1066 where typing "help" and hitting enter in the AdminThemeUikit resulted in a some notices and unexpected tab headers.
Fix for issue #1067 where local hooks (the ones attached to current object) were not being removed correctly when calling $event->removeHook(null).
Fix for issue #1065 where $config->fileContentTypes needed to be updated with some new MIME content types.
Fix for issue #1064 where some update messages from the core were somewhat confusing due to appearing in unexpected order.
Fix for issue #1071 where a ProcessWire module with custom namespace wasn't being recognized correctly by the system.
New wireClassNamespace() function for identifying the namespace of an object, improvements to PageComparison is() and if() methods, minor optimization in WireData, and some PHPDoc updates.
That's it for the core updates this week. If you have any questions or comments, be sure to check out the weekly update at the support forum. Thanks!
Project highlight: PWGeeks is a curated catalog of ProcessWire content from all around the web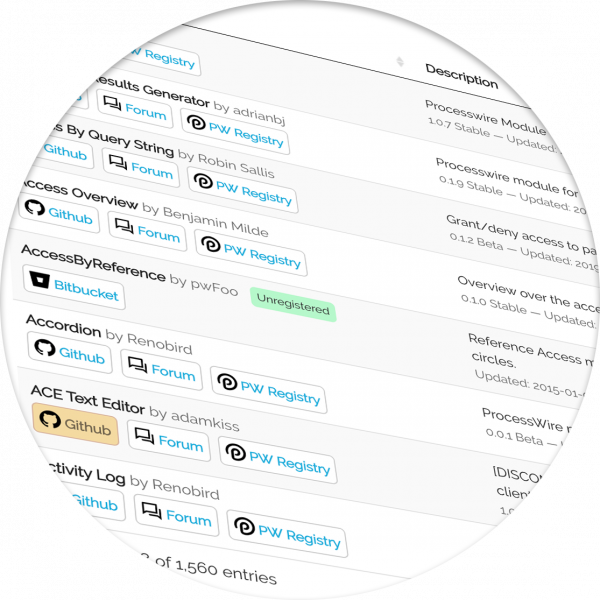 We've mentioned this project a couple of times already, but never really done a deep dive into it, so here we go: meet PWGeeks, a curated list of ProcessWire content and one of the most interesting additions to the ProcessWire ecosystem in a while.
At the time of this writing PWGeeks already contains more than 1500+ items, so saying that it's "comprehensive" probably isn't too far from the truth. There's content crawled from all over the Internet, and thanks to different views and the powerful filtering feature browsing said items is a breeze.
The UI of PWGeeks is essentially one huge data table with three primary views: full catalog, recently found content, and recently modified content. You can choose how many items to display at once, and filter content on the fly using a free text search. In addition to some general information you'll also find at least one, but often multiple, links next to each item – these include sources such as GitHub or Bitbucket repository, forum thread, etc.
All in all this site is a one-stop-shop for all what's been happening in the ProcessWire world lately, and as a news source it's second to none but perhaps the support forum itself – so if you're interested in keeping an eye out for ProcessWire related content, you'll definitely want to add it to your bookmarks.
Big thanks to netcarver for setting this project up and sharing it with the community – brilliant idea, and very nice implementation as well!
Weekly forum highlights
Here's a list of support forum highlights and other useful and/or interesting resources. As always, please let us know if there's anything important we've missed, so that we can include it in one of our future issues.
If you're interested in ProcessWire news, discussions, and updates, there's always something going on at the support forum. Since we're only able to include a tiny selection of all that in our weekly updates, head down to the forum for more.
Site of the week: dreiform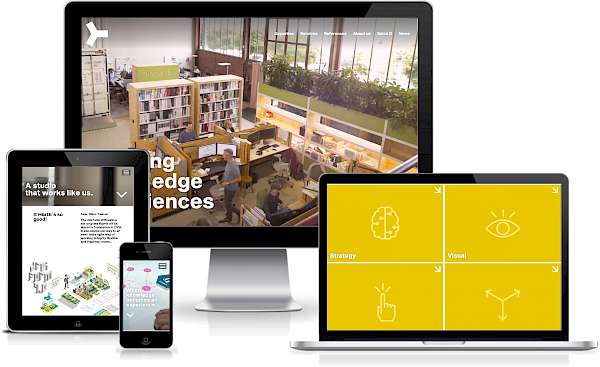 Our latest site of the week belongs to a company called dreiform – a creative agency from Cologne, Germany.
Dreiform summarise what they do as being a "Think&Do Tank for innovation, new work and knowledge transfer". The services they provide range from strategy, design, and digital concepts all the way to spatial and technological solutions, and when it comes to references, they've got a very convincing list of clientele – 3M, Deutsche Telekom, STIHL, and Siemens, just to name a few.
The website of dreiform was developed by schwarzdesign, and from their site you can find a case story for the dreiform website relaunch (in German), in which they explain the goals that were set for the project, the overall process, and the end result they led to. Design of the website was developed by the Cologne studio for design, working in close cooperation with the team at schwarzdesign.
Just to give you an idea of the challenges involved, one of the goals of this project was to create a truly flexible system for the client to realise their own online presence, and in order to meet this goal the team at schwarzdesign ended up developing a component based system that was designed to provide a high level of flexibility without sacrificing the integrity of the design or the ease of use for content editors.
Our congratulations to dreiform for their new site, and to the talented team behind the implementation – this is definitely a job well done!
Stay tuned for our next issue
That's all for the 298th issue of ProcessWire Weekly. We'll be back with more news, updates, and content Saturday, 1st of February. As always, ProcessWire newsletter subscribers will get our updates a few days later.
Thanks for staying with us, once again. Hope you've had a great and productive week, and don't forget to check out the ProcessWire forums for more interesting topics. Until next week, happy hacking with ProcessWire!