In the 305th issue of ProcessWire Weekly we're going to cover the latest core updates, highlight some recent forum posts and other interesting resources, and introduce a brand new site of the week. Read on!
Welcome to the latest issue of ProcessWire Weekly! This time we're going to keep things short and simple, but we do still have a number of hopefully interesting topics to cover: the latest core updates, some recent highlights — which include a couple of handy little modules, just for the record — and of course a brand new site of the week.
Without further ado, let's get this thing started. Have a great weekend, and hope you've managed to stay safe and healthy in the midst of current viral outbreak.
Thanks to all of our readers for being here with us again, and as always, any feedback is most welcome – please don't hesitate to drop us a line if there's anything in your mind you'd like to share with us. Enjoy our latest issue and have a great weekend!
Latest core updates: refactored comments system and a few minor additions
While there's no new core version this week, there is one pretty big core update to share: a major refactoring of the built-in comments system. Ryan has shared some details regarding this update in his latest weekly update, and if you're interested in more details, you can also check out the related commit at GitHub.
I'm still working on the same client project I've been working on here for months, and of course doing it all in ProcessWire. This week the client project needed to do a lot with user-submitted comments, and I had to make a lot of major upgrades to ProcessWire's comments system in order to accommodate them.

— Ryan
To be specific, these upgrades include...
New method Comment::numChildren() that returns the number of replies to a specific comment.
New FieldtypeComment methods getCommentParents(), addComment(), getMaxSort(), and getNumComments().
New hookable FieldtypeComment methods ___commentAddReady() and ___commentAdded().
New CommentListCustom and CommentFormCustom classes, providing an option for full customization of comment lists and forms.
A couple of smaller improvements were also made to the latest dev version: $pages->uncache() now accepts a Page ID as an alternative to a Page object, and Pageimage no longer throws an exception if creating a WebP version fails.
That's it for this week's core updates. We'll likely see some additional updates by next week, along with a version number bump, so stay tuned for that — and again, be sure to check out Ryan's weekly update for more details. Thanks!
Weekly forum highlights, tutorials, and other online resources
Here's a list of support forum highlights and other useful and/or interesting resources. As always, please let us know if there's anything important we've missed, so that we can include it in one of our future issues.
Lastly, logging in to the ProcessWire Developer Directory should now work as expected. We've been experiencing some session-related issues in this regard and it took a while to work around those, but in the end Pete got it under control. It if still doesn't work for you, check out the Developer Directory Login Issue support forum thread for some tips.
If you're interested in ProcessWire news, discussions, and updates, there's always something going on at the support forum. Since we're only able to include a tiny selection of all that in our weekly updates, head down to the forum for more.
Site of the week: Vital Service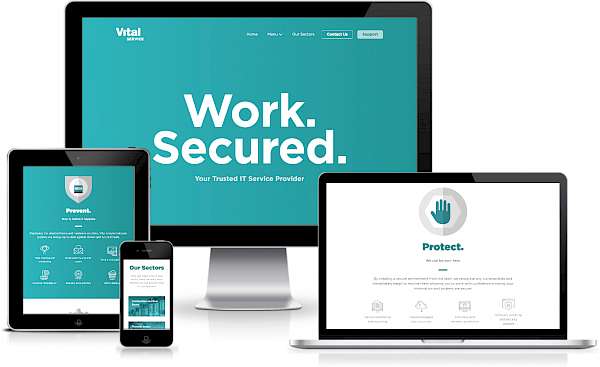 Our latest site of the week belongs to Vital Service — an IT service provider based in Gateshead, UK.
Vital Service provides their services for clients on many different business sectors, and their offering is split into three main categories: protect (device monitoring, user account management, anti-virus and malware protection, etc.), prevent (web filtering and monitoring, email security, etc.), and maintain (web hosting and domain names, email services, etc.)
The website of Vital Service is basically a one-pager, though additional information regarding their services is provided via modal popups. The design of the site is quite simple, and though it's not the flashiest site we've come across lately, it's pleasant to browse and exceptionally easy to follow. As an interesting little detail the site doesn't actually feature a built-in contact form, but rather delegates that task to Typeform.
Behind the scenes this site is powered by the Spectre.css front-end framework, and on the JS side there are a few additional libraries ranging from popular ones such as jQuery and lazysizes, to slightly less known ones such as the vanilla JS router navigo. The only ProcessWire module we could spot on this site was Map Marker.
Big thanks to Craig Rodway of Cloud Data Service for sharing this project with us, and our congratulations to the client, Vital Service!
Stay tuned for our next issue
That's all for the 305th issue of ProcessWire Weekly. We'll be back with more news, updates, and content Saturday, 21st of March. As always, ProcessWire newsletter subscribers will get our updates a few days later.
Thanks for staying with us, once again. Hope you've had a great and productive week, and don't forget to check out the ProcessWire forums for more interesting topics. Until next week, happy hacking with ProcessWire!