In the 326th issue of ProcessWire Weekly we're going to introduce the latest ProcessWire master version, take a quick look at a brand new third party module called Textformatter Video Markup, and more. Read on!
Welcome to the latest issue of ProcessWire Weekly! For those who haven't had a chance to check out our previous issue, the big news for this week is that a new master version of ProcessWire, 3.0.164, is now officially live. Although it has actually been available from GitHub since last week, the latest blog post contains a more formal announcement.
(Be sure to visit the blog for more details!)
In other news we're going to take a closer look at a new module for embedding oEmbed data for YouTube and Vimeo videos, and introduce a brand new site of the week that belongs to the German company called DFM Hamburg.
Thanks to all of our readers for being here with us again, and as always, any feedback is most welcome – please don't hesitate to drop us a line if there's anything in your mind you'd like to share with us. Enjoy our latest issue and have a great weekend!
What's new in ProcessWire 3.0.164?
The latest post at the processwire.com blog is something we've all been waiting for a while now: an official announcement for a new master version, 3.0.164. This version has been live since last week, but we wanted to make it a soft launch just in case something new popped up. So far it's been smooth sailing, and thus it seems that 3.0.164 is every bit as stable (if not more stable) as our previous master releases.
This week we're proud to announce the newest ProcessWire master version 3.0.164. Relative to the previous master version (3.0.148) this version adds a ton of new and useful features and fixes more than 85 issues, with more than 225 commits over a period of 7 months.

— Ryan
The latest master version is indeed a pretty big deal, introducing a dozen or so new selector operators and the ability to combine multiple operators, custom page classes, improvements to the built-in 2-factor authentication support and other authentication related features, new API methods, major updates for the built-in comments feature... and much, much more!
From the blog post you'll find a detailed list of new and updated features, grouped into following categories:
Another thing that's worth mentioning is that in this master version various parts of the core were revisited, refactored, and improved. While these updates mostly stay behind the scenes, in the long term they'll no doubt turn out to be every bit as valuable as the feature updates that have the tendency to steal the spotlight.
As for upcoming updates, next week we will likely get back to covering new dev branch updates, and there could also be some news regarding the pro module updates — for ProCache and FormBuilder — that Ryan is currently working on.
That's it for our core updates section this week. Be sure to check out the ProcessWire 3.0.16 4 announcement post for more details. Thanks!
New module: Textformatter Video Markup
This week we've a brand new third party module from Chris Thomson: Video markup for YouTube/Vimeo, or Textformatter Video Markup. This module is based on Textformatter Video Embed, but has a pretty different goal.
On an upcoming project, we want to be able to render YouTube/Vimeo URLs as thumbnail images, that when clicked open up in a (UIkit) lightbox. Additionally, we want to be able to specify the thumbnail image - as part of a RepeaterMatrix block which contains a URL field (video) and an Image field (thumb).

— @nbcommunication
While the Video Textformatter embeds a video player, the Video Markup Textformatter instead allows one to access all the oEmbed data returned from the video service. This data typically contains details such as video title or description, author name and URL, service provider name and URL, thumbnail info, and of course the HTML embed code.
You can define the resulting markup via module config settings and optionally modify it on a case-by-case basis using hooks. Once fetched, the oEmbed data will be cached, so that potentially slow queries to third party services can be kept to a bare minimum.
You can find more information about this module, as well as download or clone it, from the Textformatter Video Markup GitHub repository. If you have any questions, be sure to visit the support forum thread as well. Thanks to Chris for sharing this module with us!
Site of the week: DFM Hamburg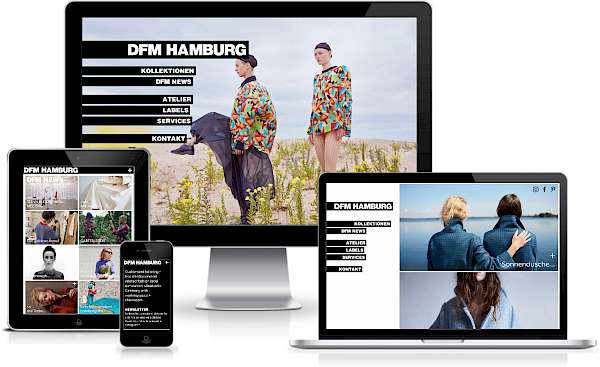 Our latest site of the week belongs to DFM Hamburg, a Hamburg, Germany based free minded and art related fashion label for women.
From the DFM Hamburg working space and showroom, located at the Ottensen area in Hamburg, one can find both their own line of products, as well as a selection of labels from other designers. Their clothes can be tailored for the customer, and they also offer other services — such as film and theater costumes.
The DFM Hamburg website was built by Kris Lüdemann web & interaction design and features a modern design with a lot of space dedicated to photography, easy to use responsive layout, and some very nice transition effects to top it all off. Behind the scenes the site makes use of the Foundation front-end framework, and at least one familiar third party module — ProCache.
Big thanks to Kris Lüdemann for sharing this project with us, and our congratulations to DFM Hamburg for their new ProcessWire powered website. Brilliant work from everyone involved in this project!
Stay tuned for our next issue
That's all for the 326th issue of ProcessWire Weekly. We'll be back with more news, updates, and content Saturday, 15th of August. As always, ProcessWire newsletter subscribers will get our updates a few days later.
Thanks for staying with us, once again. Hope you've had a great and productive week, and don't forget to check out the ProcessWire forums for more interesting topics. Until next week, happy hacking with ProcessWire!