In the 339th issue of ProcessWire Weekly we're going to dig into the first live release of the new modules directory, introduce the Fluency AI translation module, and more. Read on!
Welcome to the latest issue of ProcessWire Weekly. Just in time for this week's issue the initial version of the revamped modules directory is now live, and we're thrilled to share it with you folks. There's a lot to like in there already, and more features are going to be rolled out in the near future.
In other news we've got a very interesting new third party module to share: Fluency, the AI translation module that integrates ProcessWire with the DeepL service. Last but not least is our latest site of the week, which belongs to the French communication agency AZILIS. The site in question is quite a looker, so be sure to check it out as well!
Thanks to all of our readers for being here with us again, and as always, any feedback is most welcome – please don't hesitate to drop us a line if there's anything in your mind you'd like to share with us.
Weekly update from Ryan: initial release of the new modules directory!
So, in this week's update from Ryan the focus is on the new modules directory — the first version of which has just gone live! This new version includes some new features, as well as merges the public part of the modules directory with the main processwire.com website both in terms of URLs and visual identity.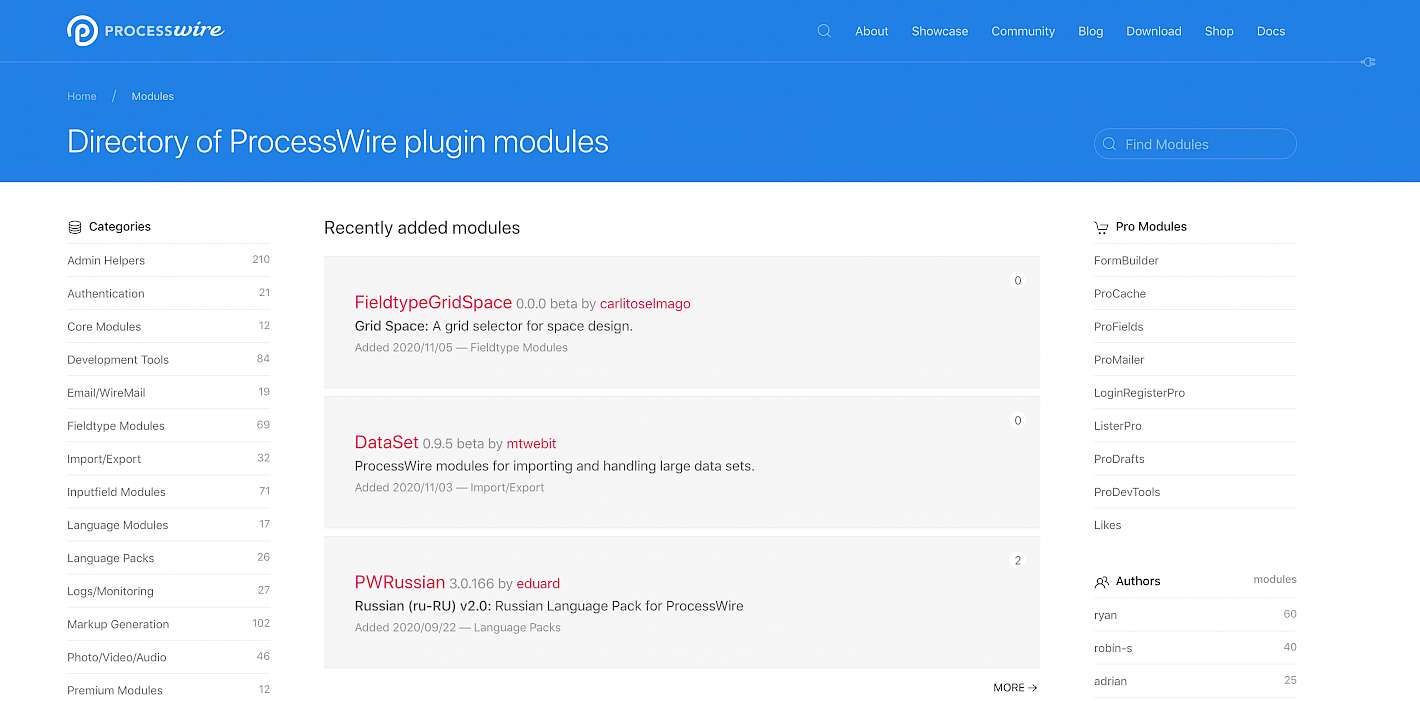 Though some features are still being worked on and may redirect the visitor to the old modules directory, the new directory version is already fully functional for regular visitors:
Home page, module categories, lists of modules by author, and individual module info pages are all available on the new directory.
The directory home page is now divided into separate lists for "recently added", "recently updated", "popular", and "liked" modules.
Modules can be navigated by category (like before) and by author. The directory also lists details such as the modules created by a specific user.
Each list can be sorted by various criteria, including new addition "usage", which is based on data gathered from the modules directory web service.
The usage part in itself is very interesting, and also something that we haven't really had access to before. Data for this mode is still being gathered, though, so this option will become more relevant in the coming weeks and months. Looking forward to seeing how it shapes up!
As for features that are still going to be added, these include — at least — the "add module" and "edit module" views, additional info pages, and upcoming module author profiles. For more details about the new site, be sure to check out the weekly update from Ryan, and of course visit the newly released ProcessWire modules directory!
New module: Fluency – Integrated DeepL Powered Content Translation
Fluency is one of the latest modules to be announced via our support forum, and as of this writing it's still an early alpha release. It's already looking really, really amazing, though, so we couldn't wait to share it with you folks!
In a nutshell Fluency is a third party module that integrates ProcessWire with DeepL — AI powered service that offers automated translations with very promising results. The module is completely free, but in order to use it you will need a paid DeepL Pro license. That being said, if translations are something your site needs, the DeepL pricing is quite modest (especially compared to having your content translated by a human translator).
In terms of features, the Fluency module has quite a bit to offer:
Translate multi-language textareas and text fields, as well as image descriptions and CKEditor enabled textareas. Fluency can handle both plain text and markup.
Translate page names for fully localized URLs. Only exceptions here are Russian, Chinese, and Japanese languages.
Translate your in-template translation function wrapped strings, modules, and even core files.
Languages supported by the DeepL platform currently include English (American and British), German, French, Spanish, Portuguese (European and Brazilian), Italian, Dutch, Polish, Russian, Japanese, and Chinese (Simplified).
The Fluency support forum thread has a detailed introduction to this module, including a list of features under development and known limitations, so definitely check it out. Big thanks to FireWire for developing this module and sharing it with us!
Site of the week: AZILIS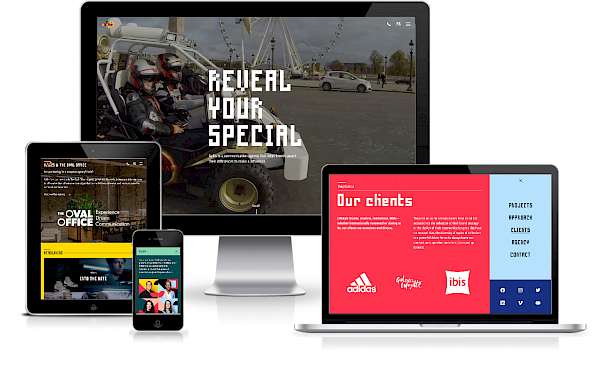 Our latest site of the week is the new site of AZILIS, a french communication agency that — in their own words — helps brands assert their differences to make a difference.
The stated goal of AZILIS is to figure out what makes their clients' brands special, develop brand strategies, and based on these deploy a consistent, efficient, and responsible customer experience across all points of contact. The company is based in Paris, France, and have partnered with the Belgian company The Oval Office in order to provide quality services for an even wider selection of European customers.
The website of AZILIS was created by EPRC and features a brilliant, thought-provoking and visually striking design, as well as a range of varied content pages and sections — list of projects filterable by services and clients, clients section, agency and team info, and so on and so forth. The site is properly bi-lingual, with content available in both French and English.
Behind the scenes this site is running at least a couple of popular third party modules: ProCache and EmailObfuscation. The front-end seems to be custom work, with no clear signs of a full-fledged front-end framework; the third party dependencies visible on the site include the Plyr media player, as well as the Flickity carousel plugin.
Big thanks to the folks at EPRC and AZILIS for sharing this project with us, and our congratulations for AZILIS for their new website — amazing work altogether!
Stay tuned for our next issue
That's all for the 339th issue of ProcessWire Weekly. We'll be back with more news, updates, and content Saturday, 14th of November. As always, ProcessWire newsletter subscribers will get our updates a few days later.
Thanks for staying with us, once again. Hope you've had a great and productive week, and don't forget to check out the ProcessWire forums for more interesting topics. Until next week, happy hacking with ProcessWire!