In the 344th issue of ProcessWire Weekly we'll check out the latest weekly update from Ryan, kick off a new poll, and highlight a set of weekly forum posts, tutorials, and resources. Read on!
Welcome to the latest issue of ProcessWire Weekly! In this week's issue we're going to cover the latest weekly update from Ryan, introduce some recent highlights from the support forum, and pick a brand new site of the week.
As you've no doubt heard, PHP 8 was released last month, and since then we've come across quite a few discussions regarding PHP versions, and which one should be used now, or updated to next. As such, it's time for us to host another "which PHP versions are you hosting your sites on" poll — more about that in just a bit.
Thanks to all of our readers for being here with us again, and as always, any feedback is most welcome – please don't hesitate to drop us a line if there's anything in your mind you'd like to share with us.
Weekly update from Ryan: ProFields Combo Q&A
The latest weekly update from Ryan is a Q&A thread regarding his upcoming ProField Combo module. From this week's post you'll find answers and comments to burning questions such as...
How does the Combo field affect your sites performance, and what are the benefits and drawbacks in this context?
Why does the Combo field use a different storage method compared to the core itself, and what are the considerations this approach brings to the table?
How does the Combo field differ from Fieldset Page?
How does one query data stored in a Combo field?
If you'd like to hear answers to any of the questions above, as well as some other pieces of advice from Ryan, be sure to check out the weekly update forum post. If you have any questions of your own you're more than welcome to submit those. Thanks!
Weekly poll: which PHP version are you hosting your ProcessWire sites on?
Since PHP 8 was released in November there have been some discussions at the forum regarding PHP versions, and more specifically which would be the best bet for hosting ProcessWire websites on.
Most recently Bernhard brought up the point that PHP 7.1 and 7.2 are both now officially out of the update cycle, i.e. neither of these versions is being developed nor do they receive official security fixes. By official we mean that if you're using one of these versions, you'll only get security fixes if you're using it via an operating system that backports security patches; maintained LTS versions of Ubuntu, for an example.
Anyway, our question for this week is which PHP version — or versions, in case you use more than one — are you currently hosting ProcessWire sites on?
PHP 8.0 (7%, 9)

PHP 7.4 (41.9%, 54)

PHP 7.3 (27.9%, 36)

PHP 7.2 (15.5%, 20)

PHP 7.1 (4.7%, 6)

PHP 5.6 or anything older than that (3.1%, 4)
Total votings: 129
Our previous PHP version poll was posted back in January 2019, so it'll be interesting to see how the situation has developed since. We'll publish the results in our next week's issue, ProcessWire Weekly #345.
Feel free to check out the poll archive for results of our earlier polls. All suggestions for future polls are more than welcome too. Thanks in advance for both your answer here and any additional suggestions or feedback you might have.
Weekly forum highlights, tutorials, and other online resources
For this week we've gathered a list of support forum highlights and other useful and hopefully interesting resources. As always, please let us know if there's anything important we've missed, so that we can include it in one of our future issues.
Finally, just a quick heads-up to those interested in the upcoming Padloper 2 module: the Q&A thread has some new questions and answers, so be sure to check them out. Latest answers cover topics such as front-end implementation and shipping methods.
If you're interested in ProcessWire news, discussions, and updates, there's always something going on at the support forum. Since we're only able to include a tiny selection of all that in our weekly updates, head down to the forum for more.
Site of the week: Weißtannenraum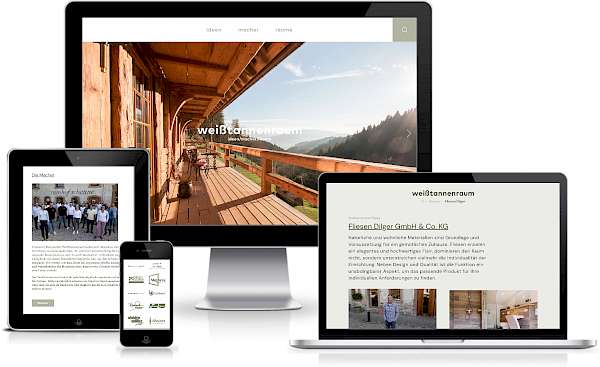 Our latest site of the week belongs to Weißtannenraum — a cooperative of craftsmen, architects, and planners based in the Black Forest area, Germany.
Weißtannenraum maintain the building traditions and regional building style of the Black Forest, focusing on high quality work, sustainability, and ecological and social responsibility. Their ProcessWire powered website was designed and developed by designconcepts GmbH and is one of the latest additions to our sites directory.
The Weißtannenraum website features quite a bit of quality content, and the images in particular are downright captivating. The design is relatively simple yet pleasant; there are few unnecessary elements in here, which means that content gets the attention it deserves. The front-end is based on the Uikit front-end framework, and the one and only third party module we could easily spot would be ProCache.
Big thanks to the folks at designconcepts for sharing another very interesting project with us, and our congratulations to the Weißtannenraum cooperation for their new website — brilliant work altogether!
Stay tuned for our next issue
That's all for the 344th issue of ProcessWire Weekly. We'll be back with more news, updates, and content Saturday, 19th of December. As always, ProcessWire newsletter subscribers will get our updates a few days later.
Thanks for staying with us, once again. Hope you've had a great and productive week, and don't forget to check out the ProcessWire forums for more interesting topics. Until next week, happy hacking with ProcessWire!