This week in the 346th issue of ProcessWire Weekly we're going to cover the latest weekly update from Ryan, post a new poll, and introduce a brand new site of the week. Read on!
Welcome to the latest issue of ProcessWire Weekly. This issue comes out right after the Christmas and right before the New Year's Eve, so I think it's as good time as any to say Happy New Year — it's been quite a year, once again, and as always it's been a great pleasure for us to report on the things happening in the ProcessWire community.
This week's issue is going to be a brief one; it would seem that we've all been busy with other things, so there's not a whole lot to report on this week. We'll be back with plenty of new content in our next issue, though.
We hope that you've had a relaxing Christmas and are going to have great time on the New Year's Eve. In many ways 2020 has been a difficult year, and even though it hasn't been all bad, let's hope that 2021 is going to give us a well-deserved breather!
Thanks to all of our readers for being here with us again, and as always, any feedback is most welcome – please don't hesitate to drop us a line if there's anything in your mind you'd like to share with us.
Weekly update from Ryan
This week's update from Ryan is a brief one, but it does give us a few clues about what we might be seeing in the core in the next few weeks: Ryan mentions working on some fields editor and inputfield related updates, and also notes that he's planning to work on the GitHub issue reports during next week.
At this point we're really just guessing, but since the conversation related to last week's updates includes some interesting remarks regarding the placing and organization of fields, perhaps this week's updates are somehow related? Either way, we're obviously quite interested in seeing what Ryan is cooking up this time!
Weekly poll: what's your favourite front-end framework?
Every time we post a new site of the week, one of the things we try to figure out is the front-end framework used for that specific site. Why? Simply put: although ProcessWire is markup agnostic, there's no denying that front-end frameworks play a pretty big role in the process of building sites with it. That's why we're also interested in learning more about the tools used by ProcessWire developers out there.
Based on the data we've gathered so far we've got a rough idea about the front-end frameworks ProcessWire users seem to favor, but in this week's poll we'd like to ask you, our readers, which one you prefer. So, long story short: which — if any — of the following front-end frameworks would you choose if you had to pick just one?
I prefer not to use any front-end framework (20.7%, 31)

Foundation – http://foundation.zurb.com/ (5.3%, 8)

Bootstrap – http://getbootstrap.com/ (14%, 21)

Uikit – https://getuikit.com/ (27.3%, 41)

Tailwind – https://tailwindcss.com/ (28.7%, 43)

Something else – please let us know via post comments! (4%, 6)
Total votings: 150
Results for our previous poll on PHP versions used to host ProcessWire sites
In our previous poll from a couple of weeks ago we asked you about the PHP versions our readers are curerntly using. The results are now in, and here's the top 3:
PHP 7.4 (41.9%)
PHP 7.3 (27.9%)
PHP 7.2 (15.5%)
To summarize, it appears that the vast majority of our respondents are currently using PHP 7.4 — which, just for the record, is a great thing to hear! PHP 7.3 and 7.2 have quite a few users as well, while 8.0 is still in the minority. When it comes to earlier (EOL'd) versions, only 4.7% reported using PHP 7.1 and 3.1% are still on 5.6 or an older release.
Feel free to check out the poll archive for results of our earlier polls. All suggestions for future polls are more than welcome too. Thanks in advance for both your answer here and any additional suggestions or feedback you might have.
Weekly forum highlights, tutorials, and other online resources
This week we've once again gathered a list of support forum highlights and other useful and hopefully interesting resources. As always, please let us know if there's anything important we've missed, so that we can include it in one of our future issues.
If you're interested in ProcessWire news, discussions, and updates, there's always something going on at the support forum. Since we're only able to include a tiny selection of all that in our weekly updates, head down to the forum for more.
Site of the week: Orpot, a web design and development agency based in Mexico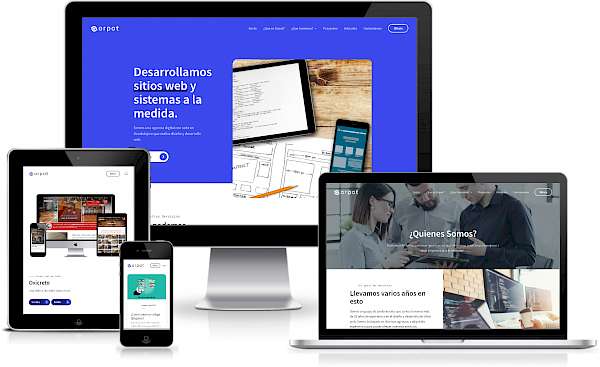 Our latest site of the week belongs to the digital agency Orpot. Based in the beautiful city of Guadalajara, Mexico, Orpot is an experienced group of digital specialists specializing in web design, development, hosting, and e-commerce solutions.
The website of Orpot — which, as far as we know, was designed and developed by the company in-house — features a fresh and modern design, and plenty of quality content focusing on the agency and the services they provide. There's a "what is Orpot" section that introduces the agency, "what we do" section focusing on their services, and a "projects" section showcasing some of their works for curious visitors.
The front-end of the Orpot website appears to be powered by the Bootstrap front-end framework, while behind the scenes the site makes use of the popular AIOM+ module. There's not much else we can say about the implementation, except that the site feels fast and responsive, and is quite intuitive to use.
Big thanks to the folks at Orpot for sharing this project with us — thanks for trusting ProcessWire for your own website, as well as your client projects!
Stay tuned for our next issue
That's all for the 345th issue of ProcessWire Weekly. We'll be back with more news, updates, and content Saturday, 2nd of January. As always, ProcessWire newsletter subscribers will get our updates a few days later.
Thanks for staying with us, once again. Hope you've had a great and productive week, and don't forget to check out the ProcessWire forums for more interesting topics. Until next week, happy hacking with ProcessWire!