35th issue of ProcessWire Weekly: latest news, core updates, module releases, and more. Read on!
The holiday season is over, and the ProcessWire community is getting into full speed once again. This week we've got plenty of new module releases and a bunch of very interesting core additions to keep us busy.
Since the roadmap was updated to provide some insight into upcoming versions, including 2.6 and 3.0, there have been pretty interesting discussions on the forums about both the future of ProcessWire itself and other trending topics.
As always, we're happy that you're reading our weekly updates, but also urge you to also visit the support forums every now and then. That's still where all the interesting stuff really happens!
Latest core updates: a week of multiples
This week ProcessWire's development branch received some pretty interesting updates:
ProcessWire now handles multiple copies of one module with ease
You can use multiple templates – and even parent pages – for users
For comprehensive explanations, head down to the ProcessWire blog and latest blog post there, a week of multiples. The steps needed to benefit from the users update, for an example, are described there in detail, so we won't be going through them here.
Multiple copies of one module
After this update you can have multiple copies of a module present in your system, such as one in the /wire/modules/ directory ("core modules") and one in the /site/modules/ directory ("site modules"). The modules page lets you choose which version is active.
There are many use cases for this, the most obvious one being custom core module. You don't want to modify anything in the /wire/ directory (upgrading ProcessWire means overwriting any changes there), so making changes to a module in /wire/modules/ is out of the question. So, how do you solve this?
Earlier (< 2.5.14) this meant that you had to copy said core module to /site/modules/, make changes to it, and then rename it. After this week's core updates, you can skip the renaming part altogether, which makes modifying core modules much easier.
Multiple templates and/or parents for users
Another core update this week makes it possible to have multiple user templates on your site. What this means is that if you've got multiple types of users on your site, you can include any custom fields specific to one type of users directly on the user pages, without other types of users getting unrelated fields – and without you having to setup a bunch of show-if rules.
Users can also have multiple possible parent pages. Typical use case would be a publicly viewable user profile; for an example a blog site with public author profiles. Earlier you would've created a separate profile page using another template and linked actual user page with the profile page using a Page field. From now on this extra step is no longer needed.
New multi-language helper module: Autodetect Language
Autodetect Language is a handy helper module by Pierre-Luc Auclair. Intended for multi-language sites, the module reads the HTTP_ACCEPT_LANGUAGE header sent by browser and attempts to match it with one of the languages available.
If a match is found, user is automatically forwarded to the most suitable language version of the page. The module is compatible with built-in caching, matching only happens on the first page load (result is stored in $session) and can be limited to the homepage of the site only.
A very nice and definitely helpful module – big thanks to Pierre-Luc for this!
New Inputfield module for backend use: Inputfield Source Code
Inputfield Source Code is a rather curious inputfield module mainly intended for backend use. Built by Martijn Geerts, the inputfield displays actual rendered page source directly within the Page Editor.
Displaying the page source in the edit view allows content editors to very easily copy it elsewhere – to newsletter services and such, for an example. In fact, there's even a one-click Copy to clipboard button, which works nicely for Flash-enabled browsers.
Thanks for building another very interesting module, Martijn!
New basic image manipulation module from Conclurer: GIM
Conclurer GIM is a new image manipulation module from Conclurer, and in many ways very similar to another image manipulation module, PageImage Manipulator – also known as PIM – by Horst Nogajski.
For the most part GIM is actually compatible with PIM: it provides same public methods, uses same variation naming scheme, and so on. There are some differences in features though, so check the module pages if you're looking for a specific feature.
GIM works on the API level, extending PageImage objects by adding support for various image manipulation features. Basic features include cropping, resizing, flipping, and rotating images. Additionally you can apply filters, add text to images, and even merge images by placing them on top of each other.
All in all, GIM is a great addition to ProcessWire's modules collection and works splendidly on a myriad of use cases. Thanks to Conclurer for building another very useful module!
Site of the week: Klub Piłki Siatkowej Chemik Police S.A.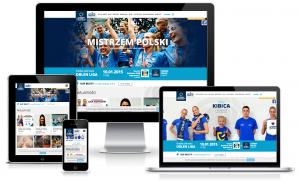 This time our featured site of the week is another slightly older addition to the sites directory and belongs to a Polish women's volleyball team Chemic Police.
The site features clean yet distinctive design, with team photos and player profiles bringing it to life and giving it a nice personal touch. The layout is responsive and boasts some interesting features for mobile users, including a menu with the main site areas as separate, foldable lists – a concept that works really well in practice.
In addition to awesome layout, the site also features a nice collection of different templates and custom features: photo, video and audio galleries, shop for fan products, external newsletter subscription feature, and more.
Overall this is one of the most visually pleasing sites we've featured so far, and a great example of the kind of flexibility ProcessWire has to offer in regards to both layout and features. Absolutely stunning work!
Stay tuned for our next issue
That's all for this week – thanks for reading and hope you've enjoyed your stay! As always, suggestions are more than welcome, either as comments here or via the feedback form.
Our next issue, ProcessWire Weekly #36, will be out Saturday, 17th of January, with a newsletter version delivered a few days later to ProcessWire newsletter subscribers.
Until then, happy hacking with ProcessWire!