In the 350th issue of ProcessWire Weekly we'll check out ProcessWire 3.0.171, highlight some recent forum threads and other ProcessWire resources, and introduce a brand new site of the week. Read on!
Welcome to the latest issue of ProcessWire Weekly! In this week's issue we're going to walk you through the latest core updates, as well as some of the forum topics and Processwire resource that've caught our eye this past week.
As always we're also going to introduce a new site of the week, this time belonging to the Mallorca based furniture and interior design company Casa Lima. Well talk a bit more about the company and their gorgeous, ProcessWire powered website in a bit.
Thanks to all of our readers for being here with us again, and as always, any feedback is most welcome – please don't hesitate to drop us a line if there's anything in your mind you'd like to share with us. Enjoy our latest issue and have a great weekend!
Latest core updates: ProcessWire 3.0.171
In our previous weekly update from last week we mentioned this likely being a quiet week due to Ryan being busy with client work. Well, turns out that our estimate wasn't quite accurate: ProcessWire 3.0.171 has just been released, and this version introduces a couple of notable core updates, as well as some smaller fixes and improvements.
Repeater family-friendly mode
First notable update for this release is something Ryan calls "family friendly mode". This new feature applies to Repeaters — and consequently the Repeater Matrix Pro module — and basically adds a new option for such fields, which makes them treat lower level Repeater items (ones with a bigger depth value) as children of higher level items (those with lover depth value).
This feature has a couple of practical benefits:
When you move the parent Repeater item, child items are moved along with it.
You can't accidentally (or intentionally, for that matter) great "gaps" in depth; the depth difference between parent and child items is always exactly one level.
There are other use cases for this as well, but it was mainly introduced to make building things like block editors easier and more flexible: you'd likely want child elements to be tied to the parent element, and that's exactly what happens here. Same applies to the latter part that forces the depth to behave in a more sensible way for such use cases.
New core fieldtype: Decimal
Fieldtype Decimal is a new fieldtype module, now bundled with the ProcessWire core. This module was the top item in the processwire-requests GitHub repository, and thus it makes sense for it to be the first feature request to get implemented for 2021.
From an end user point of view Fieldtype Decimal is close to Fieldtype Float, the biggest difference being that it stores values in MySQL DECIMAL format instead of FLOAT. You'll find more details about why this matters from the original feature request as well as the forum thread about developing a decimal field, but the long story short is that while float provides slightly better performance, decimal should be used if accuracy is required (e.g. when doing calculations involving currency).
In addition to the feature updates above some smaller issues were also fixed. Anyway, that's all for the core updates section this week — be sure to check out what Ryan had to say in his weekly update, and stay tuned for more updates next week. Thanks!
Weekly forum highlights, tutorials, and other online resources
For this week we've gathered a list of support forum highlights and other useful and hopefully interesting resources. As always, please let us know if there's anything important we've missed, so that we can include it in one of our future issues.
For most modules a single forum thread is quite enough, but for those select ones that are very actively discussed things can get pretty gnarly. The truth is that no one likes to read through forum threads with hundreds of messages — in such cases it's much better to split those messages into individual threads.
If you have an actively discussed module and would like to request a subsection of your own, check out the instructions for requesting a dedicated forum area.
Inspired by the page builder discussion we've been having in our recent weekly update and roadmap topics, this proof of concept module is obviously still very rough on the edges, but at the same time introduces some pretty neat ideas — be sure to check it out. Here's a YouTube video showcasing an early version of the module:
In this tutorial @psy walks you through the process of setting up your own PWA app, as well as some of the potential gotchas involved in the process. Of course there are more ways to do this, so check out the comments (and links) from Moritz in the tutorial topic as well for a slightly different take.
Who doesn't enjoy a good ProcessWire love story? This article explains why they prefer ProcessWire at ideenKiND, what they see as it's bigget benefits (especially compared to the competition, such as WordPress), and also what are the considerations that one should keep in mind (such as requiring a developer for certain things, etc.)
If you're interested in ProcessWire news, discussions, and updates, there's always something going on at the support forum. Since we're only able to include a tiny selection of all that in our weekly updates, head down to the forum for more.
Site of the week: Casa Lima Concept Store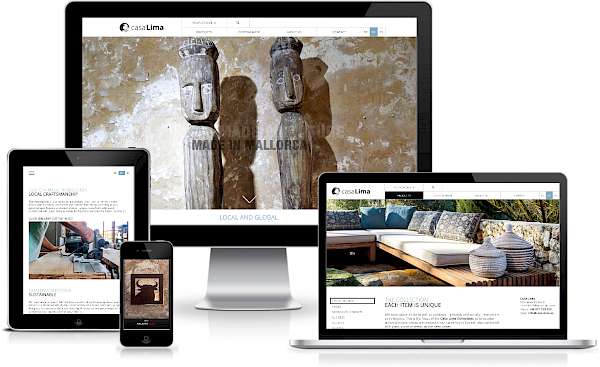 Our latest site of the week belongs to Casa Lima — a concept store based in Mallorca.
Managed by the swiss-born business owner Marc Kuenzle, Casa Lima provides their own line of custom-built furniture, as well as a set of lighting and textile products. They also offer a limited selection of items from other long-standing brands, complemented by a hand-picked collection of accessories from all around the world.
The Casa Lima website was designed by Trix Stäger and implemented by Beda Künzle, and features a very stylish design, content in three languages (English, German, and Spanish), and a product gallery with a "collect" feature where the visitors can pick the products they are interested in, and request a quote for said items with a custom form.
As far as we can tell the site was largely hand-crafted, without the help of a full-blown front-end framework. Font icons are embedded with Fontello and the front-end makes use of some third party libraries (such as jQuery, mmenu, and Featherlight), but that's just about all we can say about the implementation.
Big thanks to the folks at Trix Stäger Grafik Design for sharing this project with us, and our congratulations to the client, Casa Lima — that's one great looking site you've got there. A great fit for the gorgeous product it represents!
Stay tuned for our next issue
That's it for the 350th issue of ProcessWire Weekly. We'll be back with more news, updates, and content Saturday, 30th of January. As always, ProcessWire newsletter subscribers will get our updates a few days later.
Thanks for staying with us, once again. Hope you've had a great and productive week, and don't forget to check out the ProcessWire forums for more interesting topics. Until next week, happy hacking with ProcessWire!