In the 353rd issue of ProcessWire Weekly we're going to check out the weekly update from Ryan and the latest core updates, check out a brand new site of the week, and launch a new poll. Read on!
Welcome to the latest issue of ProcessWire Weekly! Hope you folks have had a decent week so far. We're going to kick this week's issue off by checking out the latest weekly update from Ryan, as well as digging into some dev branch updates at GitHub. We've also got a new weekly poll regarding the use of so-called page builders.
Our latest site of the week is a recently launched campaign site for the German AGFS NRW organization, promoting the importance of city planning and raising awareness regarding working as a city planner — Plane Deine Stadt!
Thanks to all of our readers for being here with us again, and as always, any feedback is most welcome – please don't hesitate to drop us a line if there's anything in your mind you'd like to share with us. Enjoy our latest issue and have a great weekend!
Weekly update from Ryan and a summary of latest core updates
This week we've got another weekly update from Ryan. In this week's update Ryan talks a bit about the "page builder movement" that's been quite visible within the community recently, and also his own plans and views about taking this concept one step further.
To summarise, Ryan mentions that in his opinion ProcessWire should be equipped to handle page builder type needs, but also goes on to state that he likely doesn't have the experience nor the use case for this, so this should really be a community effort.
Be sure to pop in at the weekly update thread especially if you've got experience in this topic and might be willing to contribute towards bringing such a tool to the hands of ProcessWire developers and users. All ideas and suggestions are welcome!
Core updates for the week
This week there have been a few updates to the dev branch at GitHub, as we can see from the weekly commit log. While most of these are officially tagged for the 3.0.173 version (which is not out yet), here's a brief summary of what's new this week:
New hookable method WireShutdown::fatalError() makes it possible to perform custom actions when fatal error gets caught by ProcessWire.

New hookable method MarkupHTMLPurifier::initConfig() makes it possible to set config options for the purifier library, while MarkupHTMLPurifier::clearCache() can be used to manually clear purifier cache.

In an attempt to improve the usability of Inputfield Password, this inputfield can now be configured to include an unmask button while password is being set or changed.

$pages->findRaw() now supports field=field_a|field_b.field_c syntax, just like the $pages->find() method.

An error was fixed where LazyCron sometimes got "stuck" if the lock file was not removed automatically.
That's it for the core updates section this week. We'll likely have more updates to share by next week, but in the meantime be sure to check out the weekly update from Ryan. Thanks!
Weekly poll: page builder usage among ProcessWire developers
While we've been talking a log about the topic of page builders recently, it just occurred to me that it'd be interesting to actually poll how many users are currently using such tools, or at least seeing valid use cases for them, as opposed to those who generally prefer a more "fixed" approach.
In order to keep this poll simple enough, this time we won't be going into the specifics of the type of page builder you're using — we'll simply consider any tool that makes it possible to build "flexible content" or "block based page structure" a page builder.
We're also not expecting anyone to use a page builder for everything: first and foremost we'd like to know how often the page builder approach applies to "typical" page content of your projects. After all it's common for a site to have some content types with specific fields that are purpose built and set in stone, and some that are less strictly defined.
... and now that we've got all the pesky details explained, here's the poll for you:
A page builder is my go-to approach for building content (26.5%, 31)

I use a page builder occasionally, on a case by case basis (35.9%, 42)

I have used or had a need for a page builder, but only rarely (12%, 14)

Page builders are not my thing, or not useful for my projects (25.6%, 30)
Total votings: 117
Our previous page builder related poll was posted back in January 2020. Though it didn't have exactly the same questions, it'll still be interesting to see how things have changed since then. We'll likely publish the results of this poll in ProcessWire Weekly #355 to give the newsletter readers time to respond as well, so stay tuned for that.
Feel free to check out the poll archive for results of our earlier polls. All suggestions for future polls are more than welcome too. Thanks in advance for both your answer here and any additional suggestions or feedback you might have.
Site of the week: Plane Deine Stadt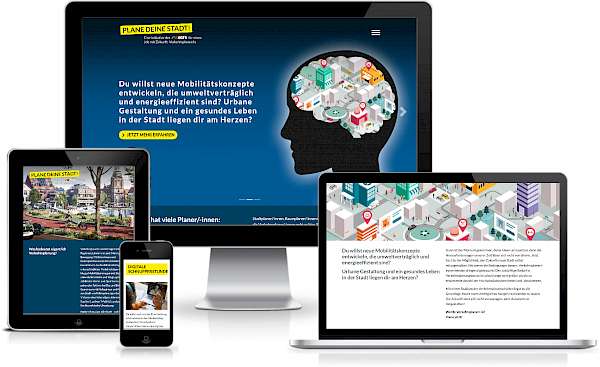 Our latest site of the week is called Plane Deine Stadt, and it's a campaign site that aims to focus attention on the importance of traffic planners.
This site was developed for AGFS NRW, the Association for Pedestrian and Bicycle-friendly Cities, Townships and Districts in North Rhine Westphalia. Development was done by schwarzdesign, who worked in close cooperation with the advertising and communication agency P3 Agentur.
The end result of this project, recently introduced in an update by schwarzdesign, is a modern and stylish website with plenty of captivating content and rather bold design decisions. The site is indeed content heavy, but doesn't feel stuffed by any means — quite the contrary. Definitely worth checking out, particularly if you happen to speak German; otherwise you'll likely need to rely on Google Translate or a similar service.
When it comes to behind the scenes details, the front-end looks like it might be based on the Bootstrap front-end framework, and the site uses a custom ProcessWire module for configuring Klaro consent manager. Meanwhile, the one and only third party module we spotted was the Pro module FormBuilder.
Our congratulations to both the team behind this project, as well as the client, for a job well done. Fingers crossed that the campaign pans out and manages to raise plenty of awareness about (and interest in) working as a city planner!
Stay tuned for our next issue
That's all for the 353rd issue of ProcessWire Weekly. We'll be back with more news, updates, and content Saturday, 20th of February. As always, ProcessWire newsletter subscribers will get our updates a few days later.
Thanks for staying with us, once again. Hope you've had a great and productive week, and don't forget to check out the ProcessWire forums for more interesting topics. Until next week, happy hacking with ProcessWire!