In the 358th issue of ProcessWire Weekly we'll walk you through the latest core updates, check out a new site profile, introduce the Admin Restrict Branch Select module, and more. Read on!
Welcome to the latest issue of ProcessWire Weekly. In this week's issue we'll walk you through the latest core updates, as well as introduce a new site profile called Simple Blog Profile, and a brand new third party module called Admin Restrict Branch Select.
Our latest site of the week is that of the International Summer School for Teens, and it's one truly gorgeous site, to say the least. 999 Design did some really great work on this project — more about that in just a bit.
Thanks to all of our readers for being here with us again, and as always, any feedback is most welcome – please don't hesitate to drop us a line if there's anything in your mind you'd like to share with us. Enjoy our latest issue and have a great weekend!
Latest core updates
In his latest weekly update via the support forum, Ryan talks a bit about this week's core updates, as well as his plans for next week's update. The gist of it is that both this week, and likely next week as well, the plan is to focus on issues reported via GitHub.
This week's core updates resolved ten or so issues from the processwire-issues GitHub repository, and also introduced a few non-issue-related updates. Some highlights:
CKEditor was updated from 4.14.0 to 4.16.0. This update fixes bugs and even some security issues, though those won't be particularly important in our context. For more details, check the CKEditor release notes.
Fix for an issue where image custom fields were not automatically saved with the page when modified and then saved via the API.
Fix for a FileLogger issue where it could sometimes try to read a missing log file, resulting in warnings being displayed.
Fix for an issue where exception emails sent by the core were missing content.
... and some other fixes for relatively small issues, a few corrections and clarifications for config setting instructions etc. You can check out the weekly changelog via GitHub for more details.
That's all for our core updates section this week. Be sure to visit the weekly forum update if you have any feedback or suggestions. Thanks!
New site profile: Simple Blog Profile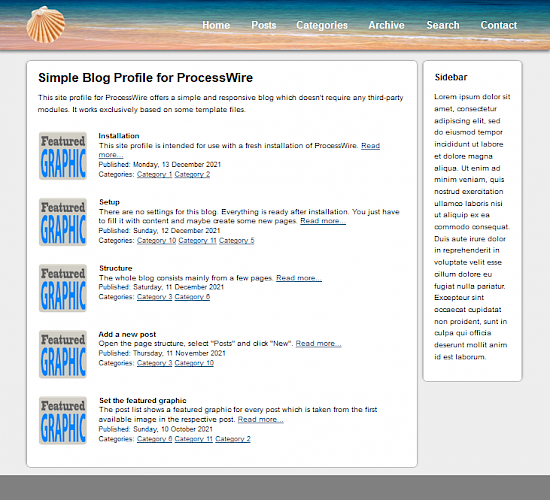 The Simple Blog Profile is exactly what you'd expect from the name: a site profile you can use to easily set up a ProcessWire powered blog. This profile doesn't depend on any third party modules, instead doing all the magic in the template file themselves.
Although the blog profile is pretty simple, it still has pretty much everything you would expect to see on a typical blog:
It has a home page that displays custom content, along with a list of your five most recent blog posts.
It has pages for posts and single post: the posts page lists your latest posts chronologically, while the single post page represents individual post, also containing a comment form and a list of comments for said post.
It has pages for categories: a categories page that lists all categories with posts, and pages for each individual category, listing posts tied to said category.
It has an archive view that lists all published posts in a tree structure.
There are also a couple of features not strictly tied to a blog, but useful anyway: site search and built-in contact form. If you're looking for a simple starter profile for your blog, definitely check this site profile out.
Thanks to tcnet for sharing this project with us!
New module: Admin Restrict Branch Select
Admin Restrict Branch Select is an add-on module for Admin Restrict Branch. By default, Admin Restrict Branch will only allow you to configure one branch parent per user, but with this module enabled you can select more than one parent via the branch_parent field, and users will be able to switch between those.
Switching between branches is done via a select field injected at the top of the page tree. It's worth noting that users are still technically limited to one branch at a time — this module won't make it possible to view multiple branches at the same time, just selecting more than one and then easily jumping between them.
When the module is installed, it will automatically update branch_parent field to allow selecting multiple pages. You can make changes to the field later, if you want to restrict selectable options by template, use asmSelect instead of PageListSelectMultiple, etc.
You can install this module via the built-in module installer in ProcessWire, or clone or download it directly from the AdminRestrictBranchSelect GitHub repository. Please note, though, that the module is still considered an early beta release — test carefully!
Site of the week: The International Summer School for Teens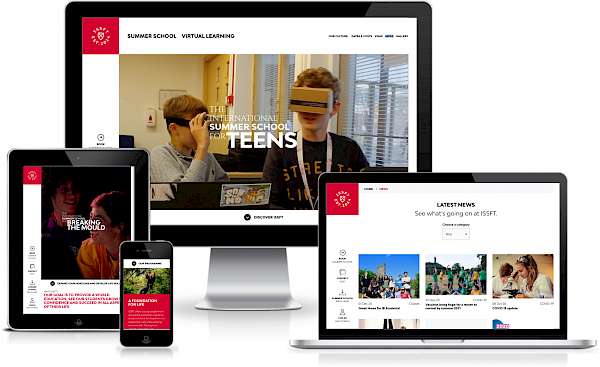 Our latest site of the week belongs to The International Summer School for Teens.
ISSFT is an international summer school program in Scotland, offering three-week programme in English language, sport, creativity, culture, fun and adventure for students from all nationalities and backgrounds aged between 12 and 17.
Crafted by 999 Design, the ISSFT website has a really neat design, complete with many different types of content blocks incorporating both image and video material into the site and breaking the content flow in interesting ways for side-scrolling content.
The front-end implementation seems to be largely custom-built, though there are some notes about the HTML5 Boilerplate. As for ProcessWire modules, we did spot a couple of familiar Pro modules on this site: ProCache and FormBuilder.
Big thanks to the folks at 999 Design for sharing this project with us, and our congratulations to the ISSFT for their brilliant new website!
Stay tuned for our next issue
That's it for the 358th issue of ProcessWire Weekly. We'll be back with more news, updates, and content Saturday, 27th of March. As always, ProcessWire newsletter subscribers will get our updates a few days later.
Thanks for staying with us, once again. Hope you've had a great and productive week, and don't forget to check out the ProcessWire forums for more interesting topics. Until next week, happy hacking with ProcessWire!