In the 363rd issue of ProcessWire Weekly we'll introduce ProcessWire 3.0.176, the latest development version of ProcessWire, and dig in to the latest forum highlights and other online resources. Read on!
Welcome to the latest issue of ProcessWire Weekly! This week we're going to walk you through the newly added features included in ProcessWire 3.0.176, as well as highlight recent forum posts, modules, and other online resources.
The site of the week we're going to cover in this issue belongs to a Canadian financial company Cote 100. Their new, ProcessWire powered website was built by Spiria — stay tuned for more details about this project!
Thanks to all of our readers for being here with us again, and as always, any feedback is most welcome – please don't hesitate to drop us a line if there's anything in your mind you'd like to share with us. Enjoy our latest issue and have a great weekend!
Latest core updates: ProcessWire 3.0.176
In his latest weekly update at the support forum Ryan introduces ProcessWire 3.0.176, which is currently our latest dev version. In addition to bug fixes and smaller tweaks, 3.0.176 also includes some pretty neat new feature additions:
Support for multiple read-only database connections, each of which can be configured separately by providing an array of values for $config->dbReader configuration setting.
Improvements for the template tags management interface and related API methods. This new template tag management interface can be accessed via ProcessTemplate (Setup > Templates).
A specialized inputfield for managing tags, InputfieldTextTags. Though this input was primarily developed to solve a specific need in the admin interface, it can also be selected as the inputfield for any regular text or Page reference field.
Just in case this is the first time you're hearing about read-only database support in ProcessWire — a major scalability feature added in version 3.0.175 — be sure to also check out the blog post introducing said feature.
For more details on this week's updates, check out the weekly update from Ryan at the support forum. Thanks!
Weekly forum highlights, tutorials, and other online resources
For this week we've gathered a list of support forum highlights and other useful and hopefully interesting resources. As always, please let us know if there's anything important we've missed, so that we can include it in one of our future issues.
If you're interested in ProcessWire news, discussions, and updates, there's always something going on at the support forum. Since we're only able to include a tiny selection of all that in our weekly updates, head down to the forum for more.
Site of the week: Cote 100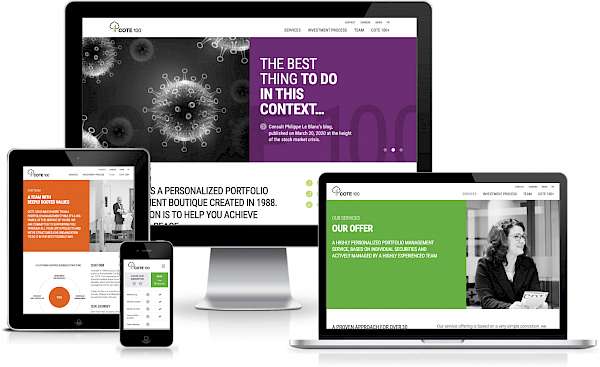 Our latest site of the week belongs to Cote 100, a financial company from Canada. Their new ProcessWire powered website was built by the Montréal, Québec based design and digital solutions company Spiria.
Cote 100 provides personalized portfolio and investment management services. The companym founded back in 1988 by Guy Le Blanc, summarizes their mission as helping customers achieve financial peace. With more than three decades in the business it's easy to believe Cote 100 when they state that they've gone through numerous storms, learned many valuable lessons, and as a result know how to navigate the financial world.
The website of Cote 100 is bilingual, with content available in both French and English. The layout of the site appears to be largely custom built with flexbox and other modern front-end tools, and some of the behind the scene features used on this site include popular Pro modules ProCache and FormBuilder.
Thanks to the folks at Spiria for sharing this project with us, and our congratulations to the client, Cote 100 — this is a splendid site, and we're more than happy to have it featured both here as well as the ProcessWire sites directory!
Stay tuned for our next issue
That's all for the 363rd issue of ProcessWire Weekly. We'll be back with more news, updates, and content Saturday, 1st of May. As always, ProcessWire newsletter subscribers will get our updates a few days later.
Thanks for staying with us, once again. Hope you've had a great and productive week, and don't forget to check out the ProcessWire forums for more interesting topics. Until next week, happy hacking with ProcessWire!