In the 380th issue of ProcessWire Weekly we're going to cover the latest core updates, check out some recent project updates, forum highlights, and other resources, and more. Read on!
Welcome to the latest issue of ProcessWire Weekly. In this week's issue we'll kick things off with a quick dive into the updates made to the dev branch of ProcessWire this week, before sharing the latest news regarding upcoming stable release, ProcessWire 3.0.184.
In other news we've gathered some forum highlights, as well as a few new or updated third party projects, which we'd like to share with you folks. And, before closing in, we'll also introduce our latest site of the week, which belongs to an Austrian company called Gallop Immobilientreuhand.
Thanks to all of our readers for being here with us again, and as always, any feedback is most welcome – please don't hesitate to drop us a line if there's anything in your mind you'd like to share with us. Enjoy our latest issue and have a great weekend!
Latest core updates
In his latest weekly update at the support forum Ryan briefly covers the updates to the dev branch from past week. Just like during previous week, the focus was again mainly on resolving issues reported via GitHub, as well as introducing small improvements here and there. Here's a quick rundown of the new features added this week:
Support for the check_access=0 selector option when querying items using owner selectors.
Support for context-specific settings for CKEditor fields within Repeater items.
New option column width setting for the checkboxes and radios fields. Similar to the existing option columns setting, this new mode automatically collapses when it needs to, instead of piling options on top of each other.
A new option for Markup RSS to include full HTML content from given field via the content:encoded XML property, along with a fix for an issue where description of the feed could contain invalid markup due to an entity encoding.
For more details feel free to visit the weekly GitHub commit log.
ProcessWire 3.0.184 release date?
As for the release date of the next stable master version of ProcessWire, according to Ryan that's right around the corner — we're just going to give the latest updates a few days to marinate, just in case something new pops up:
While I think we're very close to being ready to merge to the master branch, I'm going to give it a few more days just in case. I want to make sure no new issues arise (no matter how small) as a result of all the commits we've been doing over the last few weeks with GitHub issue resolutions.

— Ryan
All things considered it's likely that by the time our next issue comes out — or, in case you're reading this as a newsletter, by the time you get your hands on this very issue — ProcessWire 3.0.184 will already be out. Here at weekly.pw we've been using the latest dev version for a while now without any issues, so it's feeling nice and solid already.
If you happen to get the chance, please give the latest ProcessWire dev version a go and let us know if you notice any issues. Your feedback is, as always, very much appreciated. Thanks in advance!
Weekly forum highlights, tutorials, and other online resources
For this week we've gathered a list of support forum highlights and other useful and hopefully interesting resources. As always, please let us know if there's anything important we've missed, so that we can include it in one of our future issues.
If you're interested in ProcessWire news, discussions, and updates, there's always something going on at the support forum. Since we're only able to include a tiny selection of all that in our weekly updates, head down to the forum for more.
Site of the week: Gallop Immobilientreuhand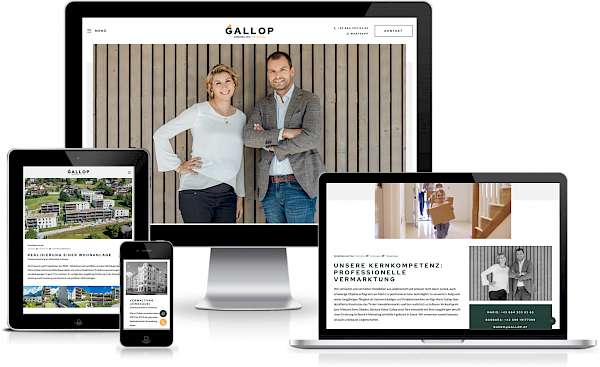 Our latest site of the week belongs to Gallop Immobilientreuhand, a Schwaz, Austria based company specializing in real estate related services — purchase, rental and leasing, brokerage, administration, and development.
The website of Gallop Immobilientreuhand was designed and developed by Werbeagentur Buerostark. The design of the site looks really clean and stylish, and although this is not a massive site by any means, there's plenty of content, varying layouts, and features such as an image gallery and a Form Builder contact form.
As for behind the scenes details, in addition to the Form Builder module mentioned above we can also tell that the front-end of this site is powered by the Uikit front-end framework. According to the sites directory entry the design was originally crafted with Adobe XD — not that it would make a difference for a visitor, but we're always happy to hear more about what went on behind the scenes during the project.
Big thanks to the folks at Werbeagentur Buerostark for sharing this project with us, and our congratulations to the client, Gallop Immobilientreuhand, for their new website!
Stay tuned for our next issue
That's all for the 380th issue of ProcessWire Weekly. We'll be back with more news, updates, and content Saturday, 28th of August. As always, ProcessWire newsletter subscribers will get our updates a few days later.
Thanks for staying with us, once again. Hope you've had a great and productive week, and don't forget to check out the ProcessWire forums for more interesting topics. Until next week, happy hacking with ProcessWire!