In the 391st issue of ProcessWire Weekly we'll share the latest weekly update from Ryan, highlight some recent ProcessWire online resources, and more. Read on!
Welcome to the latest issue of ProcessWire Weekly. In this issue we're going to cover the latest core updates (ProcessWire 3.0.189), as well as a new module from Ryan, which has just landed on a limited test via some Pro module support boards: PageAutosave.
In other news we're also going to highlight some recent forum posts and other online resources, and last but not least dig into a brand new project from SuperTINY agency, the website of the Hard Seltzer drink Bodega Bay. SuperTINY never ceases to amaze, and their work is once again simply stunning. Keep on reading for more details.
Thanks to all of our readers for being here with us again, and as always, any feedback is most welcome – please don't hesitate to drop us a line if there's anything in your mind you'd like to share with us. Enjoy our latest issue and have a great weekend!
Latest core updates: ProcessWire 3.0.189
This week's core updates are related to a work in progress module called PageAutosave, which Ryan briefly introduces in his latest weekly forum post. PageAutosave is the first step towards introducing automatic save and preview features to ProcessWire.
As Ryan explains in his post, ProcessWire doesn't actually know how a page should be rendered — that's the job of template files, after all. This means that in order to have a fully functional preview, first there needs to be a page to generate said preview from. PageAutosave achieves this by automatically saving page content behind the scenes.
The PageAutosave module lets you configure whether you want it enabled for all pages or just for unpublished pages. When needed, you can also optionally choose to limit it to certain templates, certain fields, or certain user roles.

— Ryan
It's not yet decided if this module will be a part of the core package once it's tested and polished, but for the time being it's available for a limited test run via ProDrafts support board and ProDevTools support board. If you've bought one of said modules, you'll be able to give the module a try right away.
This week's core updates also included some Fieldtype updates, and updated various inputfields to trigger a JavaScript event "sorted" when the order of items is changed.
That's all for our core updates section this week. For more information and discussion regarding the PageAutosave module and upcoming live preview features, be sure to check out the weekly core update forum thread. Thanks!
Weekly forum highlights, tutorials, and other online resources
For this week we've gathered a list of support forum highlights and other useful and hopefully interesting resources. As always, please let us know if there's anything important we've missed, so that we can include it in one of our future issues.
If you're interested in ProcessWire news, discussions, and updates, there's always something going on at the support forum. Since we're only able to include a tiny selection of all that in our weekly updates, head down to the forum for more.
Site of the week: Bodega Bay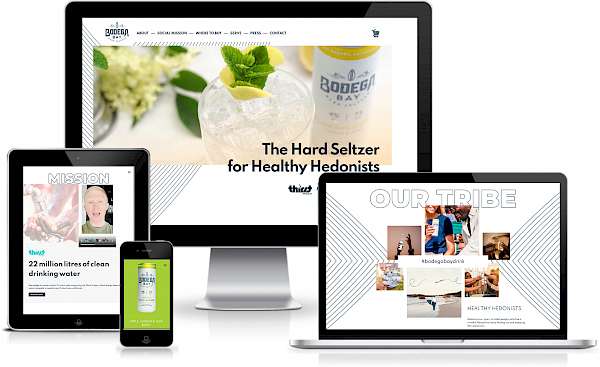 Our latest site of the week is that of Bodega Bay, a drink introduced as "The Hard Seltzer for Healthy Hedonists".
Bodega Bay is delivered sustainably and the company behind the product contributes to projects that move climate solutions forward. They also spend a part of their sales directly to help people in need of clean drinking water via the Thirst Project.
The Bodega Bay site was crafted by SuperTINY agency, and features a gorgeous, fresh design, along with numerous little animations and visual elements to make it really stand out from a typical "static" website. The site consists of product introductions, a seller finding tool powered by embedded Google Maps element, various recipes for drinks, and details about the company and their social efforts.
This site was introduced by Helder Cervantes of SuperTINY in a showcase forum thread. Some behind the scenes details provided by said thread include the use of a Repeater based block builder, and StencilJS powered web components on the front-end. Be sure to check out the case story for more details.
Thanks to the folks at SuperTINY for sharing this project with us, and congratulations to Bodega Bay for their new website. Splendid work from everyone involved in this project!
Stay tuned for our next issue
That's all for the 391st issue of ProcessWire Weekly. We'll be back with more news, updates, and content Saturday, 13th of November. As always, ProcessWire newsletter subscribers will get our updates a few days later.
Thanks for staying with us, once again. Hope you've had a great and productive week, and don't forget to check out the ProcessWire forums for more interesting topics. Until next week, happy hacking with ProcessWire!