In the 394th issue of ProcessWire Weekly we'll share the latest ProcessWire news and updates, including some highlights from the support forum, the latest weekly update from Ryan, and more. Read on!
Welcome to the latest issue of ProcessWire Weekly. In this week's issue we'll check out some interesting forum threads and online resources, the latest weekly update from Ryan, and a brand new site of the week belonging to Spanish graphic designer and illustrator Berenice Zambrano.
Thanks to all of our readers for being here with us again, and as always, any feedback is most welcome – please don't hesitate to drop us a line if there's anything in your mind you'd like to share with us. Enjoy our latest issue and have a great weekend!
Weekly update from Ryan
This has been a holiday week at the Cramer household, which you can read a bit more from the latest weekly update from Ryan at the support forum. While there are no core updates to report from the past week, we will have more to report by next week, as we get back to the usual development flow.
In the meantime, feel free to pop in at the update thread to say "hey" — and in case you happen to run into any issues with ProcessWire, you're always welcome to open a new issue at the processwire-issues GitHub repository. We'll make sure to get back to you as soon as possible. Thanks!
Weekly forum highlights, tutorials, and other online resources
For this week we've gathered a list of support forum highlights and other useful and hopefully interesting resources. As always, please let us know if there's anything important we've missed, so that we can include it in one of our future issues.
First of all there are a couple of pretty big news items to share regarding PHP, the language powering the bulk of ProcessWire itself:
A new organization, called The PHP Foundation, has been founded to support the development of the language. The news came out same time it was reported that one of the main contributors to the language, Nikita Popov, is no longer employed by JetBrains, which is admittedly a pretty big blow to PHP itself.
Another major PHP news item for the week is the release of PHP 8.1. For more info about the new features introduced in this version, check out the sticher.io what's new in PHP 8.1 blog post as well.
Please note, though, that you may want to wait a bit before upgrading your ProcessWire powered sites to use 8.1, just in case there are any backward compatibility issues that need to be resolved first.
Moving on to strictly ProcessWire related highlights:
If you're interested in ProcessWire news, discussions, and updates, there's always something going on at the support forum. Since we're only able to include a tiny selection of all that in our weekly updates, head down to the forum for more.
Site of the week: Berenice Zambrano - Creadora Visual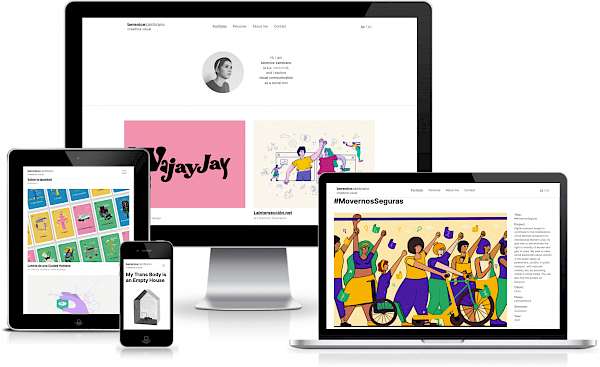 Our latest site of the week is the portfolio website of Spanish graphic designer and illustrator Berenice Zambrano.
Berenice has been a part of numerous projects related to mobility, urban planning, gender perspective, feminism, inclusion, participation, and environment — just to name a few. Her areas of expertise include art and creative direction, illustrations, digital research, and photography.
The website of Berenice Zambrano is first and foremost a portfolio website, focusing on the projects involving her work, and filled to the brim with gorgeous, colourful works of art. The projects are split into a couple of categories, and many are complemented by stories and background related to that specific project. All in all we enjoyed browsing this site quite a bit, and it was great to get to know the featured works.
As for more technical details, this site was built by Eduardo San Miguel, is (obviously) powered by ProcessWire, and features at least one third party module: the ever so popular commercial Form Builder module by Ryan Cramer. The site is bilingual, with the bulk of content available in both Spanish and English, and visible part of the site was built using the Uikit front-end framework.
Our congratulations to Berenice Zambrano for having such a splendid website, and thanks for sharing this project with us. We've seen plenty of portfolio sites built using ProcessWire, and it's always a pleasure to browse through the content — and this site is no exception, absolutely stunning work altogether!
Stay tuned for our next issue
That's all for the 394th issue of ProcessWire Weekly. We'll be back with more news, updates, and content Saturday, 4th of December. As always, ProcessWire newsletter subscribers will get our updates a few days later.
Thanks for staying with us, once again. Hope you've had a great and productive week, and don't forget to check out the ProcessWire forums for more interesting topics. Until next week, happy hacking with ProcessWire!